Clorox Disinfecting Wipes On The Go, Fresh Scent - 9 ct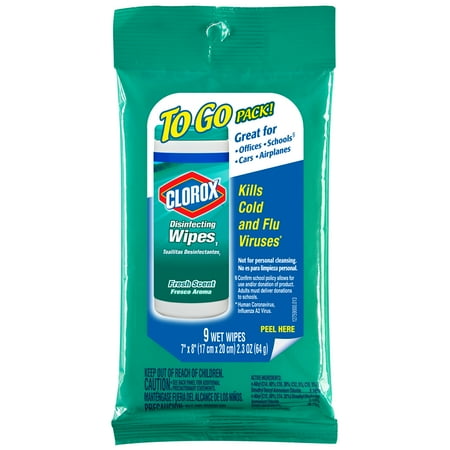 MSRP :

$39.6





Sale :

$0.98

Sold & shipped by Walmart
Product Description

Additional Information

Reviews
Product Description
Disinfect and clean with the convenience of multi-surface disinfecting wipes that kill 99.9% of germs. Behind every smooth-running office and clean dashboard, there's Clorox To Go Fresh Scent Disinfecting Wipes. Clorox Disinfecting Wipes kill 99.9% of viruses and bacteria, including cold and flu, E. coli, salmonella, staph, and strep. The quick and easy way to clean and disinfect with just one product, Clorox Disinfecting Wipes work on a variety of surfaces, including mirrors and glass, finished hardwood and even greasy kitchen counters and appliances. The powerful cleaning technology dissolves kitchen grease, fights soap scum, and kills 99.9% of common household germs. These convenient packs are perfect for when you are on the go. The convenient To Go pack is perfect for when you are on the go. Pack them when you travel, keep them in the car and stash them at work for your desk, computer mouse and keyboard, doorknobs and telephones.
Additional Information
ANTIBACTERIAL WIPES: Clean and disinfect with a powerful multipurpose wipe killing 99.9% of bacteria and viruses and remove common allergens around your home
MULTI-SURFACE CLEANER: Clorox wipes clear drying formula powers through grease, soap scum and grime so you can conveniently tackle any tough surface
SCENTED DISINFECTING WIPE: Disinfect and deodorize with scented Clorox wipes in Fresh Scent for a bleach-free, all-in-one cleaning alternative
ALL PURPOSE WIPE: Germs and messes occur on more than kitchen counters and bathroom surfaces - safely wipe down toys, remotes, or clean up car spills
TO GO WIPES: This convenient on-the-go pack contains 9 disinfecting wipes that are perfect for purses, diaper bags, the office, cars, and airplanes
Reviews
CeeCee55
Convenience
I love these wipes. I have them in almost every room in my house and in my car. I have two small dogs that travel with me a lot. I use the wipes to clean the car of germs (carpet, upholstery and vinyl) after the trips and before using the proper auto treatments. I go to thrift stores a lot and I just hate the way my hands feel and look when I come out so I use them to clean my hands and arms and sometimes my finds before I put them in the car. You never know what germs you may be taking home! I work temp jobs and I'm always skeptical that I may be there because someone went home sick so I take my wipes with me to thoroughly clean the desk, phone and area I will work in. I notice that my kids, now grown, and close friends and family are carrying them around. I could go on and on about Clorox wipes.
Jlynn
"New formula" makes my hands burn! Go back to the old formula!!
I would give ZERO stars to the "New Formula" Clorox Wipes. I agree with all the other users that say the new formula smells awful. It may "cut grease" now but I liked the old "streak free" formula a lot better and it smelled nice. Whatever is in the new formula that cuts grease also makes my hands burn. I've switched to my store brand now since they work just as well as the "new formula" and they smell better. And they don't make my hands burn when I use them! And they don't leave streaks all over my bathroom counters, mirrors and stove like the Clorox wipes do now. Everyone (including me) used to love Clorox wipes when they first came out. Learn a lesson Clorox- if it isn't broke, don't try to fix it!
Grandma J
Perfect for anyone to use when not at home.
I use it everywhere when I am at work, traveling, in bathrooms that are not mine and even in my own car on the steering wheel.
Satified13
It Makes Cleaning Easy
I have a toddler and I'm expecting. Keeping my home clean is important. I recently discovered the Clorox disinfecting wipes and it make cleaning and keeping clean much easier. I use it for the stove top right after cooking (which reduces the hassle of having to do the overhaul cleaning); It's great for the microwave - just wipe off; instead of washing then wiping - it's all in one - an easy clean. Oh... and not to forget the fridge and other appliance surfaces. I don't have to wash and then wipe. It's great for the bath room; especially for keeping the toilet seat sanitary... I have introduced it to my sister - I actually bought one for her to try. She loves it.
Satified13
This product has become a "MUST HAVE" in my house
I love these wipes because they are convenient. You can grab one quickly wipe down your kitchen and bathroom counters and you know they are clean and germ free! I also love them when anyone in my house is sick. To keep the rest of your family from getting sick, all you have to do is grab one out of the canister, take a walk around your house wipe down the door handles, light switches, etc and it's done in record time. They are also very durable. After you use the wipes not only are you confident that your house is clean, but they make your house smell great! My family loves the clorox brand and we especially love these wipes!