WEN Rotary Tool Kit with Flex Shaft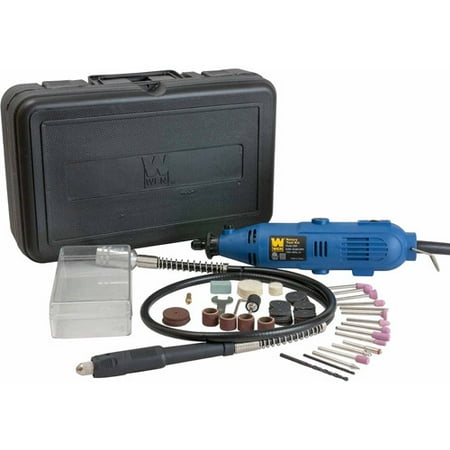 MSRP :

$21.97





Sale :

$20.32

Sold & shipped by Walmart
Product Description

Additional Information

Reviews
Product Description
The WEN 2305 Rotary Tool Kit with Flex Shaft allows for precision details on your projects. You can polish, sand, grind, cut, drill, remove burrs and shape with this tool. It includes 80 accessories for all your cutting, grinding, polishing, sanding and drilling needs and conveniently stores in a custom case.
Additional Information
WEN Rotary Tool Kit with Flex Shaft:
Powerful 1-amp variable speed at 8000-30,000 RPM
Multi-use tool for cutting, sanding, polishing, drilling, burr removal and more
Flexible shaft attachment for precision work
Includes 80-piece multipurpose accessories
Carrying case
Reviews
audioception
Perfect!
I bought this for one purpose, to modify the quick release plate for my camera. I wanted the battery/SD card door to open without having to unscrew the plate. So I moved the screw over. Now it works great! I had read reviews for a lot of rotary tools, and this one had very good reviews. I agree completely. It also arrived in one day, instead of the three that it might have taken. Though I bought it for one purpose, I'm sure I'll find more.
CheeserGeezer
Thrilled
I can't say enough good things about this tool. Like many of us, I put off buying the popular brand rotary tool over the years because I just didn't think I'd use it enough to justify the very high price. Glad I did my research and concluded this was the best buy for me...turns out it was a fantastic value and something that will likely serve me well for the rest of my days. Got this to repair some several years, badly broken dentures, and it was invaluable for the repair. Though there may be different brands that will do the job, whatever that may be, and for the same low price as this one, I found the Wen to be plenty powerful, and it had nearly all the tools included in this particular kit to do the job. I have zero complaints, but want to mention, of course I didn't read the directions and it may have been discussed, I still suspected a problem if I put too much bend in the flex shaft, and sure enough, I got carried away with what I was doing and the piece that spins within rubbed it's outer tube and the friction heat melted the plastic a bit. No big deal and it still works fine for now but something for new users to watch out for. Yesterday I couldn't even spell Dental Lab Technician and today I are one. :)
warpeddude
great buy
This has the feel of a well built tool! I've only used it a little so far, but it seems to work very well and is quieter than others I have owned. There is access on the sides to replace the brushes for the motor, like you see on well built professional tools. The price was very good for what seems to be a very good tool. The only downside is the position of the switch seems to be a little odd, but I assume it will just take a little time to get use to.
leanner
More bang for your buck
I bought this for my 86 year old mother in law. If she can handle, anyone can. She is impressed with the quality and functionality of this little tool. And she loves the fact that it has a carrying case. Dremel doesn't provide that except at a separate charge. Its light weight and easy to handle. Perfect for any age. Now she can trim the dogs nails, cut off a screw or nail she can't get out, and even sharpen knives or the blade on the mower. Living by herself, she can now do projects she would normally have to wait for someone to come over and do for her.
texasrose57
Nice for the price
Love it. Seems well built. 6 speed settings plus max. Lol, I had it on max, had to turn it down 3 settings. It was burning everything. Haven't used the flex tool yet but I'm sure it will be easier to use for me with arthritis. Didn't come with the wrench but I have my own tools.