WEN Rotary Tool Kit with Flex Shaft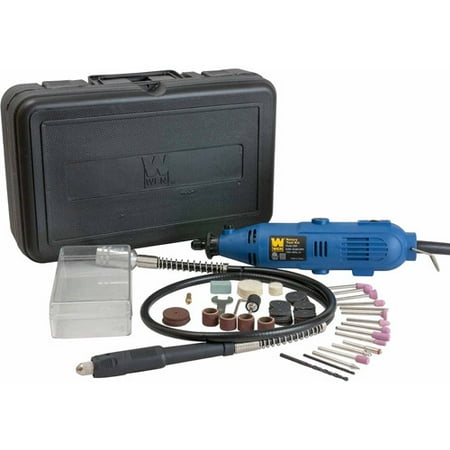 MSRP :

$21.97





Sale :

$20.32

Sold & shipped by Walmart
Product Description

Additional Information

Reviews
Product Description
The WEN 2305 Rotary Tool Kit with Flex Shaft allows for precision details on your projects. You can polish, sand, grind, cut, drill, remove burrs and shape with this tool. It includes 80 accessories for all your cutting, grinding, polishing, sanding and drilling needs and conveniently stores in a custom case.
Additional Information
WEN Rotary Tool Kit with Flex Shaft:
Powerful 1-amp variable speed at 8000-30,000 RPM
Multi-use tool for cutting, sanding, polishing, drilling, burr removal and more
Flexible shaft attachment for precision work
Includes 80-piece multipurpose accessories
Carrying case
Reviews
Daniel5150
Wen Rotary kit - You can't beat this ..
I've only had it a few weeks and used it for a few things so far, but its built well, and it has a sturdy case. I've owned The Dremel brands, and some others. The others usually do not have motors that are very strong or durable; some come with small wires that get tiny breaks inside; you end up replacing the wires or just cutting off the bad sections. then replacing the wires. You need to have a quality wire, like this WEN has. This one is like the good ones i have had or used but the design is a little better . They gave it some more thought. Like: The dial for the rotary speed is set up differently. its not something that sticks outside the casing which gets bumped and changes speeds, or get broken off. it has a little raised rectangular frame area around the rotary speed adjustment it would be hard to break it even if you tried... or to bump something and change the speed when you dont want it to. same thing with the on off switch; its got a small rectangular raised edge around it so if you'd bump it by accident, or drop it, it wont turn it on or off on its own. it comes with the usual little wrench tool but you dont need to use it everytime you want to put a bit on or off, as the connector part on the shaft is big enough and textured well so that you can turn it to tighten or loosen bits without having to use the tool. (like a chuckless drill.) the motor is 2 amps, and you wont find them stronger than that, this goes up to 30,000rpm which is faster than almost all the others too. The rotary shaft is a big plus addition to this kit, or i would have bought the plain version of this, but the case and the extended flex shaft it made it a much better deal. I have wanted one of those shafts for a while... but the Dremel one only fit on Dremels, and they dont fit on ALL the Dremels, because even the brand things do not all use the same motors and shaft designs, just the same cosmetics and the name, thats all. Usually a name brand version of something is automaticly a really good quality tool, but not with these. In order to get the flex shaft by dremel it has to be with the particular model it works with. They cost about 5 times as much as this kit! for no logical reason either. This shaft might be particular to this model too, but they arent charging an arm and a leg for it. These are great if you're doing engravings or crafts or just need to get it in a tiny spot to drill out a hole in something, and nothing else works. It comes with many of the "usual" bits that they all do. a few small grinder pieces of different shapes, the sanding drums, and polishing wheel pads, but this also has some of the sturdier small fibered cutting wheels which can cut thru thin metal nicely. (usually these things dont come with the kits, just the thinner frail ones that break easily) -- I have used these type of cutting wheels to cut exhaust pipes on cars, & thru exhaust clamps. They work for slicing rusted nuts off of studs without ruining the stud if you have to use it again. I cut off the door pins off the car doors to replace them when they wont come out any other way. the only thing to remember when cutting thru thicker metal like that is to not push it too hard, let the wheel do the cutting, and give it a rest now and then as you go, so it stays cool, or the cut off wheels will wear down too quickly.. and also, the motor does better when its cooler, - you can overheat any drill by pushing to too hard. but rotary tools like this do the job... . you can use the polishing wheels to clean the frets on your guitar or the chrome/nickel parts, use it at a slower speed.. I've used these to do wood carvings of things like dragons on wooden checkerboards i made, using various cutting tools with a rotary tool and several kinda of bits. you can use it to clean and buff chrome rims, and all sort of things. of course any brand of bits will work, its a 1/8 inch shaft... same as the Dremel brand things, and most ofthe others... 1/8 inch is the drill bit size used for auto body repairs and ive used it for that too. one thing i was surprised and pleased to see in with the bits was it came with a replacement ferule! This is the part that fits into the shaft end, which holds the bits. They can wear down after a long time, and they dont usually come with them. If they match the size of the Dremel brand, then you can buy new ones. They're usually a softer non-rusting metal like brass or aluminum. This one might be brass.. and it seems very very similar to the Dremel brand so I would bet they work with the WEN rotary drill too. . The motor runs smooth and quiet and you can adjust the speed with the dial anyway you want it to, not just a choice of several speeds, but any speed up to the 30k rpms. it comes with a nice warranty, and you can buy an extended warranty for a few dollars, which really isnt bad, you know its very likely going to last that long anyway, probably longer, but its a nice idea. Normally you'd check out tools at stores but these are not available in the stores. only online. So i saw some Youtube reviews of this and read the specs and the reviews online elsewhere, and decide to get it,, and it 's just great. You really cant beat this. But you just cant find bargains like this in stores, that is how the price is kept down. I bought mine at Walmart's website, as they have the best deals on everything anyway, and they are very good about deliveries, even the free deliveries. this was kind of long, but thought i should mention more than the usual replies.
warpeddude
great buy
This has the feel of a well built tool! I've only used it a little so far, but it seems to work very well and is quieter than others I have owned. There is access on the sides to replace the brushes for the motor, like you see on well built professional tools. The price was very good for what seems to be a very good tool. The only downside is the position of the switch seems to be a little odd, but I assume it will just take a little time to get use to.
CheeserGeezer
Thrilled
I can't say enough good things about this tool. Like many of us, I put off buying the popular brand rotary tool over the years because I just didn't think I'd use it enough to justify the very high price. Glad I did my research and concluded this was the best buy for me...turns out it was a fantastic value and something that will likely serve me well for the rest of my days. Got this to repair some several years, badly broken dentures, and it was invaluable for the repair. Though there may be different brands that will do the job, whatever that may be, and for the same low price as this one, I found the Wen to be plenty powerful, and it had nearly all the tools included in this particular kit to do the job. I have zero complaints, but want to mention, of course I didn't read the directions and it may have been discussed, I still suspected a problem if I put too much bend in the flex shaft, and sure enough, I got carried away with what I was doing and the piece that spins within rubbed it's outer tube and the friction heat melted the plastic a bit. No big deal and it still works fine for now but something for new users to watch out for. Yesterday I couldn't even spell Dental Lab Technician and today I are one. :)
leanner
More bang for your buck
I bought this for my 86 year old mother in law. If she can handle, anyone can. She is impressed with the quality and functionality of this little tool. And she loves the fact that it has a carrying case. Dremel doesn't provide that except at a separate charge. Its light weight and easy to handle. Perfect for any age. Now she can trim the dogs nails, cut off a screw or nail she can't get out, and even sharpen knives or the blade on the mower. Living by herself, she can now do projects she would normally have to wait for someone to come over and do for her.
leanner
a deal
Who'd of thought...all this for $22! If it falls apart tomorrow, it's still a deal. I've wanted one of these dremels for a long time but couldn't justify $50 or more for something I'd use once or twice a year. At this price, as seldom as I'll use it, it's a lifetime tool, probably.