Suncast 103 Gallon Deck Box, Light Taupe, DB10300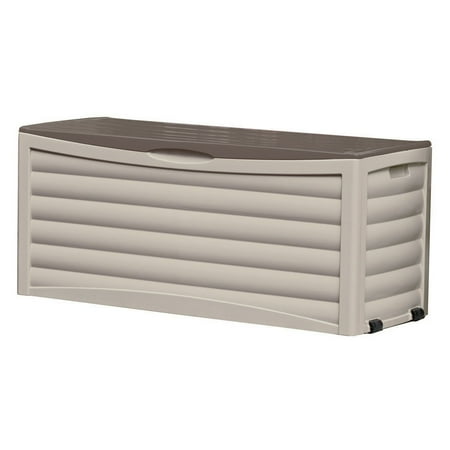 MSRP :

$129.99





Sale :

$79

Sold & shipped by Walmart
Product Description

Additional Information

Reviews
Product Description
The Suncast 103-Gallon Outdoor Patio Storage Deck Box is a convenient storage container for your outdoor items with its light taupe color and attractive design that blends in with your other patio furniture. With durable resin construction, this deck box is weather-resistant, rot-resistant, and is easy to clean. The lid latches shut to keep water and animals out, plus it has a section for a padlock (not included) just in case you want the extra security. The deck box has handles and rollers built in and at 27 pounds it's easy to move around. A sturdy storage space for your outdoor items, the Suncast 103 Gallon Deck Box is a great addition to any patio.
Additional Information
103-gallon deck box designed for storing pillows, cushions, and outdoor gardening accessories on your deck or patioLong-lasting resin construction stands up to the elements and sunAlso ideal for storing sports gear and firewoodIncludes handles rollers for easy transportEasy 5-minute assembly with no tools requiredBlends in with your other patio furnitureStay-dry design keeps rain and moisture outDoubles as convenient outdoor seatingRot resistant and easy to cleanKeeps items dry and animals outCan be padlocked (lock not included)Capacity: 103 gallonsColor: Taupe and MochaInterior dimensions (L x W x H): 54 x 19 x 23 inchesExterior dimensions (L x W x H): 56.5 x 21 x 24 inchesWeight: 27 poundsManufacturer warranty: 90-day warranty
Reviews
RiceBike
It's a thin walled storage box
The cardboard box it cane in was thicker! It looks beefy on the outside, but this is thin walled. The lid mounting points are thin as well, but sonce it's so light, i think it may hold up (im not counting on it) i dont think it's going to last with Sun's rays beating down on it (all plastics get brittle and fade over time) As long as you know it's just for storage, not a bench you'll be ok with this item. Waterproof? I guess, but if u see the handles, there are holes on them . I used clear package tape on the inner seams to be sure no water can get into it. (See picture) My box didnt came with instructions, but i put together easily with no tools. I put the floors together first, then attach it to the back wall. Add the sides, lay the back down to add the front, & finally snap on the lid and straps. Made in the USA is a plus, but the quality is a bit lacking for the price i paid.
PossumKingdom
Perfect for the lake!
Ordered two of these storage boxes for cushion storage at our lake cabin. They were super easy to put together and they are the perfect size...room to spare, even. All of our outdoor seating fits nicely in the bins and they are made well. They sit on the back deck...they are clean, neat and attractive.
TheBearMom
Great for outdoor toy box
I was worried about getting this due to all the reviews about it being flimsy, but I needed something this length to put my double wide hammock in, so I took a chance and bought it. I'm glad I did. It is true you can't sit on it...but they make others (benches) for that. This is just a box. But it comes together easily and the corners and lid fit together well enough to keep bugs and dirt out. Is it waterproof? I wouldn't try to use it as a boat, but it is the rainy season down here in Florida, and so far it has kept everything dry from the afternoon storms we have. It's sturdy enough to keep all of my daughter's outside toys together...even the large ones like her bubble lawn mower and lots of balls. It's very roomy and the lid is light enough for her to open by herself when it is time to clean up. For the people saying it is flimsy, think of the thickness of the walls of those plastic storage containers people use for extra clothes and holiday decorations. It's a big plastic outdoor box.
John
Good for the price
The price cannot be beat. I needed extra outside storage and this product does the trick. The brand/model does not seem as sturdy as the more expensive options on the market. The ability to lock the deck box is a plus. Once it is put together, it feels a little more sturdy. The pieces did not go together all that well, or at least in a way I would feel good about leaving the box out in the weather. I decided to caulk all of the inside seems before putting this box outside. As other reviewers have noted, I would not sit on this deck box or use it as a bench. The top does not feel like it could handle the weight of a person, maybe a child but not an adult. Overall I am happy with this product and I would recommend it to others, with the above warnings.
Captvideo
Buyer Beware, Flimsy
When I opened the carton I knew instantly that I had made a mistake ordering this particular deck box. I did assemble it and it's in use...however, I am crossing my fingers that it will make it through the winter. The plastic is so flimsy that it literally bends as you assemble the box...and you wonder how is this going to hold up(??) The sections don't look like they seal well enough to be called "weather resistant.."..so to be safe, I put a heavy tarp around it fastened by bungees. The lid is so fragile and flimsy that you must be sure it's not bent when you close the box otherwise you've lost even more of an effective seal. I should have returned this to Walmart, but repacking the carton is more of a chore so I will see how it fairs through the winter in Ohio. The plastic construction is cheap and not worth the $$$. Buyer beware!!!