Wahl Deep Tissue Percussion Therapeutic Electric Massagers for Muscles, Back, Neck, Shoulder, Leg - Full Body Pain Relief, Model 4290-300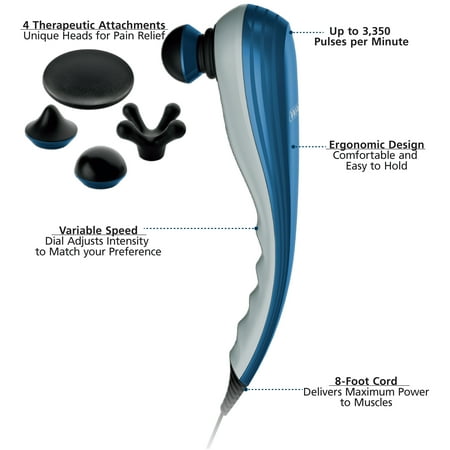 MSRP :

$39.99





Sale :

$39.99

Sold & shipped by Walmart
Product Description

Additional Information

Reviews
Product Description
The Wahl Deep-Tissue Massager is designed to create a gentle, relaxing, all-over body massage. The Wahl Percussion Massager features soft, finger-like nodes that replicate the human touch and reach deep into muscle tissue. The Wahl Therapeutic Massager lets you pinpoint certain areas. You can adjust the speed and intensity to your preferences. The Wahl Percussion Massager puts out up to 3,350 pulses per minute. It includes attachments for four types of massages: accupoint, deep muscle, four-finger flex and raised bump.
Additional Information
Wahl Clipper is the #1 brand of beard trimmers and hair clippers*. The brand used by professionals since 1919.
Variable intensity offers a customized experience from a deep invigorating feeling, to a gentle soft massage and everything in between.

Extremely powerful motor with up to 3,350 pulses per minute.

Four attachments: The four finger flex replicates a masseuse's hand. The Accupoint helps break up knots. The Deep muscle helps relax the body anywhere. The New Extra Wide Flat Disc covers large areas. Sleek ergonomic design, makes it easy to use by just about anyone

Best gift for men, wemon, parents on Thanksgiving, Chrismas, Mother's Day, Father's DayBirthday and other special events. *Based on North American Dollar Sales

Ask the Experts
Q: What is one of the most often prescribed complementary pain management therapies by physicians?
A: Massage. Physicians say massage..*
* Source: International Journal of Therapeutic Massage & Bodywork, Vol. 3, No.1 2010
..is most likely to be beneficial.
..is least likely to be harmful.
..is an effective tool for pain management.
..does not produce adverse reactions.
Q: What does therapeutic massage do?
A: The FDA says massage..**
** Source: Department of Health & Human Services, U.S. Food and Drug Administration at 21 CFR 890.5660
..increases local blood circulation
..reduces muscle tension
..relieves pain and fatigue
Visit us at Massagers. Wahl.com for more information.
Wahl Clipper Corporation,
P.O. Box 578,
Sterling, Illinois, 61081.
massagers.wahl.com
© 2015 Wahl Clipper Corporation
Reviews
SweatCoder
Super awesome
This massager is super awesome, exactly what I needed. Between 2 discs in my back, just above where my backbone connects to my pelvis, I have arthritis between those 2 discs, stemming from a childhood injury. When my lower back gets lots of movement and jostling, I have no pain at all for awhile. As soon as I'm sedentary for a day or two, the pain and soreness comes back. I turn this massager on low and have someone press it against those discs in my back for about 3 minutes and it does wonders. The percussion pounds out the stiffness and gets me feeling better almost immediately. The percussion thumping works best at the lowest speed. When you turn it up higher it just kind of vibrates rather than really thumping up and down. But the higher vibration could be great for muscle soreness--but I don't use it for that.
smirk
Long enough cord
I hate hand held anything that have a 4 foot cord...like the idiots think you can actually have a power outlet every 2 feet apart...! Cord was good length.. and it made all things feel good...
whtlion
awesome massager
Bought this for my wife for Christmas , and this this really kicks it, nice long cord and variable speed , love the removable heads, bottom line it works
divamonkey
works well
I bought this to relieve back pain and ease the knots I get in my back muscles...it works really well. I like the power control to get soft massage or more intense. the only bad thing I have to say is that it is a bit heavy to hold in place for very long. by the way, the attachments screw off, not just pull or pop off.....
Undertaker
Much better than the other models
Big and bulky but works magic...so much better than small units