Gold's Gym XRS 20 Olympic Workout Bench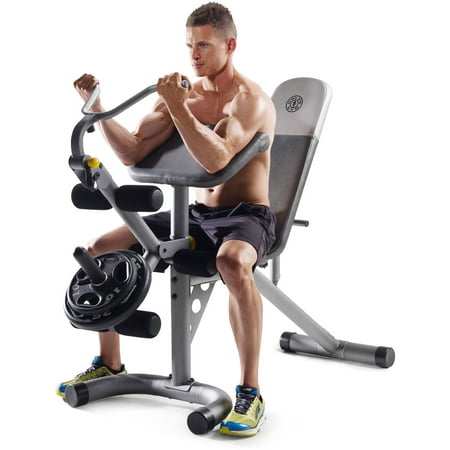 MSRP :

$199





Sale :

$97

Sold & shipped by Walmart
Product Description

Additional Information

Reviews
Product Description
Train like the pros with the Gold's Gym XRS 20 Weight Bench. With a six-roll leg developer, removable curl yoke and preacher pad, this bench can help you get a gym-quality, total-body workout in the convenience of your own home. The bench can be adjusted to flat, incline or decline to accommodate various exercises.
Additional Information
Gold's Gym XRS 20 Olympic Workout Bench:
Multiple Bench Incline Positions
Various incline positions offer countless exercise options and proper exercise form, to target different muscle groups.
6 Foam Leg Developers
Build and develop quads, hamstrings, glutes, and hip-flexors with the built-in leg developer system.

Rolled Preacher Pad
Comfortably isolate specific muscles in your upper body while ensuring proper exercise form.

Removable Curl Yoke
Build muscle in your upper body and target biceps with the removable curl yoke.

Olympic Weight Adaptor
The included Olympic weight adaptor converts your machine, allowing you to use Olympic plates.

2" Spring Clip
Lock weight plates securely in place with the included spring clip.

Accessories Work on Both Upper and Lower Body
The included accessories - which work for both the upper and lower body - provide everything you need to train like the pros.

Exercise Chart
With the exercise chart designed by a certified personal trainer, you can follow along and maintain proper form, for maximum results.

300 Lb. User Weight Capacity
The weight bench is designed to support a maximum user weight of 300 lbs.

Reviews
Hingiswins
BEST BUY
Arrived in good shape,opened box,no dents, all pieces there and hardware separated ,shrink wrapped , and well marked. Took 2 1/2 hours to assemble by myself. ALL pieces fit and lined up correctly, no problems. This makes for a stable unit which this surely is. If you notice the U bar in front and long cross bar in rear you can see why this is stable unlike many out there where legs are like that on a chair. While being stable I am still able to move it around the room as weight is reasonable. Most units do not have a preacher and curl bar that is standard with this unit. Is adaptable for both olympic and standard weights. Everything not only works well but smooth and efficient. Used to go to gym everyday-now every other day as this home bench fills in and is capable of using at home the other days. For price (EXCELLENT)-quality-options-assembly-you will not find better in this catagory. 63 years old -like its looks -and cannot even imagine being more satisfied than I am . By the way the backrest does lay flat the ones who say it doesn't must not have assembled correctly!! There is a good video on using this on Utube check it out.
Mark
Fits in my garage!
Great for my garage gym. I'm tired of doing squats all day. Doing leg extensions and leg curls is great especially when my back is hurt. I think I counted 21 new exercises that I can do with this bench that I was not able to do before. I previously bought a flat bench. I wish I did my homework and bought this instead. I can fit it in my 2 car garage on the side and still fit 2 cars in there.
Johnny
Perfect purchase
Excellent bench. Instructions were the first I ever read that made sense, Thank You. Took 1.5 hours to assemble. I suggest using a screw gun and the proper metric wrench's. the sheet metal screws are a bear with a screw driver and an adjustable wench will make assemble garbage. I used the correct wrenches, sockets and screw gun. 10mm, 12mm, 17mm. I originally purchased the Weider 225 bench for $49.00. Walmart repeatedly kept sending the wrong one. Kept sending back. out of frustration I opted for this one. With the leg lift and arm pad for curls. it is many times better then a simple bench. Glad Walmart kept messing up the original order. Buy this heavy Duty all around bench. You will be glad you did. $ 200.00 might be a reach. but $97.00 is a NO BRAINER. Just buy it. Tryst me.
Yassking
Good buy.
To start... the priceee.... the cost to quality ratio is phenomenal! Great sturdy bench. Pretty easy to assemble. I love that the preacher arm rest and curl bar are both detachable. The bench itself adds quite a bit of workouts I am able to do in my home gym. It does come with a poster of exercises you can do for beginners who do not quite know what to do on it. Great for all levels of fitness.
WorkOut
Love it!!!
This workout bench is everything I hoped it would be. It fits perfectly in my workout room, and does everything I need to do. It works out my arms, legs my stomach etc. It's an amazing machine at an amazing price. You will have to go buy your own weights but that's no big deal. Very sturdy machine! I'm glad I found it!