Weslo Crosswalk 5.2t Folding Total Body Workout Treadmill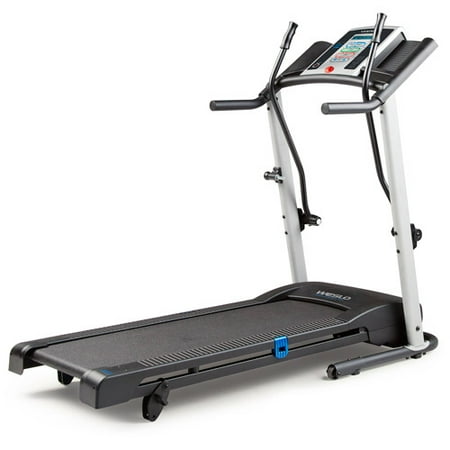 MSRP :

$452.63





Sale :

$299

Sold & shipped by Walmart
Product Description

Additional Information

Reviews
Product Description
The Weslo Crosswalk 5.2t SpaceSaver Treadmill provides a workout that can strengthen many key muscle groups in your body. You can choose between four quick pre-programmed workout apps if you're short on time but are determined to be more active. The upper-body arms insure you get a full session. The Weslo Crosswalk treadmill has a silver and black LCD screen that helps you to track your time, distance, calories-burned and more. On the console, you can find a workout select option, priority display, start/stop and speed up/slow down, so you can fine-tune your routine. The Weslo treadmill also features an Easy Pulse heart-rate monitor so that you can meet and maintain your fitness goals. This equipment features a compact, foldable design, making it a good option for those with limited space. This device is capable of a two-position incline to provide a greater challenge to more advanced users.
Additional Information
Weslo Crosswalk 5.2t Folding Total Body Workout Treadmill:


2.25 CHP Impulse Motor
Get smooth, consistent operation every time from this powerful motor. Engineered to maintain its strength for long-term use, this motor is perfect for light or intense workouts.
Upper-Body Workout Arms
Featuring soft-touch grips, these workout arms are easy to hold and keep you comfortable throughout your workout.

4 Built-In Workouts
Challenge yourself with 4 quick select workouts designed by a certified personal trainer to help you reach your fitness goals.

2-Position Manual Incline
Maximize your workout with increased calorie burn and reduce stressful joint impact simultaneously with this 2-position (1.5% and 6%) manual incline.

Comfort Cell Cushioning
This unique treadmill deck is designed with a layer of cushioning to protect you as you workout.

0-10 MPH QuickSpeed Control
QuickSpeed allows you to instantly change the speed of the treadmill between 0-10 MPH with the touch of a button.

Easy Pulse Heart Rate Monitor
Get an accurate heart rate reading by simply placing your thumb on the Easy Pulse Sensor that is built right into the console.

16" x 50" Treadbelt
A step above the rest, this treadmill belt is engineered to run smoother and quieter than the average treadmill belt.

SpaceSaver Design
This patented, revolutionary design allows your treadmill to fold vertically for storage.

250 Lb. Weight Capacity
The Crosswalk 5.2t Treadmill can accommodate up to 250 pounds.

Warranty
90-Day Parts & Labor Warranty

Reviews
KateMDrz
Worked out well for me!
I had read many reviews on this product. I was worried about the shipping and the item being damaged but I took a chance. I ordered the Weslo Crosswalk 5.2t SpaceSaver Treadmill. It arrived at my door undamaged. I had my boyfriend put it together because that is his thing. He said it took a little bit of time but it wasn't too hard. The instructions were easy to read. This is a great investment. I'm very happy with the price for this product. I have no complaints (and usually I can find many). I didn't buy the warranty because I feel that for the price of a little over $300 that if it breaks I could just buy another. If it lasts 1 year or more I would be really happy. The cost and time of having to go to the gym would be more. This is well worth my money and I save time. I watch a movie while working out or I prop my laptop up and listen to a school lecture (online classes). It's perfect for me and I'm glad I took a chance on it.
JosephG121
Poor Wal Mart delivery service
The item delivered was damaged / would not work. I called the manufacturer who instructed me to open the face plate. Upon opening it I discovered the motor was completely broken from its base as if the product had been dropped from a distance. The company is sending another motor to me for replacement. The replacement cost is 168.00 for a new motor I am tasked with installing. This is the second time I've purchased a large item from Wal Mart that was damaged. Poor delivery service from Wal Mart is becoming a trend.
Herald
Arrived damaged.
When we were putting it together we noticed that one of the up rights was bent in the middle and some of the paint was flaking off. The box it was shipped in was not damaged at all so it must have been like that before it was packaged. Treadmill seems to work fine but the damage is an eyesore.
Nicole
Just what I expected!Aww
This treadmill is perfect if you want to slowly build up to jogging or running. It only has two incline settings though (flat and slightly inclined) and you have to manually incline it. But, I didn't buy this treadmill for the incline, I bought it for the hand rails! I never know what to do with my hands when I am walking on a treadmill and I heard holding the bars wasn't a good thing, so these hand rails are perfect for me! I feel like I am getting a better exercise when I am using the handrails as I walk because I feel like I am doing more than just walking. For those of you who prefer holding the bars they are in a very nice position and feel nice and supportive. There is also a bar to grab on to directly in front of you. The treadmill it self is very comfortable to walk on and the out of the four preset workouts I have only tried the first one and it brought me to a jog and the treadmill held up perfectly! I completely recommend this treadmill. It is a great product for what it costs!
TimInSLC
No frills -- but satisfies my basic needs.
I was able to assemble it alone. There were a couple of minor problems with holes aligning properly to accept screws. I've been using it for about two weeks with no problems. PROS: works as advertised; runs quietly; it's narrow enough to easily fit through a standard bedroom door. CONS: the display is not backlit so it's difficult to see; the ON/OFF power switch is nearly impossible to access (you have to get down on your hands and knees) so I just remove the safety tether magnetic key when I'm done. I customized the treadmill by adding two personalized features: 1) a water ski type grab handle and 2) a cooling fan (see photos). Based upon the online reviews, I decided to buy the 4-year warranty for an extra $37. I hope I don't have to use it. As I mentioned, I've only been using it for about two weeks. If I encounter any problems, I will update my review.