Gold's Gym XR 10.9 Power Tower with Push Up, Pull Up, and Dip Stations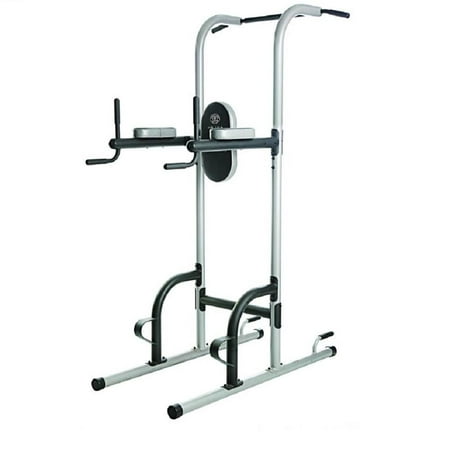 MSRP :

$109





Sale :

$104.99

Sold & shipped by Walmart
Product Description

Additional Information

Reviews
Product Description
Push, pull and lift your body into better shape with the Gold's Gym Vertical Knee Raise / Power Tower. It features several different stations that allow you to engage in a wide range of upper- and lower-body routines. This workout power tower's vertical knee raise station can be utilized to help develop your core and legs. The connecting dip station can be used to build the triceps, chest and shoulder muscles to gain significant upper-body strength. For added resistance, weights can be attached to the waist or ankles during those exercises (weights sold separately). The push-up station is equipped with padded push-up hand grips to help you get the most out of your push-up workouts. This machine's pull-up power tower component can be used to build stronger and more conditioned arms. The pull-up station is equipped with a versatile multi-grip setup that allows for wide, narrow and side-to-side grips.

Additional Information
Gold's Gym XR 10.9 Power Tower:
Vertical Knee Raise Station
Step up and discover your inner six pack with the comfortable vertical knee raise station.
Push-Up Station
Get the most out of your push-up workout with these padded, push-up hand grips.

Multi-Grip Pull-Up Station
Get a grip - wide, narrow, side-to-side - and build better, stronger arms with this multi-grip pull-up station.

Dip Station
Build triceps, chest, and shoulder muscles along with incredible upper-body strength.

Reviews
Ninerboy
UPC : 043619509694 - Gold's Gym XR 10.9 Power Tower with Push Up, Pull Up, and Dip Stations - PickPanda.com
You should include a resistance band with your power towers so that beginners can build up strength enough to do pull ups
Sahih
Just the pads they tear easily 2nd day maybe.
The pads will rip extremely fast as well as the caps come off every time u use this thing. other than that the construction is strong , Can support up to 350lb ask me how I know?
NA11
A great piece of equipment for anyone
Made by Gold's Gym, but not what you would find in an actual gym, this is still an excellent piece of equipment. I'm 6'2 219 lbs and it's perfect for me. I have to bend my knees doing pullups/chinups, but that is not a problem at all. Does not hamper anything. Other people have commented that this is wobbly, but I don't find that to be the case. The joints do flex somewhat, but that only makes since because this is not made of a solid single piece of metal tubing. It has joints/points of connection and those do give a little/really little. Doesn't really require two people to assemble. Assembled this by my lonesome in about 2 hours, a little slow just because I had a movie playing in the background and stopped to watch every now and then. Would recommend a socket wrench. You don't have to put this together on a hard surface, carpet is fine. I would've hated moving this into the spare room from my cement floored garage anyways. For the price, this really can't be beat.
JamesB
Functional if a Little Squeaky
I got it assembled within an hour or two, very simple to put together. It sits slightly crooked, but I just put a small shim under the right end-point of the floor bar under the side with the pull-up bar and it's good to go. That could be me though, maybe I just need to adjust it and tighten it down. It squeaks a bit at the points of connection where the bolts are when I do dips on it, so I feel like maybe some thin rubber buffers could have been helpful here. Also, although it doesn't feel flimsy per se, it does wobble a bit when I do exercises like dips or pull-ups that involve hanging on a point that is far out from the unit's center-point; perhaps it could have benefited from a few more structural cross-support beams somewhere; honestly it's a minor quibble and not enough to worry about though. It looks good and does exactly what it's supposed to without any functionality issues. Glad I bought it overall! Great buy for the price, and I will use it for many years to come!
allkindsofbad
Bummer.
Used an Everlast power tower in the '90s and a Weider in the 2000s. Both served me well. Opted to give this a try despite previous bad experience with other Icon exercise equipment, and wish I hadn't. It's definitely lower quality than the Weider alternative that sells for around the same price. The dip bars are horrible, but luckily I had no intention of using them. The assembly process is poor compared to the aforementioned alternative, the unit does not come with tools like the aforementioned alternative did, and I found myself stripping a few bolts no matter how careful I was. The biggest PRO I found was the push-up grips, which give you more room than the alternative mentioned. I've already used these more than I ever used those of the Weider. Overall, if you just need a sturdy push-up bar, this will work... just be very careful with assembly. If you're going to use the other side of the tower, though, I would recommend looking for something else.