Weslo Cadence G 5.9i Folding Treadmill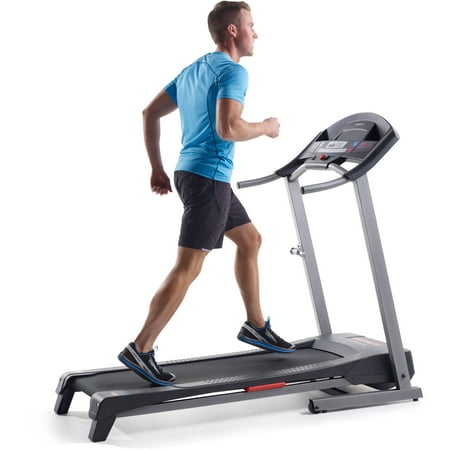 MSRP :

$499





Sale :

$287

Sold & shipped by Walmart
Product Description

Additional Information

Reviews
Product Description
The Weslo Cadence G 5.9i Treadmill allows you to pair your favorite smartphone or tablet and access iFit technology. You get Google Maps workouts, comprehensive tracking and top trainer workouts, allowing for a beneficial personal experience. Get smooth power with the 2.25 horsepower motor when you work out. You'll appreciate the quiet deck that takes you up to 10 mph. The manual two-position incline helps you take your intensity up a notch. The Weslo Cadence Treadmill has a slim design that can fit nicely into most exercise spaces with ease. After use, it folds up for your convenience, making storage simple. The workout treadmill has handles on each side that are easy to grip as needed when you workout, helping you to stay supported. It has a gray and black design that is made to complement most rooms well. This machine has a large LCD window that will allow you to keep an eye on important stats as you exercise.
Additional Information
Weslo Cadence G 5.9i Folding Treadmill:
2.25 HP Impulse Motor:
Train at your speed with a motor that delivers consistent power to any type of workout, intervals, speed, or endurance training
iFit Ready Teachnology*:
Connect your tablet to the Weslo Cadence treadmill to get the immediate benefits of built-in iFit technology, such as real-life routes via Google Maps, new workouts every day, and customized professional programs (requires membership, sold separately)
16" x 50" Tread Belt
Stretch out your stride on this 16" x 50" deck, ideal for users of all heights so you'll be comfortable while you reach your goals
Comfort Cell Cushioning
Reduce stress on your joints and increase workout comfort with this unique Weslo treadmill deck, designed with a layer of cushioning for maximum stride impact absorption
2-Position Adjustable Incline
Featuring a convenient two-position incline, this treadmill helps you personalize your workout for better results
SpaceSaver Design
Fold it up and walk away in one easy step; SpaceSaver treadmill frees up precious floor space
Integrated Tablet Holder
Train with the latest technology at your fingertips, the device shelf keeps your tablet secure and conveniently close so you have access to all your training tools and entertainment must-haves
Large LCD Window
Keep an eye on key stats with three display settings, from RaceTrack™ to Matrix, you'll enjoy the large LCD window display
0-10 MPH QuickSpeed
Boost your speed incrementally up to 10 MPH and get the intensity you need for any performance workout
6 Workout Apps
Work toward your fitness goals with workouts designed by a certified personal trainer, each workout will help you reach your goals with preset speed, incline, and time settings
Thumb Pulse
Stay in your target heart rate zone with built-in thumb sensors that help you monitor your heart rate throughout your workout
Weight Capacity
Treadmill accommodates up to 275 lbs
Warranty
Treadmill is protected with a 1-year motor warranty and 90-day parts and labor warranty
Reviews
Transformer1941
LOVES IT
Bought this treadmill after I realized I was paying $480 a year for the gym only to be running on a treadmill. From the suggestion of a friend I purchased this Welso. A little about myself..Female 25-30...I work out about 3-4 times a week and that's what I had intended to do with this machine. Overall I love this product. Assembly is pretty easy but a man's help is neccessary or two strong women. I say this becuase you have to attach the top part to the base so someone has to hold it at an angle where you can do so....Tightening the screws would have been hard if I did not have my fiance as well. Only because it's a treadmill so you want to make sure everything is tight.. The system itself works fine. The sounds is not noisey to me...It's equivalent to what you hear when you are at the gym on the treadmill. You have 6 programs to choose from which are for fat burn and cardio. Or you can do the manual. It has 2 manual inclines..I typically leave mine at the highest level since it is ..well manual ..lol But all in all this is a great buy for a great price..I will most likely opt for the extended warranty to protect my small yet important investment.... As far as getting it home if you have a mid size car it will fit in your trunk IF you take it out of the box...This machine is not piece and parts heavy so literally when you take it out the box you have about 6 pieces to shove in your trunk...I did site to store to save on shipping which is why we picked it up... But overall this is a great buy..If you are an avid runner 5-7 days ...9 mph hour runner I would suggest something different. But if you are a gal like me that just wants to tone up in the comfort of your home this is the machine for you!!! Oh ps...It folds up too which is awesome...
None9987
So far so good
It took a little over half an hour to set up. Really pretty easy. Its not as big as I expected, this is a good thing. Its also quieter than I expected, also a good thing. I've used it every day for a little over a week and everything has been fine. I don't think this would be a good machine for a marathon runner but its exactly what I wanted. Its stable, easy to operate and seems to be reliable. If it continues to preform the way it has so far this is going to be a winner.
Foxyv069
Excellent!
I have only used this for a week, but so far this is a great product. Easy set up, easy to use. I am 230lbs and have had NO problems with its sturdyness. Will update in a few months.
Carolintn
For the price its great
We had a treadmill that was over ten years old, was time for a new one. It took us about 20 min to get it put together, was not a lot to do. I was not able to walk on our old treadmill but this one is a breeze to walk on for me( I have had a total knee replacement) and my husband says its like going from a clunker to a Cadillac. I am 71 and he is 73 and we really are so pleased with how good this treadmill is. I use it every day and he uses it every day or two. If you want a good product for a good price then this is it.
Shidey17
It's okay...
Let me begin by saying that I read tons of reviews on this treadmill and many others before I made my purchase. For the price, this treadmill seemed to be as sturdy as many others that were several hundred dollars more. I kept coming across the same reviews saying it's okay for walking but not recommended for running. I decided to take a chance and go for it anyway, only being out $275 if it didn't meet my expectations. Not having a truck, we managed to fit the entire box in a PT Cruiser, which was nice. It took about 30 minutes to put together. The directions are easy to follow and the parts are labeled accordingly. Setup, however, was quite frustrating. The holes didn't seem to be drilled correctly, in that many of the screws just wouldn't screw in all the way. It's a cheaply made product, but hey, you get what you pay for. Not a major problem. I primarily use it for interval walking/running. I walk at about 3.8mph and run at 6mph. I'm used to running on the huge gym treadmills and I have to say, this one didn't feel a whole lot different. It felt sturdy although I do hear a slight creaking sound when my right foot comes down. It doesn't seem to be a problem so far. There are two major drawbacks I've noticed. The first is the belt size. I don't have a major problem with the length but I wish it were wider. The next best model Wal Mart carries has an extra two inches in width which might make a big difference for some people. The other problem I've had is that when I walk and my arms swing back and forth, I hit the backs of my hands on the side rails. This hurts! I'm about 190lbs, 5'9" and my hands seem to line up perfectly with the side handles. Beware of this if you will be using primarily for walking! Overall, I'm pleased with my purchase and glad I took a chance on this inexpensive machine. I'll update my review if any problems arise, but so far so good.