Weider Pro 265 Standard Bench with 80 Lb. Vinyl Weight Set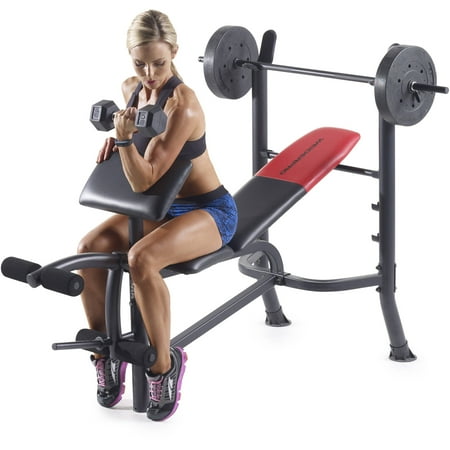 MSRP :

$129





Sale :

$99.99

Sold & shipped by Walmart
Product Description

Additional Information

Reviews
Product Description
The Weider® Pro 265 Standard Bench with Weight Set easily adjusts to your training needs with both flat and incline positions. This set comes with a preacher curl pad that allows you to isolate your arm movement for proper form. The Weider® Pro 265 Standard Bench with Weight Set has sewn vinyl for a polished look, excellent comfort, and lasting durability. The Weider® Pro 265 Standard Bench with Weight Set includes an 80-pound vinyl weight set that gets you started with your home strength routine and by pairing it with the exercise chart, you can make the most of your equipment. The Weider® Pro 265 Standard Bench with Weight Set will help you strengthen your biceps, triceps, quadriceps, legs and buttocks. You can use the Weider® Pro 265 Standard Bench with Weight Set to do bench presses, preacher curls, and shoulder presses.
Additional Information
Weider Pro 265 Standard Bench with 80 Lb. Vinyl Weight Set:

Includes 80 Lb. Vinyl Weight Set
Use the included weight stack to get an effective start on your home strength training routine

Flat, Incline Bench Positions
With two different bench positions, you can essentially double your workouts because you work different muscles with each position

Fixed Upright
Fixed upright provide convenience and safety while supporting your weights

Preacher Curl
Use the preacher pad enhance form while strengthening your biceps

Leg Developer
Isolate your legs by using the leg developer to perform exercises like quad lifts and hamstring curls

Vinyl Seats
Enjoy comfort while you workout with the plush vinyl seats

Exercise Chart
Ensure proper exercise form and execution with the included exercise chart that was designed by a certified personal trainer

Weight Lifting Bench Set for Isolated Movements and Proper Form
By isolating your muscles, you can target the muscles or muscle group that you want to focus on, allowing you to better address your specific fitness needs

Strengthen Biceps, Triceps, Quadriceps, Legs, and Buttocks
Tone your entire body by targeting large muscle groups

300 Lb. User Weight Capacity
410 Lb. Total Weight Capacity
Model #: 15963
Reviews
Chris
Terrible!
I purchased this as a gift for my stepson. The item came with the box completely destroyed and the items were damaged. Not having enough time to exchange it before x mas, I had not choice but to give it to him in the shape that it was in. After putting it together, I relized that some pieces were welded wrong, making good the leg bar crooked. I was very disappointed!
Dave
Great buy for most people
It went to getter very good, all the bolts are numbered, all the weld looked good on its. A very good buy for beginners ,light work outs or retired people like my self and my wife, to kept up are strength .I would recommend that you buying a 40lb Vinyl dumbbell set to go with it, the bench come with 2 -25lb & 2- 15lb weights, the vinyl dumbbell come with 4 - 2.5lb & 4 -7.50lb witch give you a lot more weight options. The only negative thing I will mention is the width of the barbell holder and the barbell are very narrow so you will not get a wide grip, and if your a heave lifter and bench over 125 lb this isn't the one to buy, but for the rest of us it will do the job just fine . its not a toy and does not come with battery ,you only get out of it what your willing to put into it and that's time and energy ,but out come its well worth it (Have Fun)
Dave
Arrived damaged TWICE
I purchased this bench from Walmart for 79.99. The box was damaged when it arrived. The vinyl weights were punctured and there was sand and concrete all over my garage. I called Walmart and they scheduled a return pickup for me. It was a pain in the rear to get everything back in the box. I repurchased the bench and when the box arrived it was damaged again. I called Walmart and they could not do anything about it. They asked me to call Weider. I called Weider and was redirected for 30 minutes until I finally talked to someone. The Weider rep would not help me. I asked to purchase replacement vinyl weights and she said no. I told the Weider rep I was going to have to write a bad review and she did not care. Do not buy this piece of garbage!
Jack
Not Happy
if u are over 5" tall n weight more than 135 lbs this item is USELESS - WHY - i'm 5'8", cannt use incline to bench with bar cause cannt fit under the bar - when bench pressing wuwith bar one sits to high n remove bar from stabd to bench the bar come to the abdomen in order to raise without hitting stand - the width of the satand is way to small, the highth way to short - cannt use DBs without hitting the legs - must go in backwards to this n u hit seat bar holder if u are a wide person like myself - also cannt lie to far to front with head will hit preacher stand - I bought this so my wife n I could work out together to toned up - shes 5'10'' 132 lbs n has hard time fitting - I am 222 lbs 5'8' with 54' chest n 38' waist n 71 yrs old - I go to gym for heavy workouts n was gouing to use this for my 100 rep workouts - again - NOT HAPPY
nightstars
Weoder Pro 265 do reccommend ... three star
I am beyond retirement age and when much younger was an avid lifter. Now returning to it as to see how much i can increase my strength and over all health. Muscles do have memories and don't forget that. Sometimes they just need a little bump and a little reminder no matter how old you are. I rate this bench at about 85% of 100%. It is great for a beginner and or retired person like myself. Will no doubt support you and moderate weight that you will need to be lifting. Not for olympic lifter. Med . Grade. One thing that i really like is that he height of the foot of the bench is right on the mark..just the right height as to do your leg ext. and leg curls without dragging your heals on your floor. Perfect height it is. The width of the two section seat is fine. Wide enough to rest fully supported on and not so narrow that you have to constantly focus on keeping "YOU" on it. Very nice. Up rights are a little narrow between the space of them , so you do have to make often grip changes in spacing when doing bench presses and such, but they are good enough. Over all construction is good. Slant supports on back of bench seats is good and you can feel safe and sturdy on it when using it. Good height adjustment choices on the preacher attachment . Should fit about any one. For the MONEY a great buy. Great . Enough punch to let you know if you want to move on and get better equipment for Better efforts on your part. Or just right for old men who still have a dream. I say over all B+++. Buy one. You will be happy with it. Not to mention that the free weight set can always be loaded and ready to use in a snap.