Weider Pro 265 Standard Bench with 80 Lb. Vinyl Weight Set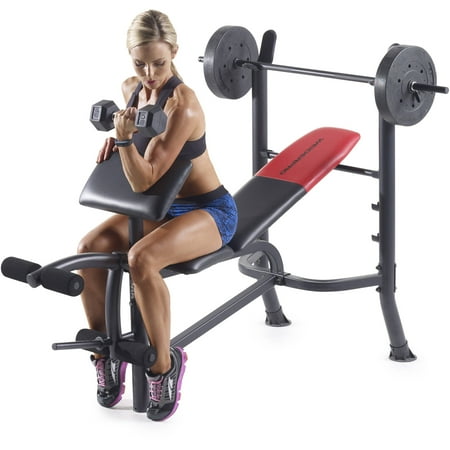 MSRP :

$129





Sale :

$99.99

Sold & shipped by Walmart
Product Description

Additional Information

Reviews
Product Description
The Weider® Pro 265 Standard Bench with Weight Set easily adjusts to your training needs with both flat and incline positions. This set comes with a preacher curl pad that allows you to isolate your arm movement for proper form. The Weider® Pro 265 Standard Bench with Weight Set has sewn vinyl for a polished look, excellent comfort, and lasting durability. The Weider® Pro 265 Standard Bench with Weight Set includes an 80-pound vinyl weight set that gets you started with your home strength routine and by pairing it with the exercise chart, you can make the most of your equipment. The Weider® Pro 265 Standard Bench with Weight Set will help you strengthen your biceps, triceps, quadriceps, legs and buttocks. You can use the Weider® Pro 265 Standard Bench with Weight Set to do bench presses, preacher curls, and shoulder presses.
Additional Information
Weider Pro 265 Standard Bench with 80 Lb. Vinyl Weight Set:

Includes 80 Lb. Vinyl Weight Set
Use the included weight stack to get an effective start on your home strength training routine

Flat, Incline Bench Positions
With two different bench positions, you can essentially double your workouts because you work different muscles with each position

Fixed Upright
Fixed upright provide convenience and safety while supporting your weights

Preacher Curl
Use the preacher pad enhance form while strengthening your biceps

Leg Developer
Isolate your legs by using the leg developer to perform exercises like quad lifts and hamstring curls

Vinyl Seats
Enjoy comfort while you workout with the plush vinyl seats

Exercise Chart
Ensure proper exercise form and execution with the included exercise chart that was designed by a certified personal trainer

Weight Lifting Bench Set for Isolated Movements and Proper Form
By isolating your muscles, you can target the muscles or muscle group that you want to focus on, allowing you to better address your specific fitness needs

Strengthen Biceps, Triceps, Quadriceps, Legs, and Buttocks
Tone your entire body by targeting large muscle groups

300 Lb. User Weight Capacity
410 Lb. Total Weight Capacity
Model #: 15963
Reviews
Kitz
Great product for the price.
Awesome customer service.
VS
As Expected
I found this product more than sufficient for my home, not too bulky. It works as expected and was straightforward to put together. However, the packaging was barely holding together by the time I got it so it was a good thing it did not have far to go. The barbell stand should be sturdier. I usually keep the barbell next to the bench instead of on the stand, when not in use, just as a precaution. All in all, it works and was priced affordably.
Jim the hammer
It is a great product! I would buy it again.it
It is a weight bench, and I use it to exercise and get in shape.
dav71
More for a teen
This was a good value for this set But its a little small for an adult and I'm only 5 10 so if your taller then 5 7 you might want to re think this and find a bigger set wish I could of seen it and laid on it before purchase but it was online and the pictures miss represent it this is more for a young teenager.
John
Good value. I'd recommend it.
The bench and attachments work your upper body and legs. It's sturdy and versatile.