Gold's Gym XRS 20 Olympic Workout Bench with Squat Rack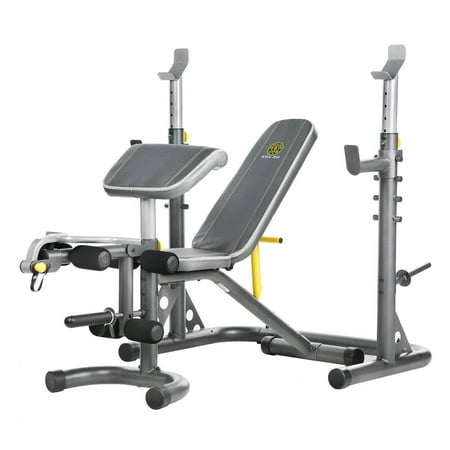 MSRP :

$174





Sale :

$149

Sold & shipped by Walmart
Product Description

Additional Information

Reviews
Product Description
Let the versatility and clever engineering of the Gold's Gym XRS 20 Olympic Workout Bench take unnecessary stress out of your exercise routines. Features of this home exercise equipment include an independent utility bench and uprights that can accommodate Olympic bars. This Gold's Gym bench comes built with a 6-roll leg developer, weight lifting bench, squat station and preacher pad. Each feature of this exercise equipment helps develop one set of muscles. You can build up your quads, hip-flexors and hamstrings with the six-roll leg developer. The Curl Yoke helps develop the muscles in your upper body. This workout weight bench features safety spotters that helps prevent accidents while exercising.
Additional Information
Gold's Gym XRS 20 Olympic Workout Bench with Squat Rack:
BENCH
Independent Utility Bench
Bench can be used separately or moved out of the way allowing you to perform squats and other exercises without obstruction
6-Roll Leg Developer
Build and develop quads, hamstrings, glutes, and hip-flexors

Curl Yoke
Build muscle in your upper body

Preacher Pad
Comfortably isolate your biceps and forearms while ensuring proper exercise form

Multiple Bench Positions
Incline, flat, and decline bench positions offer countless exercise options and proper exercise form

Olympic Width
Multi-width bench is designed to accommodate Olympic bars

Weight Limits
The weight bench is designed to support a maximum user weight of 300 lbs. and a maximum total weight of 610 lbs.

RACK
Adjustable Uprights
Adjust the uprights to a number of positions for various exercises and comfort levels

Safety Spotters
Prevent unnecessary injury while working out

Standing Squat Station
Perform squats that isolate the quads, hamstrings, glutes, and calves

Built-In Plate Storage
Keep your weights neatly organized and out of the way

Reviews
Guest000212121
EXCELLENT VALUE - THOUGH A COUPLE NEGATIVES
I've probably read just about every review, on Walmart AND Amazon, for this bench. I'll try to make the following a distillation of the main themes of said reviews combined with some of my own thoughts/observations. The two main features that make this bench so popular: A) The rack and bench are two separate pieces. As of writing this, the XRS 20 is the only free weight bench/rack setup at this price point designed with an individual rack and bench. This provides extra functionality for doing things like flys/skull-crushers with the bench alone and squats, etc using just the rack. I also appreciate the additional flexibility this gives me in arranging my lifting equipment when not in use. Ultimately, it seems this feature of the XRS 20 that most detailed reviewers attributed the units value to. B) The "Adjustable Safety Spotters." I've seen no other bench with this feature PERIOD. They're essentially a couple of foot long metal bars you can adjust on either side of the rack. They are intended to prevent your barbell from crushing you if you "fail" during bench presses (similar in concept to the main function of a "power cage"). If you're amateur to intermediate and looking to build muscle: the predominant school of thought suggests you must lift until you fail, in which case the safety spotters are invaluable when working out alone. NOT SO INSIGNIFICANT CONS: Of course Gold's Gym knew better than to make a perfect bench for $187 (also $164 and $134 going back some years). Perhaps that explains the following COMPLETELY AVOIDABLE design flaws: A) For all intents and purposes the bench doesn't decline. I know, I know - it's been said that it can but not to such a degree as to provide any significant benefit over the flat position. The difference between the flat position and the maximum decline position is - I kid you not - maybe 1". Pretty obnoxious especially if you're depending on a fully articulating bench for optimal chest development, abdominal exercises, etc. If you're handy, this could possibly be "MacGyvered" but you'll likely need welding equipment or some good luck. B) The maximum incline position isn't fully upright (for things like military presses). A little bit more workable provided you don't have back issues preventing you from doing said presses in a standing position (with the rack). This, too, could possibly be MacGyvered with some time, patience, attention to detail and - maybe - a rotary tool=) As with the decline issue, most frustrating considering it could have been avoided with no or little additional cost in materials. C) Though less crucial, some have complained that they cannot plant their feet on the floor when doing bench presses as the bench is somewhat higher than average. Still, most seem to be fine placing their feet on the tubing at the front of the bench which seems well angled and substantial enough for just that. Too trifling to call 'CONS' on their own: A) The Adjustable Safety Spotters are limited to the "decline" to lower incline positions. You will need a spotter if you plan to "fail" on incline bench presses, or you can simply use dumbbells. B) The bench seat doesn't articulate as with pricier benches. This came as no surprise to me as it wasn't a highlighted feature. If you want the "whole package" you're going to have to pay more than a couple hundred bucks, people=) Words to the wise: The assembly instructions are among the *least frustrating* I've ever seen. Honestly, I can't recall a single oversight. Reviewers generally concurred specifying assembly time was anywhere from 1 to 3 hours (the one who took 3 hours indicated he was kind of taking his time and enjoyed assembly). You will need a sledgehammer (or heavy book) a couple adjustable wrenches (or equivalent) flat and philips screwdrivers as well as a bit of grease for moving parts (white lithium aerosol is cheap, ubiquitous and useful). Keep in mind that some of the earlier, super positive reviews for this item occurred years ago - as in when this item cost as low as $130-something to $160-something. For that reason, the latest reviews may offer the most relevant valuation. YOU MUST HAVE EITHER: A) an olympic size bar aka 2" bar ------OR--------- B) a freakishly long "standard" / "regular" / 1" bar (for standard weights) measuring no less than 7' (that's 84") long. $50 is the lowest rate I've seen on the very most basic of these. Expect to pay more for shipping unless you can find an appropriate one on Walmart (see related products) or something like Sports Authority. Be warned that, at least for anything at this price point, the maximum weight you can put on a bar is limited to 250 pounds.
AKinPA
Great Deal for the Price
We ordered this weight bench for home use. The product arrived much earlier than expected and it is everything we expected it to be based on the description and the picture online. I will say that there are some improvements to be made. The bar where your legs rest to use the leg lift could be about 2" wider on either side so your legs don't have to rest on or over the edges (uncomfortable), there is no cap for the top of the post that the Preacher Curl pad goes into so when you have the pad out the open hole and edges are exposed and again it's right where you move your legs around a lot and it can scratch you. The only other thing about this bench is that the squat rack cannot accommodate a barbell shorter than 7' and that is vital information to know in order to be able to do bench presses and squats using this bench. The construction of the bench is very durable and the seat has nice adjustments for incline work and upright work. Overall it is a great product for the price.
sharkeatingman
Another Excellent Gold's Gym Product
Solid structure, sound welds, nice design. High quality merchandise for the price. Better than average, even for a former gym rat. Santa bought it for my 16 and 14 yr. old sons, and I'm glad he did. We have Olympic plates and bars - wouldn't use anything but - and this bench and squat rack is the crown jewel in our home gym. Love it.
oceanspraydsd
My best weight bench yet
The product was packaged and described well although it did take an afternoon to assemble it was a joy to do so for the options that it has. There are wide tabs to receive the weight bar and vertical posts with pegs for great single user safety. The Weight Holders on posts are needed and check out great, The Base is adjustable for Olympic and Standard weights. The Separate Bench with Base is very important, The Curl attachment with Leg Lifter both have adequate or good motion but an accessory pack could be created for thicker and longer pads. The Bench slotted slanted riser is very good and extremely easy to use. The Price Was Right and I was able to sort of roll it up a flight of stairs easily enough, assembly was long but good instructions. Hope the accountants like it, he he. The Price I found to be low for what you get so thanks alot for that. The overall look is nice like the stitching and dark/light gray with the honeycomb edges, also like the yellow bars used similar to the GG symbol. And the pointer dog / cat look on the bench really does come through. ( git her done, lol ). My only concern is how well it supports those who work with 500 pounds or more ( might be shaky I dont know ).
Watty
Great buy and design
I had been looking for a bench for about 3 months and finally picked this one out. Great price at 134.00 other benches of this quality were running well above $200. Very easy to put together easy to read instructions. Will have to purchase the weights and bar to go with the bench, which will run your around 200 or more also to get 300lbs. But it works great and is very sturdy which i was worried about beacuse the bench part is seperate from where the bar rests but I put 245 on and it didnt move a bit while doing reps. The sepearte bench is very nice also because you can pull it away and do other exercises like butter flies and other exercises with dumbells and you dont have to worry about hitting anything in mid rep. Overall very happy.