Gold's Gym XRS 20 Olympic Workout Bench with Squat Rack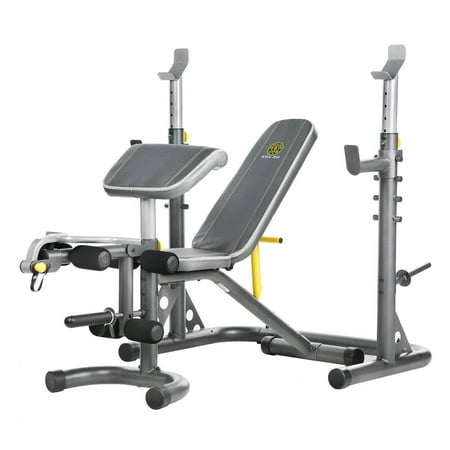 MSRP :

$199





Sale :

$172.99

Sold & shipped by Walmart
Product Description

Additional Information

Reviews
Product Description
Let the versatility and clever engineering of the Gold's Gym XRS 20 Olympic Workout Bench take unnecessary stress out of your exercise routines. Features of this home exercise equipment include an independent utility bench and uprights that can accommodate Olympic bars. This Gold's Gym bench comes built with a 6-roll leg developer, weight lifting bench, squat station and preacher pad. Each feature of this exercise equipment helps develop one set of muscles. You can build up your quads, hip-flexors and hamstrings with the six-roll leg developer. The Curl Yoke helps develop the muscles in your upper body. This workout weight bench features safety spotters that helps prevent accidents while exercising.
Additional Information
Gold's Gym XRS 20 Olympic Workout Bench with Squat Rack:
BENCH
Independent Utility Bench
Bench can be used separately or moved out of the way allowing you to perform squats and other exercises without obstruction
6-Roll Leg Developer
Build and develop quads, hamstrings, glutes, and hip-flexors

Curl Yoke
Build muscle in your upper body

Preacher Pad
Comfortably isolate your biceps and forearms while ensuring proper exercise form

Multiple Bench Positions
Incline, flat, and decline bench positions offer countless exercise options and proper exercise form

Olympic Width
Multi-width bench is designed to accommodate Olympic bars

Weight Limits
The weight bench is designed to support a maximum user weight of 300 lbs. and a maximum total weight of 610 lbs.

RACK
Adjustable Uprights
Adjust the uprights to a number of positions for various exercises and comfort levels

Safety Spotters
Prevent unnecessary injury while working out

Standing Squat Station
Perform squats that isolate the quads, hamstrings, glutes, and calves

Built-In Plate Storage
Keep your weights neatly organized and out of the way

Reviews
sharkeatingman
Another Excellent Gold's Gym Product
Solid structure, sound welds, nice design. High quality merchandise for the price. Better than average, even for a former gym rat. Santa bought it for my 16 and 14 yr. old sons, and I'm glad he did. We have Olympic plates and bars - wouldn't use anything but - and this bench and squat rack is the crown jewel in our home gym. Love it.
Robert
Quality, affordable
The bench is very sturdy, I used an impact driver to set all screws on the rack and bench. I would recommend getting extra weight to keep on the back of the rack to add stability. Downsides: the feet pop off the bench a lot if you dont glue them on, the bench doesnt go to a 90 degree angle for shoulder presses, the bench is not totally straight on mine because some of the pre drilled holes were not lined up. If you are over six feet tall youll have trouble with the squat rack and run out of height on the poles. These are minimal downsides for a cheap, but quality piece of equipment. If you are a casual exerciser this is a good piece of equipment to build a home gym around. If you are a serious lifter this is a good bench and rack at a bargain price.
FitNik
Everything I Need at Home
I'm glad I purchased this bench. I spent several months researching home gyms and was very willing to pay top dollar, but the reviews on this workout gym were pretty good consistent. I'm a little woman and I put this together alone in a few hours with two kids running around. The instructions are super easy to understand with correlating pictures. Staying competively fit is extremely important to me but paying $80 a month just to get into the door of a crowded gym is absurd to me so I had to do something. I can work every part of my body even more efficiently now that I can take my time. The equipment comes with a a great photo diagram for different exercises using the bench that I find helpful. I will say that the shipping was quick but there were pieces sticking out and falling out of the box so I feared I lost some pieces even though I didn't but it did scratch my hardwood floors in the foyer which made my husband unhappy. Aside from that, I love it.
JB22rn
Great features and very affordable!
Assembly took just over 2 hours with my husband's help. Make sure you have lots of tools, especially an adjustable wrench and a socket wrench set. All parts seem very strong and durable. The only thing that will eventually break would be the cushion seams on the weight bench. I like how we have a separate weight rack for squats and a very versatile bench. The only thing is we'll have to move the bench depending on if we want to bench press or do squats. Overall, this is a great buy and I'm excited to see my results! Just a heads up, there are a few small pieces shown on the instructions, but they might already be somewhat assembled, so you might think you lost a piece, but it's already where it should be. Another thing, the weight bench accommodates 2" olympic sized plates. We have this set up in our two car garage. There is still room on one side to park one of our cars. See the photos I took.
TessATL
Great bench!
I am so pleased with this bench. I read a lot of reviews before deciding on this unit. You get such a great value for the price. My husband and I put it together in about 2 hours. Everything was very clearly marked and the instructions were easy to follow. It did not have the option to set it to standard width but that is fine. The olympic width is quite nice for doing squats and chest press. You will need an olympic sized bar. I had to buy a 7' bar to fit the unit (paid about $40 for it). I love that you can move the bench. This is great for me as I'm limited on space, so I can move it sideways or even slide it in the hall when I need the floor area. The rack itself is very sturdy. I have used it for squats and bench press several times and have found it to be very solid. Overall, I'm happy with this purchase!