White House Organic Apple Cider Vinegar, Raw & Unfiltered, 32 Fl Oz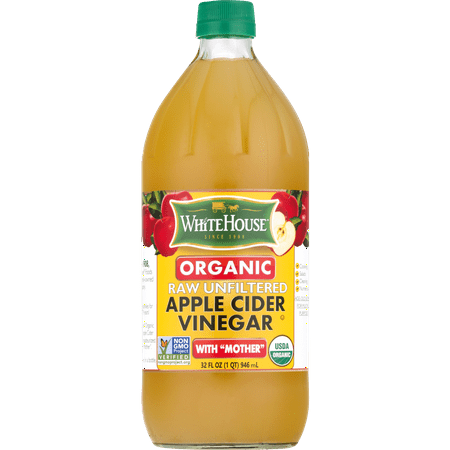 Sale :

$4.76

Sold & shipped by Walmart
Product Description

Additional Information

Reviews
Product Description
Create tasty dishes and delicious beverages with this White House Organic Apple Cider Vinegar. It's all-natural, unfiltered and made with high-quality ingredients. This raw vinegar is non-GMO project verified and reduced to 5 percent acidity for uniform pickling and table strength. You can use it to enhance the flavor of dressings, sauces, dips, pickled deviled eggs, slow-cooked beans, spritzers and more.
Additional Information

White House Organic Apple Cider Vinegar, Raw, Unfiltered:
Since 1908
With "mother"
Non-GMO project verified
www.nongmoproject.org
USDA organic
Net weight: 32 fl oz (1 qt) 946ml
Organic apple cider vinegar
Reduced to 5% acidity for uniform pickling and table strength
Raw, unfiltered White House vinegar
Reviews
roseyglow55
goes good with honey or mollasses
I thought that only buying the more popular brand would get me good results but boy, was I wrong. I took a tablespoon of this product yesterday in a cup of about 4 ounces of warm water on an empty stomach with nothing else. Made my throat a little raw for a short while but I certainly was not prepared for how much energy it would give me. It was amazing. Took it again this morning but I prepped it as a tea using a teaspoon of molasses with a tablespoon of the vinegar in a cup of hot water. Not a hint of burning and still great results. More energy during the day than I have felt in ages. And this is just after a couple of days usage. Tomorrow I will try it with a squeeze of lemon in the mix. I do recommend before use though, turning the unopened bottle upside down and shaking the 'mother' from the bottom of the bottle mixing it in with the contents. It's supposed to be the most nutritious part of the vinegar so leave nothing to chance.
Donna
Good for heathy food diet
This vinegar is tart- of course- but easier to take than regular vinegars. I take it in warm water with MTC oil as a supplement. Shake it well before each use to stir up the settlement. It's bottled in glass and arrived intact with the cap taped in place. The stomach is an acid environment by design to get the food digestion process started and kill off bad foreign bacteria that can cause illness. So it's okay to add vinegar (an acid) to the stomach. I mix 2 tablespoons of vinegar to 1 tablespoon MCT oil in cup of warm water, 1-2 times a day. You'll be surprised how it can calm the stomach. I have GERD and hiatal hernia and have not noticed negative effects from this supplement. Hope this info is helpful to others.
Panda
Great Effective Product!
This product is an effective and inexpensive health supplement. You can use it as a dietary supplement and in your hair for a remarkable shine. I consume it 3x a week as a health supplement. i have more energy and I feel healthier after consuming it. This ACV has the "mother" in it. This is key for the health benefits this product offers. I Highly Recommend It!
Houseengineering
great alternative multi use product
My 2 puppies have skin allergies great to dilute 50/50 with water in spray bottle stops ichy skin and kills any skim bacteria. Great for face toner dilute 50/50 with water inseperate bottle for face toner. Clears acne and dead skin off face kills bacteria in pores, pH balances your skin. Light salad dressing smell.
palatak
great product.
I feel good taking this. Very helpful for the body.