GE Personal Security Window/Door Alarm, 2pk, Battery Operated, 45115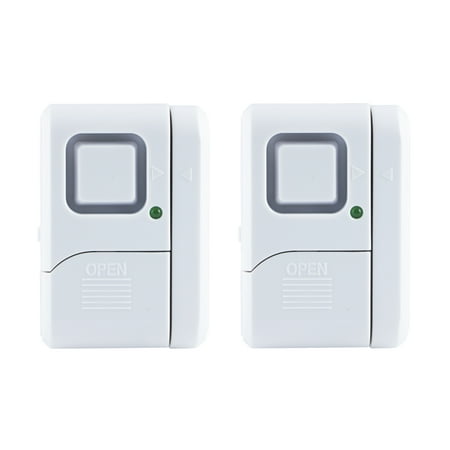 MSRP :

$17.99





Sale :

$14.63

Sold & shipped by ProMax Commerce
Product Description

Additional Information

Reviews
Product Description
Protect your home and your family with the GE 45115 Wireless Window Alarms. These wireless window alarms are designed to activate when the magnetic contact is broken, such as when a window or door is opened. This 2pk GE Window Alarm includes two alarm sensors that can be attached to windows, doors, sheds, cabinets, gates and more. The alarm features two sound settings - a 120 dB siren and door chime greeting - easily accessible using the off/chime/alarm switch. This Window Security Alarm unit also features a low-battery test button that alerts you when the battery is nearly gone so you can replace it without ever losing the security of your activated alarm. They are easy to install and do not require wiring. Enjoy a sound night's sleep knowing that you and your family are protected.
Additional Information
Includes two window/door alarms, each with three adjustable settings off/chime/alarm

Loud 120-decible alarm sounds when door or window opens, helps deter intruder and alert residence

Easy and convenient to install, requires no wiring, mounting hardware and instructions included, designed for indoor use only

Built-in low battery test button to easily check battery life, includes four LR44 batteries for each alarm

Comes with a 90-day limited warranty
Perfect for home, garage, apartment, dorm room, mobile home, RV, office and more

Reviews
AshleyV
Alarm is Extremely LOUD!!!
I was testing this when I had it attached to the window, just to see how well it worked. The units got about 1 inch apart and the most deafeningly loud siren went off. I was terrified and scrambling to try to close the window again to make it stop. :) I can totally see someone being scared to death by this and running away as fast as possible. Very simple to just tape to the window with the included double-sided tape. Worked way better than I expected and was way, way louder than I could have imagined. I will rest better tonight knowing these are on my kids' windows. I have already recommended them to two neighbors and I have had them all of one hour.
Reillysmom2
Effective product and easy to install
This is my second set of these alarms. I bought the first ones to put on exit doors because my husband has dementia and tries to wander outside the house. The alarms can be adjusted to have a chime tome or a blaring tone which cannot be ignored. They were easily installed and are still in good working condition. I bought the second set for inside doors also to make sure he is safe in his room when we are all sleeping. The batteries do wear out if the alarm is on a door/window that gets opened frequently. It's easy to buy replacement batteries and install them, however they can be expensive (@$6.00) . I would definitely recommend this product to anyone who wants an added layer of safety on doors/windows.
Diana
Exactly what I needed!
Quick easy set up! Works great. I know what I needed, did a quick little search, went with the reviews and don't regret it! Neither will you!
Singlemom
Great purchase
It was easy to install and gets the job done. I am a single mom and don't want to pay the high cost of an alarm system right now. This product is loud enough to scare off or at least slow down a bad guy.
MommyOfSweetBoys
Great Inexpensive Alarm
I'm VERY satisfied with my purchase! It is very loud and should definitely scare and make someone think twice about entering my house. There have been way to many home invasions and burglaries lately and I personally can't afford one those extreme alarm systems. These alarms on our doors give me more piece of mind with my family in the house.