Remington RM110 Trail Blazer 21" Push Gas Mower with Side Discharge and Mulching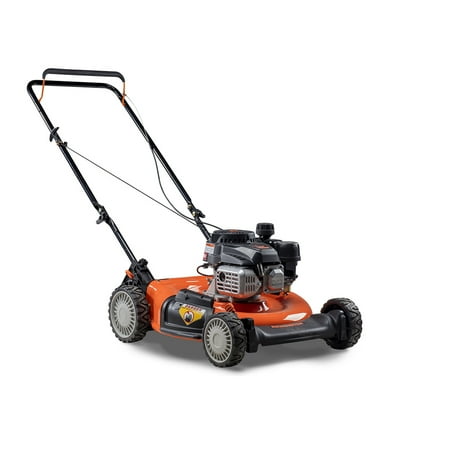 MSRP :

$169





Sale :

$169

Sold & shipped by Walmart
Product Description

Additional Information

Reviews
Product Description
"Now you can mulch without clumps, thanks to our innovative SureCut blade that lifts and circulates as it cuts. The RM110 Trail Blazer gas powered lawn mower features a durable 132cc OHV primer engine and 21"" cutting deck with 2-in-1 side discharge and mulching capabilities, so you mow wider swaths of grass with fewer passes."
Additional Information
Powerful 132cc OHV primer engine
21" deep dome steel deck
Choose your cut finish with 2-in-1 cutting deck: mulching or side discharge
SureCut blade system
Dual-Lever, 6-position height adjustment
7" front and 8" rear wheels
Adjustable handles with comfort grip
Fully assembled
Oil included with purchase
2-year limited warranty
Model Number: 11A-A0MA883
Reviews
eternalfriday
Don't wait get this now
This is the best push mower you can get it's pretty basic it's easy to put together comes mostly assembled and cranks right up just make sure you add the oil and do yourself a favor and use 90 octane gas
Willy
MOTOR WAS LOCKED, ITEM HAD BEEN PREVIOUSLY OWNED!!
My recently purchased mower appeared brand new, until I went to add the oil and discovered oil residue inside the oil tank from where the mower had been purchased and filled with oil once before. Seems the mower had already once been purchased and returned. Upon further inspection, I quickly discovered that the start chord could not be pulled, for the motor was locked in place! So not only was I sold a mower that had already once been returned, but they didn't even bother to fix the problem before reselling the worthless piece of crap!! I tried to give Walmart a 2nd chance, even after the mower I purchased several weeks ago failed me, but once again they've sold me a defective and worthless lawn mower. So I guess I'll be taking this garbage back to Walmart customer service for a refund. You can be guaranteed this will be the last time I ever in this lifetime purchase a lawnmower from Walmart. They had their second chance and failed! Thanks Walmart for once again wasting my valuable time!! BOO!!!
uprr
Decent little budget mulching mower
Just arrived today and gave it the inaugural mow. Performed well, readily mulching the substantial 2 week + grass (previous mower was KIA and we'd been waiting an extra week). Of course, the old mower was fading, so it might benefit by comparison in part just from being a new engine and blade. Can't give it 5 stars due to the oil fill - requires a long, narrow funnel to fill as it's largely blocked by the deadman switch cable, and the dipstick is ridiculous (hope it doesn't burn oil, as I won't be checking it...hard to read and the hole being low, grunge will build up all around it and drop into the oil pan if you remove it). That said, kudos for putting the gas fill up high....always found the Briggs fill halfway down the engine awkward with a nearly-full gas can.
NickyP
Great mower!
Came mostly assembled just had to put 4 bolts into the handle, add oil and gas and go. Started up on first pull. Mowed right through my tall grass..
HifiPhil
New Mower Day!
I had to replace an old Troy-Bilt mower that had lasted longer than it should have. All I really needed was a good mulching push mower. This one really fits the bill. No issues with it at all. I must be getting old because I was actually excited to mow, the day this arrived. Love the handle, compared to other mowers in this price range. Much more comfortable grip. Plus, I don't have to lean over to start the mower any longer. Just two spots raise and the lower the deck instead of each wheel...thats great! Starts on first pull after priming. Only downside was the location of the oil cap, but just remember to get a $1 long funnel if you buy this mower.