Reese Carry Power Hammock Cargo Net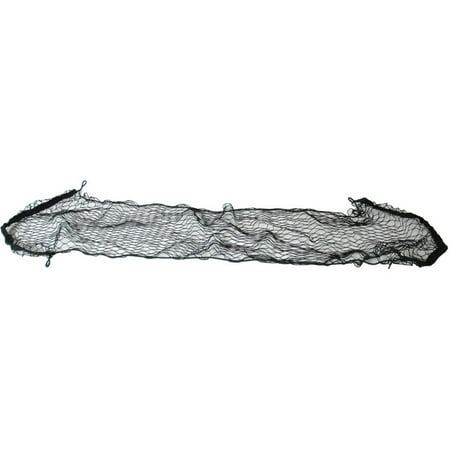 Sale :

$9.88

Sold & shipped by Walmart
Product Description

Additional Information

Reviews
Product Description
Organize and secure your cargo when traveling in your car, van, SUV or truck with the help of the Reese Carry Power Hammock Cargo Net. It will keep your things from rolling round in the back of your vehicle and protect valuable and fragile items. This hammock-style storage net is quick and easy to install and remove. Using one of the loops found on any corner to attach to a hook in your vehicle. If your vehicle has no hooks, this item includes mounting hardware. The Reese Carry Power Hammock Cargo Net comes with two adhesive knobs for temporary installation and screws for permanent installation.
Additional Information
Reese Carry Power Hammock Cargo Net:
Hammock-style storage net
Designed to organize and secure cargo
Quick and easy to install and remove
Use the loops on any corner to attach to hooks
Includes two adhesive knobs and mounting screws
Reese cargo net is great for cars, trucks, SUVs or vans
Model# 9424000
Reviews
billy
Good product good price.
Using My friends truck to do the groceries is a big, but when He need to use it for a day or 2 I never know what the configuration will be like in the truck bed. the last time I had to do shopping before I got the cargo Net thing were all over the back of the truck bed. The Reese Cargo Net did a great job. Even for someone who loves milk as much as Me and gets gallons at a time,,,,billy
Alias75
Geat Buy!
We just bought a new CX9 and needed a cargo net to keep everything from rolling around in the back. I looked online everywhere and was getting upset at the prices. $35 to $40 for a net. I had already looked for one at walmart and didn't see any in the store, but I decided to check online just in case. This net was 1/4 of the price of most the nets I had seen, so I was skeptical. I bought it knowing that I could take it back if it was junk or didn't fit (the product description didn't include the size of the net). I didn't have to worry about that. It is a quality net for a reasonable price. It fit in my CX9 on the hooks already in the SUV and it is holding up nicely so far. Maybe the $40 nets are super durable and will last twice as long? Even if that turns out to be true, I can still buy four of these nets for one of those.
Tomfromrock
Good Value for the money
I bought one of these rather than paying Toyota $140+ for the factory OEM cargo net. I just installed one in my 4runner, and haven't used it yet but it looks fine for securing maybe 5-6 paper or plastic grocery bags, to keep them from rolling around. The instructions aren't very good, but any semi-competent "handyman" owner can easily install it in their SUV cargo area. BTW as you all know Walmart specifications are not for the PRODUCT, they are for the BOX. Ridiculous, WM get on the ball! People need to know if the PRODUCT will FIT! Anyway this product box says it will fit interior spaces from 42-56" wide. I installed it in my 2013 T4R easily, and it is 48" wide. The install kit comes with two black knobs, which go on the inside wall of the SUV. When installed, a loop at each corner of the net hangs over that. However THE ADHESIVE on the knobs was a total failure, even after thoroughly cleaning the area and then applying pressure for a minute as the instructions said to. They both FELL OFF later all by themselves with nothing even hanging on them! I suggest using the screws and create a secure installation. I don't expect it to last very long, as it seems sort of flimsy but I think it was worth a try, considering it was 14% of the cost of a Toyota version!
las8070
Worked for Me
I wanted something to creat a "barrier" when I opened the hatch to the cargo area on my Kia Sportage SUV. As stated in some of the reviews, it was too wide but all I had to do to "shorten" it was to pull up the elastic bands on the sides of the netting and tie a knot in them. My vehicle had hooks on the side as well as on the floor of the cargo area, so it was easy to attach. It accomplished what I wanted and I couldn't beat the price.
SonniePi
Not for car trunk.
This is not for the average, or smaller, trunk. I own an Avalon. As the largest sedan by Toyota, I expected this cargo net to work. It was too large. This should be used for SUVs, vans, trucks, etc. Not for cars.