Reese Towpower Dual Bent Pin Receiver Lock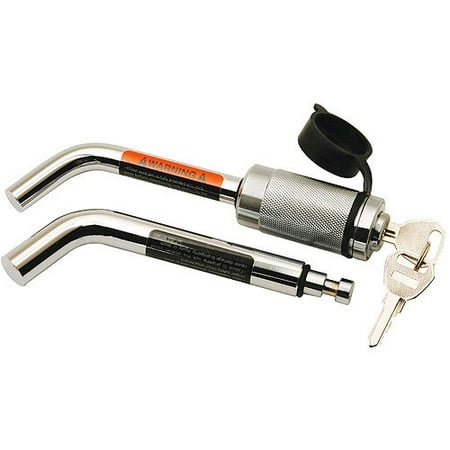 Sale :

$13.52

Sold & shipped by Walmart
Product Description

Additional Information

Reviews
Product Description
Now you can easily keep your trailer hitch clean and secure with this Dual Bent Pin Reese Towpower Lock. This item is interchangeable with 5/8" and 1/2" receiving holes. The Reese receiver lock will keep your hitch protected even in the elements. The flat key design and rubber cap mean that the product will keep dirt and debris out to ensure that it functions properly at all times. The lock fits class I/II and III/IV receivers for added versatility. A key is provided so that your trailer can only be removed under your terms.
Additional Information

Reese Towpower Dual Bent Pin Receiver Lock:
Reese Towpower lock has interchangeable to 5/8" and 1/2" receiving pin holes
Push-button lock mechanism
Trailer hitch receiver lock has a flat key design
Rubber cap keeps dirt out
Fits class I/II or III/IV receivers
Model# 7006030
Reese trailer lock has a chrome finish
Fits 1-1/4" and 2" receivers
Weighs 1.1 lbs
Strong metal construction
Can handle heavy trailers and cargo
Reviews
ValueHunter007
Hitch lock works
The lock comes with two bolts; 1/2" bolt for 1.25" hitch and 5/8" bolt for 2" hitch. I only use the 5/8" bolt for my 2" hitch bike-rack, and it fits properly. Easy to lock and unlock. Chrome-plated steel quality.
Andrew
Pin broke - DANGEROUS
I bought this to tow a 30 foot travel trailer. Had the pin two months. When inspecting my hitch for next use I found the locking part of the pin had snapped off (the actual pin had snapped) and the pin could just slide out. I had been driving with the hitch still on the vehicle daily and luckily my large weight distributing hitch. which is a massive lump of steel had not fallen of on the highway yet. Also lucky it didn't come of when I was towing the travel trailer. I will complain to Walmart/Reese out of safety concerns but would never use another one. I'm looking for a different brand.
vanvanfam
First time using....Broke on the road
Using the 1/2" receiving pin on a 2012 Honda Odyssey I pulled a 2008 Starcraft 2107 (approximately 1700 lbs on a 2" ball). During our week long trip everything seemed to be going fine until returning home. On the drive home the pin disappeared (I can only imagine that it broke) and our popup trailer dropped to the road. I am now left with a 1/2" dent in my bumper and I have to replace the trailer jack (which was ruined in the fall).
BeenDaved
Perfect Tight Fit
What I meant by "Perfect Tight Fit" is that exactly! There's no wiggle or wobble. It does the job what it is intended for, perfectly! Also the locking mechanism works smoothly and correct. This receiver pin/ lock is much better than ones that cost a lot more. I can honestly recommend this hassle free hitch pin/lock to anyone.
jhts
Perfect Tight Fit
Same problen here. The smaller pin is not long enough to fit through my 2" hitch and lock it. It's about 1" too short.. I needed the smaller one because my Bike rack will only accept the smaller size.. Off to return this..Great product ,,, just the wrong length for the 2" receiver...