Reese Explore Expandable Cartop Carrier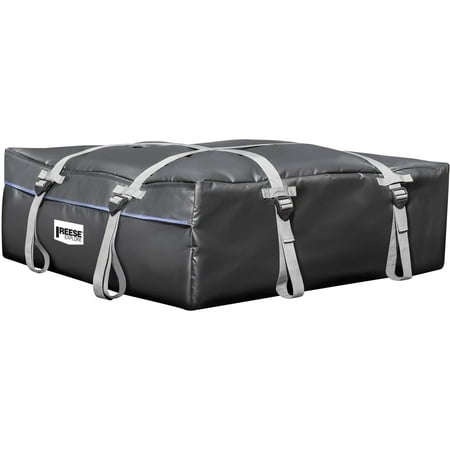 MSRP :

$125.53





Sale :

$48.08

Sold & shipped by Walmart
Product Description

Additional Information

Reviews
Product Description
pThe Reese Explore Expandable Car Top Bag allows you take extra gear along on a road trip while saving space inside your vehicle. It is simple and easy to use. This rooftop cargo bag feature straps that attach to the top of any vehicle with a roof rack, whether it uses side rails or crossbars. It will stay securely in place as you make your way to your destination. The water-resistant material protects against rain and other moisture, ensuring that your clothes and other important items stay dry. This rooftop bag is easy to load. It has an expandable zipper so you can increase the carrying capacity and pack it with a large amount of travel essentials. The extra space in the bag ensures a quiet ride and a better-looking alternative in rooftop storage. The straps are adjustable to ensure a snug and aerodynamic fit for the bag so your car experiences minimal added wind resistance./p
Additional Information
Reese Explore Expandable Cartop Carrier
Reviews
CAtoTXallOK
Great cargo carrier!
The Reece car-top carrier was perfect for us. It really added to the storage capacity of the car when my daughter and I traveled across 4 states. It is easy to use; just lay it on top the car, fill it up, and strap it down. You definitely need at least 2 "rails" on the vehicle to strap on to though. We had front/back rails, but just tucked the side straps into the rear doors and it worked fine. The four cargo straps are plenty to tighten everything down. We didn't have any shifting, flapping noises, or sluggish "pull" on the car. We also loved the expandable zipper - gave that little bit of extra space to the back portion of the bag. When we stopped each day it was very easy to unstrap, unload the extra boxes and bags (into the front seats or hotel) and fold the carrier up and tuck it into the car until morning. One TIP - we had everything in 6-8" high plastic bins and those vacuum sealed bags, so they were easy to load and unload.
skippyjeff
Worked great!
This worked great for me, frees up a lot of space in the car, I was actually able to see out of the back window! I was able to put all of the bags for my family of 6 up on the roof which normally takes up most of the cargo space in the back of my Dodge Grand Caravan. I drove through a pretty bad rainstorm and there was a little bit of water inside, but not a lot. Since it claims to be water resistant and not waterproof, I would say it holds up as advertised. Since rain was in the forecast & from reading others reviews on their stuff getting wet I had placed all of my bags inside of garbage bags, so everything stayed dry, but there wasn't a lot of water that got through, but some things would have gotten a bit wet. I had to stop a couple of times and cinch it down, I assume because things shifted with the wind so it then became loose. Great purchase for the price.
cheap84
when it rains it pours
I bought this product as a cheaper alternative to a hard shell as I only really needed it for one long road trip. As it states in the description it's supposes to be rain proof but that was far from the case. We drove through I quick light rain shower and got a puddle in the carrier. On the way back we drove through a horrible storm and it soaked our luggage and carried a large amount of water in the carrier. Although the zipper is covered I am pretty sure that's where it came from or possibly when the bag is expanded to full size the bag is not rain proof. Either way I would not suggest putting anything in the carrier that should not get wet; however it was a good way to fit a lot of stuff in a small SUV. I also had to use my own straps as the suv I was using had pre-fixed strap points that wouldn't reach with the given straps. Bottom line I would not buy this product if you are using it for luggage.
NatureValley
Worked great for our beach trip!
I bought this carrier before our trip to the beach. We have a new baby, so a little less space in the minivan! Inside the carrier I packed a couple of duffel bags, 3 beach chairs, 2 bags of linens/towels, some beach toys, and a few other small items I crammed in. Still had a little space left but I didn't spend the extra time to re-pack. Strapped the bag down tight to the roof rack using the 4 straps included. My main concern was drag on the van and/or difficulty with the handling. However, I encountered no such issues. I was also worried about water leaking into the carrier, but I had no problem with that either. However, I didn't get into heavy rains so I can't speak to that. Everything was dry inside after a couple of light rains and early morning dew. The only downside I can think of is that it's a pain to load/unload. The bag unzips all the way open which is great, but it's just awkward since it's high up on the roof. Using a step stool to pack makes it much easier. Also, don't try to remove the bag while it's still full...way too heavy, especially for 1 person. You may end up ripping the bottom of the bag. ( I speak from experience, but luckily it was only a small hole and duct tape patched it up nicely.)
dhancock
Did just what I needed
Wanted to see out the back window when coming back from the beach so ran to Wal-Mart and got this fantastic unit. We put all the stuff with sand, dirty cloths, boogie-boards, fishing poles, etc. in it and it made the trip much more enjoyable. Notice that if you don't have some sort of luggage rack that you can pass straps through you will have to buy some sort of additional mounting kit. We have a Buick Enclave and fortunately bought the two cross bars for the rack, otherwise I discovered that we could not have mounted this to the side rails - they have nothing to tie to! Like the manual says, you don't need all four straps, two is plenty. Didn't get to test it in the rain but I am sure it will be fine - it has an additional flap that covers the zipper. And one more nice feature - it has one of those 'expansion' zippers like you see sometimes on suitcases.