Highland Steel Hitch Mounted Cargo Tray, Black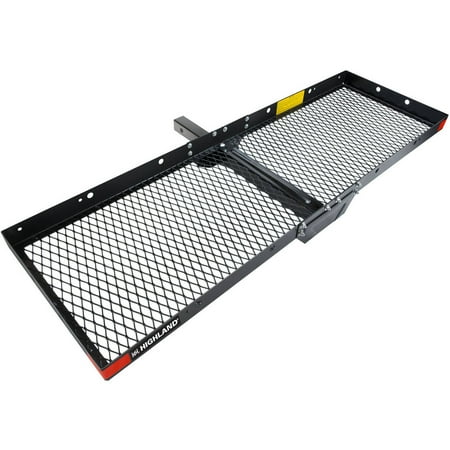 MSRP :

$92.6





Sale :

$60.97

Sold & shipped by Walmart
Product Description

Additional Information

Reviews
Product Description
The Highland Steel Hitch Cargo Tray installs on the back of virtually any vehicle, giving you instant additional storage when necessary. The Hitch Mounted Cargo Carrier in Black is ideal for use when you have an additional load to carry for family vacations, tailgating parties, camping or construction work. Easily and securely store and transport coolers, sports equipment, luggage, camping gear and more in this cargo tray. With the Hitch Mounted Cargo Basket you can carry up to 500 lbs of gear on the outside of your vehicle. It is a smart solution when you need to carry dirty gear from sports or extracurricular activities.
Additional Information
Highland Steel Hitch Mounted Cargo Tray, Black:
Measures 60" x 20" when installed on the back of a vehicle
This durable tray creates extra cargo space for family vacations, tailgating, camping or when working around the home
Tray can carry 500 lbs of gear on the outside of the vehicle, keeping the inside of the vehicle clean and ready for more
Reviews
lectrichead1
Good price, pretty good quality
From looking at various hitch cargo carriers it seems as though they are all fairly similar in general, unless you buy some very expensive ones, though some are smaller. Packaging was good and professional, the instructions and warnings are a one-page sheet of double-sided paper but that's all that is needed. Assembly was quick and the instructions were good. You need a minimal amount of tools to put it together, and it goes quickly. One person can put it together in practically no time. The bolts for attaching each side of the tray have nylon locking nuts and washers, the bolts for attaching the whole thing to the hitch receiver tongue are larger diameter and have washers also but no locking nuts. I think it goes without saying that you want to recheck the tightness of each bolt once in a while anyway. The materials it is made of seem fairly heavy duty, the welds are good and the mesh on the bottom is of moderate thickness and plenty strong. The steel of the frame seems good sized as well as the piece of square steel that goes into the hitch receiver. It even came with a hitch pin and cotter pin. Fitting it into the hitch receiver on the vehicle was easy but there was a bit of play when it is in. This seems to be fairly normal with some hitch receivers - no matter what you put into them. I have had two bike carriers that are the same way. From what I have read manufacturers seem to have a bit of leeway when it comes to 2 inch hitch receiver sizes perhaps. Once I put weight in this cargo tray it was much stabler and didn't seem to have the play that I had noticed when it was empty. But I did use a few pieces of thin tin slid in between the hitch receiver and hitch piece on the cargo carrier on the top, and sides. And zip tied so the tin wouldn't work it's way out, to take up a bit of slack. But I don't know if it was really necessary. The tray itself has multiple tie-down holes along the front, back, and sides. It's plenty wide enough and deep enough, and in fact was deeper than our cooler as well as the large Tupperware container we were planning on strapping on to store more things. I used a combination of ratcheting tie-downs, rope, and bungee cords to secure everything front to back as well as side-to-side. Also, a bungee hooked around the metal mesh floor right in front of the cooler and Tupperware thing and up over them and hooked to the front helped to make sure both stayed in place and didn't slide back, though I don't think it would have mattered. I also used a few bike cables and locks to make sure nothing could get stolen while at rest stops or other places where it might be unattended. You can hook the bike cables from your hitch's safety chain attachment around this cargo tray, taking up any slack by looping any extra cable around sections of the metal mesh floor until it's fairly tight. That way no one can unhook the whole thing and pull it out. It's even an extra safety in case the hitch pin came out, which is unlikely. You can also take more bike lock cable and locks and go around your cooler and other things to secure them to the cargo tray. Perhaps this is overkill, and I likely won't bother doing this next time but it may be something others might consider if it's going to be left somewhere questionable. After a taking this cargo tray with us while making the trip to a camping spots a distance away, driving down highways, secondary roads, and some lightly graveled roads it performed well. Same with the trip back. On a Ford Edge we barely noticed anything while driving (and what we did notice might have been just our imagination). Very good purchase, good price, pretty good quality, paint seems to be thick and coating every surface except the bolts, and I think you could even disassemble it all easily if you really wanted to for storage, though I am going to just store it assembled as it takes up very little space.
NHBiff
Will work fine for me, but two caveats
After doing a lot of research, I settled on this product. Directions were easy to follow and I actually assembled it in 1/2 while watching a World Series game (i.e. distracted). Pro's * Heavy-duty construction: Holds up to 500 lbs * Bottom is mesh, not bars (less likely to have stuff fall through) * Edge around bottom is about 1.5 inches high (better than I thought... less likely to have stuff slide off) * 60" wide vs. many others that are only 48" wide Con's * Caveat 1:Does not come with the pin to lock it in place (use the one that came with your hitch) * Caveat 2:I thought that there was an adapter so you can use it with 2" or 1.5" carriers, but you need to assemble it with EITHER the 2" bar OR the 1.5" bar... there's no switching once assembled. * Doesn't flip up when not in use... you have to remove it or drive around with it empty. I'll update this entry after a Scouting road trip this weekend (driving across three states).
flrhcarr
Fits fine, does it's job
Though a bit wobbly for my liking, that's kind of how hitches are, I suppose. Went together easily enough, & mounts fairly quickly. I would use a tall paint can or something like that next time, when doing it myself. I would also coat it myself, so it doesn't rust after the first wet spot it reaches. Maybe even an undercoating, so that thrown rocks don't tear it up so much. I did add a package of reflector tape to the middle of this, so others can see there is something sticking out. One thing to note about loading this. You can put a bunch on there, but it is going to weigh down the back end a whole lot! Do a test run over some speed bumps near home, those rooster tails on the trip can be unnerving, & you don't need any extra stress. Now add passengers, inside gear & the weight of what's on the roof rack, that may be more than what you're looking to carry on those tires.
CEAnders
bends after frequent use
Had this about a year and use several times a week carrying tires, when pickup bed full. it has begun to severely sage on each side of the center 2" beam. the basket is so bent on each side they now touch the ground. each tire is around 75lbs so x 4 is 300lbs , or 400lbs max which is supposedly within the weight limit of this. Problem is this is the longest of the cargo carriers and with the open basket allows longer items like tires to hang over . Think I will weld some plates on a new one rather than just bolts holding it together. If you use this frequently or for a job, be warned ITwill eventually sage, save your self a head ache and go to home center and weld or at least bolt on metal pieces that run the whole length of inside of basket rather than just snapping the center tabs taps together
Joetato
Hard to beat for the price
I'm not going to repeat what others have already written in their reviews, but I will mention that I got this item to use with a '97 Jeep TJ. It fits my factory class III hitch with a little play. Once the tray is loaded, it's fine. I weigh ~280 lbs and can stand on it with no issues. I have factory 28" tires & spare, and the tray sits well clear of the spare. If you're rolling on 33's and using a swing-out tire carrier, this is going to be a close fit, but you might be good to go without a tongue extension. Personally, I might add a couple of angle irons underneath for reinforcement, but that's just a matter of preference. Oh, and if you want a cage or some rails around your tray, Lund makes a basic rail kit that will fit this carrier and make it easier to tie-down your stuff. Lund 601008 is the part number, if you're interested.