Reese Towpower Car Top Rainproof Bag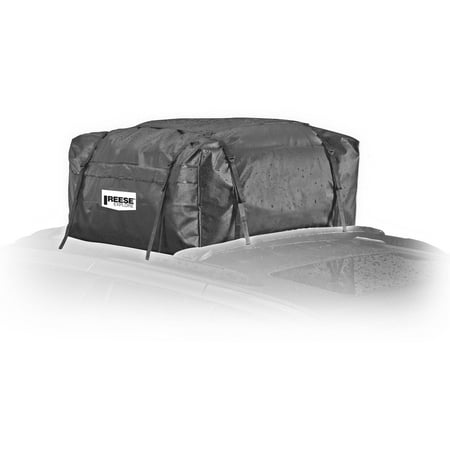 MSRP :

$35





Sale :

$25.49

Sold & shipped by Walmart
Product Description

Additional Information

Reviews
Product Description
The Reese Towpower Car Top Rainproof Bag expands your vehicle's cargo capacity and keeps gear safe and protected. It installs over the crossbars in the car's top and keeps your luggage covered and protected from dirt, rain, wind other elements you encounter while on the road. This car top carrier bag provides 15 cubic feet of additional cargo space and helps you reclaim space inside the car for a more comfortable travel experience. Easy to install, it includes all the required hardware for keeping the bag securely and firmly in place. Not only rainproof, this car top bag also uses durable UV- proof material that prevents it from fading under the rays of the sun, even on long drives on bright days. It features four security straps that help fasten the car top bag securely in place so it weathers even demanding road trips with high speeds and sharp turns. It folds down to a compact size for easy storage.
Additional Information
Expand your car's storage capabilities exponentially with this car top carrier bag. This handy bag fits on top of the roof of your car and can hold just about anything within its roomy interior. It's even waterproof, keeping contents dry and dirt-free during long drives.

Reese Towpower Car Top Rainproof Bag:
15 cubic feet of roof-top cargo space
Size: 38" x 38" x 18"
Color: Black
Includes storage bag
All installation hardware is included
Model# 1041100
Car top bag folds down to compact size for effortless storage
All car top carriers require roof side bars to be used
Reviews
Mmarie
Great
I was able to fit a large amount of items into the carrier. It fit perfectly between the roof racks of my Xterra and the straps provided were all I needed. I traveled from Florida to California, through rain, wind, and intense heat, and everything inside stayed dry. I was pleasantly surprised and glad I got it!
Bbbbbp
Great
We recently drove from PA to NC for vacation. We have a Jeep Patriot and are a family of 5. We needed more storage space for luggage. After researching we purchased this soft top carrier because of the price and it's guarantee to be waterproof. Our jeep only has side rails. I purchased some wench straps to secure the bag as the straps that are included appeared inadequate. On the way to NC we drove through some of the heaviest rain I have ever experienced. It rained so hard we had to drive 35 in a 70 mph zone for at least 45 minutes. When we arrived at the beach I expected the worse. I was surprised that no water had penetrated the carrier. All our clothes and other accessories were dry. We were able to fit 4 large duffle bags, 2 backpacks, 3 boogie boards, and 2 beach chairs in the carrier with room to spare. The carrier made no noise during travel and there appeared to be no compromise in our gas mileage. This bag was worth it's weight in gold. I highly recommend this product. Why pay $400.00 for a hard top carrier when you can get the same performance out of this carrier at under $50.00. Excellent value and worth every penny!
cajunjake
Reese Rainproof Cargo Bag
Bought two of these bags. Used the first bag for two different trips from GA to Tampa, FL and it performed well. Purchased a second bag (identical Reese Bag) for a subsequent trip and needed more storage room. I noticed halfway into my drive down that the bag was ripped open in the back - not sure why this bag fell apart. It appears it is due to cheap plastic material used to manufacture this bag. Tomorrow i plan to return this second bag back to the store for a refund. i have mixed feelings about whether to recommend this bag or not. Pros: Cheaper than the competition On the surface the bag appears to be made well, with heavy duty zippers. Definitely water proof, as long as the bag doesn't fall apart. Con's: Suspect plastic material used to make this bag. 1 of 2 bags has literally fallen apart (and the tear DID NOT occur at a stress point (i.e. where the straps connect to the bag; nor at a seam, or where the zipper is attached to the bag) I will next look for a "canvass" type cargo bag, hoping this will perhaps be a stronger bag than one that is made out of plastic.
2Whites2KJKs
Reese Rainproof Cargo Bag
Very roomy. We were able to put 4 airline sized carry-on suitcases and my husbands large duffle bag into the carrier with room to stuff a few small items for our trip to the shore. With a family of six this was important as there really isn't space in the vehicle. We then used it to carry 3-40 packs of water, 6 cases of soda, and all the plates, cups, bowls and utensils to our family reunion. More than served its purpose. In addition, we did have rain on both trips and had no issue of wet luggage. The only reason I did not give it a perfect rating is because one of the plastic feeds on one of the straps broke when attaching it on the day of the reunion. Fortunately we always carry Ratchet straps which, perhaps, should have come with it anyway. Overall we are very satisfied to date with our few uses, and I'm certainly hopeful it stands the test of time for future uses.
GLRB
Great Product
Great topper...My family just traveled from Florida to Va and back through snow and rain with no issues. We were able to pack in 3 small bags of clothes, a pack n' play, and two small/medium sized suit cases. I was initially concerned as the manual instructs you to attach to crossbars and we do not have any on our 2002 Jeep Grand Cherokee luggage rack but it worked fine just attaching to the side bars... Easy to use and packs away small when done (comes with storage bag that takes up approx 10"x12"x6"). Would recommend to anyone traveling with family!