Girls Value Pack Ankle Socks - 6 Pairs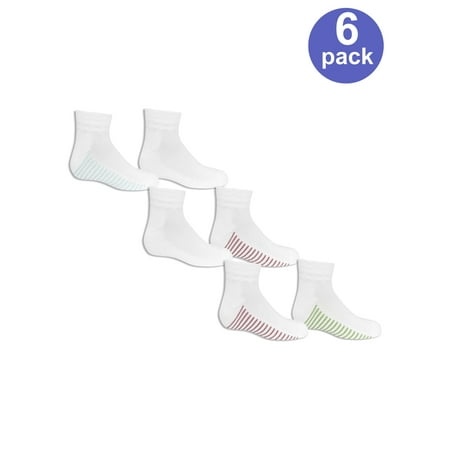 Sale :

$3.5

Sold & shipped by Walmart
Product Description

Additional Information

Reviews
Product Description
Need durable, dependable, and affordable girls socks? Look no further than FRUIT OF THE LOOM Everyday Basic Girls' socks that are made with ultra-soft fabrication, fully cushioned foot, spandex throughout for superior fit, and non-bunching heel. These socks are not only comfortable for growing feet, but offer a variety of choices in each package at a great price making them an outstanding value!
Additional Information
Shoe Size: 4-10
Soft cushioned sole
Best fit!
Arch support
Superior fit - Spandex throughout
Reviews
Gbartmi
Very good quality socks to wear with tennis shoes!
My granddaughter needed new socks for play and preschool, so I selected these Fruit of the Loom girl socks to fill this void. She prefers white socks with little designs in them, which these fit the bill exactly. I initially washed and dried three-pair, just to compare the possible shrinkage, color fading, and any design flaw with the other three-pair of socks. The washed socks did shrink about ½ inch in length and none in the width. All the colors stayed true, no bleeding or fading. I did not see any material problems, such as unraveling, pilings, etc. My granddaughter, who is 4-1/2 years old and wears a girl size 10 shoe, did not feel any difference in the laundered vs. unlaundered socks. They are very soft with reinforced toe and heel areas, a true non-bunching heel. The material is a good mix: 81% Polyester, 17% Cotton, and 2% Spandex. I noticed that she easily pulled them up very high on her leg/calve. So, I slid them back down to a normal, non stretched fit. I think these are approximately one size too big for her, unless an adult helps her adjust the leg/calve height. They are a medium weight sock. In my opinion, they are great for tennis shoes, but not so much for dress shoes. They did stay up, with just a little sag, and they never bunched up in the shoe toe or heel area. Bottom line: they look nice, have worn well, and my granddaughter wears a pair everyday with no sock issues!
CyberSista
Girls Fruit of the Loom Ankle Socks (6 Pair)
The Girls Fruit of the Loom Ankle Socks pack came with six pairs of socks. My daughter likes them a lot. They are a polyester cotton blend which contains some spandex as well. They are soft and comfortable. The material is very breathable. Each pair of socks has a different color on the heel and toe. My daughter likes the different colors on the socks and says that they fit very well. They seem to be good quality. Fruit of the Loom has become a brand that we know and love.
StraightTalkingGranny
Softer than expected
I was hoping these were cotton socks, but they are actually a polyester blend, so for that reason I shorted it a star. I do believe though, it's a good sock for the winter since it does keep the feet warm. I haven't had them long enough to see how long they last, but the material seems rather thin at the heels, so in my opinion it seems like they will wear out first. As for the comfort, they are very smooth but the patterns of how the material is put together looks rather patchy. They do seem however to be sewn together well, and the toe area seems a little thicker than the rest, so will probably last longer with the reinforcement. I don't ordinarily purchase ribbed socks only because it usually feels like it's gripping my foot; these however don't seem as tight as most ribbed cotton socks, so that constricting feeling is not an issue with these. Although they are mostly white, they come in different color waves on the sole of the feet, so you still can wear them interchangeably as long as you are wearing them with shoes, since the bottom doesn't show. I also got them because I thought they were for "younger girls", but what the package really specify is that they are more for tweens rather than toddlers. As it was, I usually wear a size 9 in women's and where they ARE long enough, I would say the toe areas are as wide for an adult woman, suffice it to say, they are for slimmer younger feet.
Ky13Mom
great basic sock - breathable and great fabric
In review of the Fruit of the loom girls ankle socks these socks come in a pack of six. They come with various color chevron lines on the bottom which is good when you go to match them. However the part that shows on the sock is still white. The colors included on the bottom are pink, blue, purple, yellow, and green. They are an ankle length sock. The large size is for sizes 4-10. But honestly they were pretty stretchy and fit my adult size 8 foot. I love the breathable fabric that seems to give them a good fit. It fabric stretchy is attributed to the fact that there is spandex in them however they are still very soft! Great basic sock. Very breathable! They feel very fluffy inside.
Ibell
Confortable
My daughter liked these, but the elastic does not hold them very tight on her.