Dr. Scholl's Knee-High Compression Socks, 1-Pair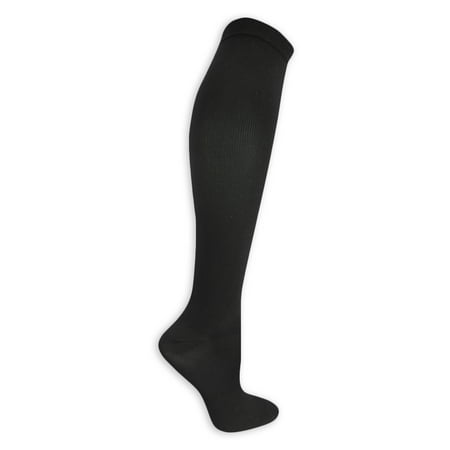 MSRP :

$8.44





Sale :

$8.28

Sold & shipped by Walmart
Product Description

Additional Information

Reviews
Product Description
Additional Information
Moves blood flow up legHelps eliminate varicose veinsHelps improve leg comfortAPMA approvedClass 2 medical deviceHelps swelling and leg fatigueMild compression of 10-15mmHg
Reviews
mayi1953
pressure where it works
I gave my Dr, Scholl's knee-high compression socks a few days of trial because I have been using compression socks for a long time, and found out that while they are not all the same they do have similar qualities also flaws. This socks are the graduated compression type meaning they must exert their highest pressure, measured at the ankle and that pressure must decrease approximately up your leg. The Dr. Scholl's socks are made guided by the best health guidelines like the elimination of cotton in their manufacture to help reduce moisture absorption and irritation. They are also latex free to avoid common allergic reactions. They are beneficial to help reduce swollen and achy feet and legs. The idea involved here is that mild compression induced from bottom to the top can promote your blood circulation. In turn better blood circulation means better health, is like getting a slow massage from your feet up. Cons : This socks do their job in all that they claim they can do, but they will not work for me and might not work for some of you. That's why I give them only four stars. I will have to purchase the open toes style otherwise I will suffocate. I tried them with sandals and just them on, got the same result. I'm very hot and this all closed socks are a major no, no. If you are like me get the open toes style. In the other hand they will work fine for those of you with cold or regular feet. Second con: One size does not really fits everybody, specially in this situation that involves health issues. Sometimes even your right size can be too tight a bigger size too loose, either situation can cause more problems than to resolve them. (I encountered this problem with are compression garments.) Don't think I can cut them in the front and wear them. It won't work, I tried it with other compression socks, wasted time. One piece of advice is have yourself measured by a qualifed person. It doesn't cost anything if you are looking for help with health problems you most have a nurse, a doctor or therapist that checks you regurlaly. Next visit ask to be measured properly believe me you will be greatful.
kmdrice
Just right!
I've tried many compression hose but these were the most durable yet comfortable. So I have daily support along with comfort. Hose do not cut my circulation at the ankle or at the knee. Love these hose.
Thrifty
Swelling Solution
I am so pleased with these socks. I've been having a lot of trouble with swollen legs and ankles lately due to medications and these seem to have solved the problem. They are comfortable, fit me well and keep my legs from getting achy and tired. They dry fairly quickly too. I don't know what I'll do in the warm weather but for now they solve my problem.
MAinKellogg
It works!
The stockings work well to prevent my lower legs and feet from swelling. Would be nice if they were about two inches longer and didn't shrink about 1-2 inches when washed. Otherwise definitely worth the money!
JAW
Good
Wish I didn't have to order and could just get it in the store.