M8921B6-12-SP Socks,Mens,10-13,Black,PK6 G9057081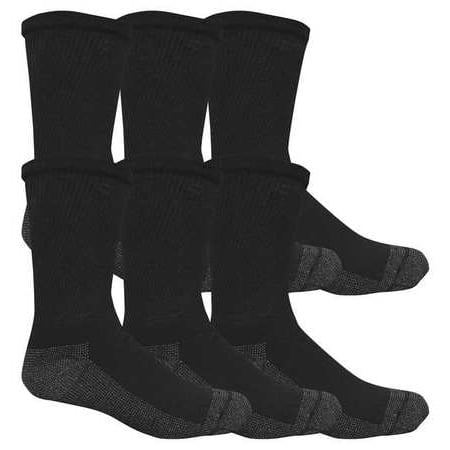 Sale :

$11.33

Sold & shipped by Zoro
Product Description

Additional Information

Reviews
Product Description
The Fruit of the Loom men's work gear heavy duty crew socks are the REAL work sock. The antimicrobial odor control, extra cushioning and reinforced heel and toe allows comfort for all day long on even your hardest working days.
Additional Information
Item Type: Socks
Brand: FRUIT OF THE LOOM
Manufacturer Part Number: M8000B6US-1
Made in the United States
Features: Seamless Design
Reviews
DahBear
The perfect sock
Have looked for years for a sock that: o Can be worn with dress shoes but also heavy enough for tennis shoes / working outside o DOESN'T LEAVE A TON OF LINT / BITS OF FABRIC under your foot! This was the hardest thing to find in an affordable sock! o Doesn't have goofy gold or bright red thread stripe across the toes (sometimes you go to someone's house and take off your shoes, and I don't really want my socks advertising to others) o Is all this, plus AFFORDABLE. Stop your searching - I've done it for you. I have researched probably 40 different sock brands, and purchased / used about 12 trying to find the good socks. These are the good socks. After testing them out for about 1 month, they passed all tests and I purchased basically a lifetime supply of them: 42 pairs. I can use them for dress socks at work, or heavy socks when doing work around the house. I've thrown all other socks out to donation now. One type of sock in the house = never having to match socks up after the clothes dryer again. Ha - you laugh at me. Ha - I laugh back when you finally figure out how much stinking time you've wasted matching up your socks after washing them. Any two socks in my house are automatic matches now. HAHAHA. :-) Buy these. Buy often.
Workz
A Great Sock
These socks are awesome!! I've bin wearing this style for 16 years. I also work in construction and it takes a toll on socks. But these socks get me way over a year of work out of them. Anybody that has a foot size 9", 10" and maybe 11" will fit in these socks. My foot is exactly 10" and these socks fit perfectly. The one review on here with the picture that has the persons foot right through the sock, needs to buy a bigger sock or learn how to put on a sock. These socks won't do that!! You will love them! They are one of the best.
Skyrie
Good socks
I bought these socks for my husband and he finds his feet stink less with them. A bit thick for summer.
Adsshopper
Item is just as described! Great comfort & value
Item is just as described! Great comfort & value
Alan7789
Comfortable socks made here in USA
I'm finally able to buy socks made here in the USA at a reasonable price, to help support an American worker. I bought these socks for boots that I wear everyday. The socks were comfortable though a little tight due to my size 12 and buying the 6-12 package. I bought these socks for comfort, cost, and most of all it was made here in the USA.