Women's Playtex 18 Hour Seamless ComfortFlex-White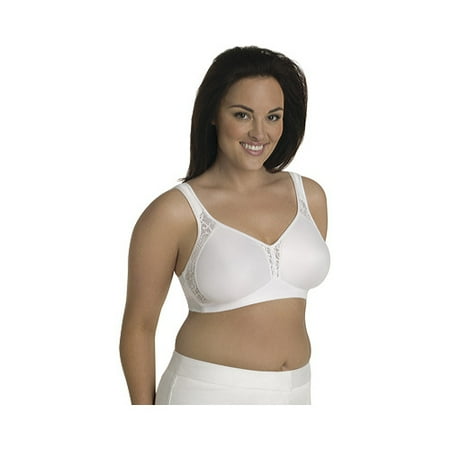 MSRP :

$18.94





Sale :

$17.7

Sold & shipped by Walmart
Product Description

Additional Information

Reviews
Product Description
Flexible Comfort Strap® straps provide some much needed TLC to your shoulders and no more painful digging in. Two-ply, seamless cups provide smooth support. Lace side cup panels add a pretty, feminine touch. Exclusive Spanette® fabric stretches and suppor
Additional Information
Women's Playtex 18 Hour Seamless Comfortflex Bra:
Flexible comfort strap
Playtex 18 hour bra has lace side cup panels
Exclusive Spanette fabric stretches and supports
Smooth appearance
Ideal support
Available in 38B, 40B, 42B, 38C, 40C, 42C, 36D, 38D, 40D, 42D, 38DD, 40DD, 42DD, 34B, 36B, 44B, 44C, 44D, 44DD, 46C, 46DD, 36C and 34C
Color: white
Reviews
Mabun
UPC : 042714231639 - Women's Playtex 18 Hour Seamless ComfortFlex-White - PickPanda.com
I bought a Playtex bra a little over 2 months ago and the hook came out actually a couple weeks ago didn't think about going on this site I was wondering if there was any kind of a warranty still I do like the bra it really does make me feel younger wearing it the way it's supports me
JW58
Feel like wearing a Snow Cone Cup
I Am very sad I ordered (2) of these, this is the original "Lift and Separate" - why I avoided Playtex for years. I feel like I am wearing cone cups that pull off to each side.
JAMD
Awful bra!
This bra is not smooth. Cups are pointed and sides have no support. Totally misleading as advertised!
Darcy1994
Avoid unless you already like this bra
It's been a while since I bought bras. Originally I found one style I really liked. Years passed and I went to buy more but the number search returned a similar but different bra, with the same part number. Years passed again and I went to buy more and the number showed no search returns. This bra was one that I decided to try, along with one other. Both now have 4 hooks for my size where as my sized use to have 3. I feel like I'm wearing a corest with all this extra fabric and hooks. With this bra, the cup had too much material and so there were wrinkles in it that showed through my top. The other bra, obviously the same size, did not do that. My size hasn't changed since I was 13. The cup also shaped my breasts in an odd manner, kind of like bullets and the points pointed outwards, to the side. The result wasn't at all like the photo. I'm now thinking I'll have to buy my bras in a brick an mortar store. I'm grateful for the easy returns but I'm not trusting the lack of details, like the hook number, and the images.
Bonk
Disappointed
I was a little disappointed in the sizing of this bra. The padded straps barely come over the shoulders, leaving the majority of the padding on the front side of the shoulder. I still do not like the strap adjustments in the back. You have to keep taking the bra off to move the adjustments, which is inconvenient and an over all a royal pain. They are also a little uncomfortable when sitting on anything with a hard back and they show through clothes when the fabric is stretched across the back with movement. I was just very disappointed with the bra; considering I've worn Playtex bras for almost 50 years and have never had a complaint about them before. If I can't find a style that is comfortable on me, I will have to go through the "search and find" process to find one that I will like.