Playtex Womens 18 Hour Original Comfort Strap Wirefree Bra, Style 4693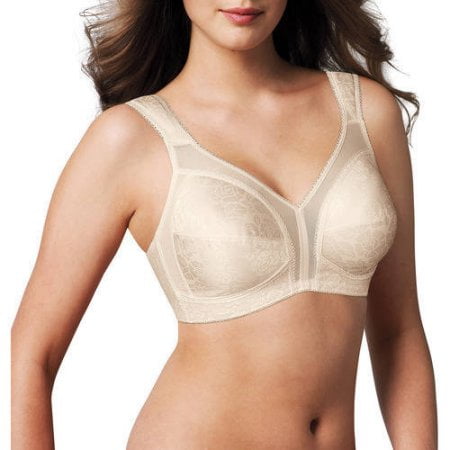 MSRP :

$18.94





Sale :

$17.44

Sold & shipped by Walmart
Product Description

Additional Information

Reviews
Product Description
This bestselling full figure Playtex Women's 18-Hour Original Comfort Strap Wirefree Bra, Style 4693 offers awesome support and comfort and women everywhere love it. No wonder the Playtex 18 Hour is the no. 1 wirefree bra brand in America. The signature M-frame adjusts to your shape for a smooth customized fit with TruSUPPORT bra design that provides a 4-way support system; higher sides for coverage, fuller cups for natural shape, wider straps for all-day ease, and a smoother back for stability. The bra features Comfort Straps that are cushioned to help relieve pressure on the shoulders and the straps adjust in back, so there's no bulky hardware in front. The back close has two to four rows of adjustable hooks and eyes, depending on bra size. The seamed wirefree cups give you natural shapely curves and the plush-lined bottom band helps keep bra from riding up. Exclusive Spanette fabric stretches four ways for all day support and the lace trim and floral print add feminine appeal.
Additional Information
4693
bras
Softly seamed floral cups and satiny styling add beauty.
Sleek side panels contour your curves for a shapelier silhouette.
Breathable Spanette fabric at back and sides stretches four ways for constant comfort.
Soft, flexible lace underband provides support and custom fit.
Cups band Inner Lining Strap: 100% polyester. Frame: 90% nylon 10% spandex. Band Lining: 50% cotton 50% polyester. Back Band Facing: 84% natural rubber latex 16% nylon. Exclusive of other trim and elastics.
Wide cushioned Original Comfort Strap bra straps back-adjust and relieve shoulder strain.
Reviews
RonDogMom
Long time comfort fit customer, short time unhappy
I am a long time customer of Playtex 18 Hour Ulitmate Shoulder Comfort Wirefree Bra. I love that there is no tag anymore. The fit and comfort of the bra is excellent. However, in the past month, I have purchased 6 bras, which are not cheap. On two of those bras, one of the strap clips has broken. Now, I haven't yet contacted Hanes, and will do so. But, I am disappointed. When the first clip snapped, I figured I must have caused it. But when the second clip on a different bra snapped, I decided it's not me.
McFly
Too Small
I've been wearing a 36 H size bra for years. I've had several different brands that have all fit fine. This bra was terrible! I got the band size a bit bigger, 38 and I still felt like a stuffed sausage. I basically had to fold my breasts into the cups and try very hard not to need to breathe. Won't try to wear it again!
Texas Mack
Comfort and Coloers
Been wearing this style for 20 plus years. Can be worn all day in comfort. And am so glad for the various color options. Coordinate with outfits and you really feel 'put together'.
Salad Woman
Playtex bras in the color Blush
As older bras are wearing out, it was time to replace them. I chose the color blush this time and bought four of them. I usually buy two or four at a time, in a color I don't already have. This helps me to know how old they are. What surprised me is that they were ready for wear; in other words, they didn't need a breaking-in period. The only other time this happened was when I ordered two black bras. Usually, they need a few washings and wearings before they're ready for prime time. One drawback is that, instead of a tag, the bras have text imprinted on the garment. Sounds like a good idea, right? However, the text is in black and shows through light-colored garments. A big drawback. The point in getting a light-colored bra is so that it can be worn underneath light-colored garments without showing through. Ah, well. At least I still have some beige ones with tags and not dark imprints.
CScents
tight fit
I bought several sizes, my mother, daughter and granddaughter all said they were a little too tight but the cup size was fine.