Womens 18 Hour Full Figure Lace Wirefree Bra, Style 20-27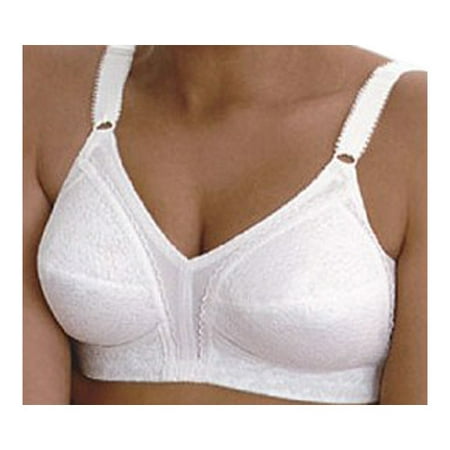 MSRP :

$18.94





Sale :

$17.44

Sold & shipped by Walmart
Product Description

Additional Information

Reviews
Product Description
Playtex 18 Hour Full Figure Lace Wirefree Bra, Style 20-27
Additional Information
What makes this classic Playtex bra so popular with our customers?
Signature M-frame adjusts to your form for fabulous fit and support.
Breathable Spanette, Fabric stretches & Four waysfor freedom of movement.
Softly seamed cups contour your curves for wirefree lift and shape.
Super-firm bottom band adds feel-good support and stability.
Gorgeous floral lace adds feminine appeal.
More reasons to buy:
Truesupport & Bra design ensures comfortable 4-way.
Stretch straps adjust in front. (They're non-stretch for added support in DD and DDD cup sizes.)
Tag-free leotard back helps keep straps from slipping down.
Back close has three to five rows of adjustable hooks and eyes, depending on bra size.
Imported
Natural rubber latex, nylon, polyester, cotton, spandex
Reviews
Babs88
Love this bra
This is the only Playtex bra I can wear and have been wearing now over 30 yrs. Just wish they would make it in other colors like they do their other bras. I would buy a blue, pink, purple. This bra holds me so I don't jiggle, holds my sides in and I feel confident in it. Bought another style bra of Playtex #4693B I couldn't even get it on or shut so I am stuck with it but I am glad I have these #27 style bras.
Lindsey
Fabulous Bra
I love this bra. I have beige and white colors and was lucky enough to get 3 of the black color 2 years ago before it was discontinued. As a 40 DDD cup gal, I have tried lots of bras and most of them have such shapeless cups and give me the "uni-breast" look under my tops, just one, big bulge instead of shapely breasts. Not with this bra! The cup shape and support seams really wok and give me a high, lifted look with just enough point to the cup that each breast looks firm and shapely, not like a canteloupe in a shopping bag, ha ha. The cups are very firm and I have found the best way to put this bra on is by bending over and letting my breasts fall into the cups before pulling up the shoulder straps and adjusting them. There is plenty of adjustment lenght in the straps too, which really helps to uplift my breasts where they should be. I usually adjust the cups upward about 2 or 3 inches higher than it looks like they should be but, within an hour of wearing this bra, thebreast weight pulls the cups down to just about perfect lift. Try this bra with a sweater compared to your mushy, shapeless styles and you wil see that you have separation and "points" again, Yay!
ck10
perfect fit and shapes beautifully
I love the way this bra shapes my breasts. And it is soooo comfortable. I want to buy more of these but it looks like it is no longer available in most sizes and colors. Please, Playtex, bring this back. The new model does not fit or shape the same.
GaleG
Cone Bra from the 50's!
I liked the way the cups of this bra looked on the model (rounded and natural looking), and the description of the support it provided. The support is terrific: No complaints there. However, the cups on the 38DD (the size I wear) look like rockets projecting from my chest! Remember the bras of the 50's that looked like cones? Well, this one could be from that era. Shame, because the support and construction are superb. Back it goes!
Fluffy2
Sadly - had to return
I LOVE the support of these bras! They are very comfortable and offer great support. (middle aged woman, bra size 34 D) I have a very hard time finding good support in my size. However, I sadly returned the bra because the cups are really pointy! I don't like the seam because that shows through t shirts, but I could live with that. I really don't like the shape of the cup. I feel like Madonna from the '80's! Very pointy. I wish they would create a softer, seamless, rounded cup for this bra. It would be fabulous! But, with the pointy cups, I will not wear it.