Womens 18 Hour Full Figure Lace Wirefree Bra, Style 20-27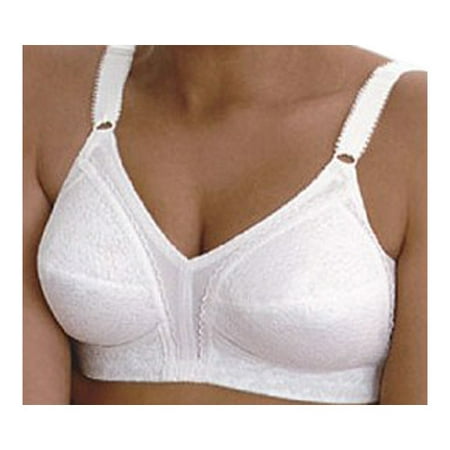 MSRP :

$18.94





Sale :

$17.44

Sold & shipped by Walmart
Product Description

Additional Information

Reviews
Product Description
Playtex 18 Hour Full Figure Lace Wirefree Bra, Style 20-27
Additional Information
What makes this classic Playtex bra so popular with our customers?
Signature M-frame adjusts to your form for fabulous fit and support.
Breathable Spanette, Fabric stretches & Four waysfor freedom of movement.
Softly seamed cups contour your curves for wirefree lift and shape.
Super-firm bottom band adds feel-good support and stability.
Gorgeous floral lace adds feminine appeal.
More reasons to buy:
Truesupport & Bra design ensures comfortable 4-way.
Stretch straps adjust in front. (They're non-stretch for added support in DD and DDD cup sizes.)
Tag-free leotard back helps keep straps from slipping down.
Back close has three to five rows of adjustable hooks and eyes, depending on bra size.
Imported
Natural rubber latex, nylon, polyester, cotton, spandex
Reviews
JoAnn Dugan
Defect
I was so excited to get this bra, however what a complete disappointment to open the plastic box and find that it was not right. The air form liner had not ben sewn and it was literally 2 pieces of material instead of one. assuming that I would not have any problems, I had thrown away the plastic box and my receipt. Darn the luck!
GGMAKnau
Great bra
I fell in love with this bra, but had a hard time finding them in the correct size at my store, so I went online and purchased them. I received them in only 2 days after I ordered them. Now this is the way to shop!!!
norain
Great bra
it is getting harder and harder to find playtex bras in the stores. my wal-mart does not carry any more. so glad that i can get on line.. I do not like any other bra xcept this one... i have tried other other brands do no like at all. hope you do not quit carrying on line and think of us ones that love playtex that does not have a computer...
Panchokin
Size has changed
I love this bra - it is the most comfortable bra I have ever owed. The last 2 times I have purchase 5 of these the 38 was about 3"-4" smaller around. I sadly had to return them(these are so popular that finding them is difficult). That said I again return to the store, purchased 5-6 of these and up sized from a 38 to a 40 and 42 (D, DD & DDD) because sizing had changed so much and because these were all the store carried. The 40's were big around and I could hook them 3 rows in (what the heck) - but ok at least I could hook them since I couldn't hook the 38's that I usually wear. Oddly enough today I put on the 42D and guess what? I could barely hook it on the 1st hook(Whaaat this is a 42 and its smaller than the 40!) UM ok - then the straps were shorter ugh got it on and the straps were set in closer than all the bras I have purchased in this model 4088. On a side note - I didn't know JMS was also a Playtex brand UGH - I stopped buying JMS when their sizing and material quality changed for the worst. And now Playtex? I have always placed Playtex with high quality, high prices (you get what you pay for) and consistancy in products. I am a very disapointed customer. But, overall this is a wonderful bra if you don't mind purchasing and trying on several different sizes to make sure they fit.
GalaGal
F - A - N - T - A - S - T - I - C BRA for MONEY
Excellent bra for the money and the price counts now-a-days. Truthfully, I was shocked it fit so well considering the price. Of course, it can't compare to the over-priced bras Playtex makes for $35. and up but the fit and the comfort is what counts for me. The cups size is filled out perfectly. The straps are doable not the soft padded jobs that we are charged for - the single string straps work fine and remember gals this is what we all use 15 years ago - these padded straps are something new so I can live without them. Great bras - wish it came in an assortment of colors but then again I wish I had more money. Don't hesitate girls - this little sucker WORKS.