Sauder Parklane 4-Drawer Dresser, Multiple Finishes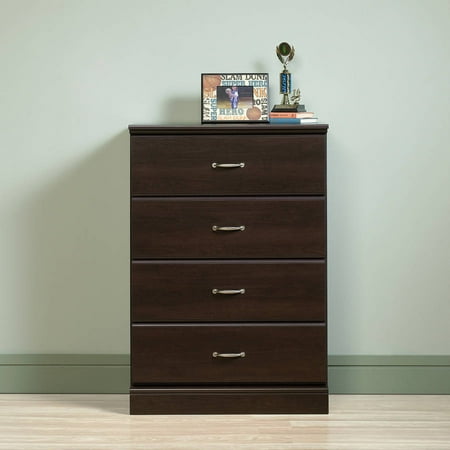 MSRP :

$99





Sale :

$79

Sold & shipped by Walmart
Product Description

Additional Information

Reviews
Product Description
The Sauder Parklane 4-Drawer Chest provides an ideal wardrobe storage solution for any room in your home. It has three lower drawers for sweaters, pants, shirts and bulkier items. A smaller upper drawer provides plenty of room for undergarments and accessories. The roomy, easy-glide drawers have safety stops, so you won't need to worry about catching your fingers. The sumptuous Espresso finish brings a lovely look to any setting.
Additional Information
Sauder Parklane 4-Drawer Chest, Multiple Finishes:
Espresso or Cobblestone finishes
Drawer with metal runners and safety stops
4 storage drawers
Assembly required
Sauder 4-drawer chest has engineered wood construction
1-year limited warranty
Assembled dimensions: 29.213"W x 16.220"D x 42.126"H
Model# 419152
Reviews
VeryUnhappyLoyalCustomer
DO NOT WASTE YOUR MONEY
My complaint is the drawers going into the dresser. They did not go into it without the loudest and most forceful hassle ever!! I literally thought my husband was going to break it; more than it is already. The drawers are so uneven and would not slide in. Now, they are all unevenly in, and can see the inside of the dresser whole closed. The top one won't slide in period. I'm so beyond unhappy with this $100 purchase! I want to take it back tomorrow, but I know my husband would be calling me crazy; because it took so much effort to put together. I'm wondering where our cut is at for labor! I am sitting here at 4 am just angry as can be over this. It just makes the whole thing look absurdly tacky! Yeah, this isn't going to work. My husband put the drawers in and as I was just now taking the pictures, I tried pulling them out and they literally will not budge at all. And he thinks I'm going to have to get over it and deal with this?! Noooo. This trash is going back. Smh
Toni78
Nice!
Very easy instructions, although it will take you some time to put together. My 12 year old did it. I had to adjust the drawer rails a bit once it was together to have them close properly, which was super simple. Very pretty, classic looking piece for the price. May get another for a different room.
Allie34
Complete junk!
Bought 2 of these dressers around March of this year and by July the drawers of my daughters were falling apart. We spent a lot of time on assembly and everything was to a T. At first I thought she was just overpacking them but that was not the case. Around August my dresser drawers also fell apart. The bottom base has slipped out of almost all of them and the front part has fallen off of one of them. You're better off hitting some yard sales or saving up and buying something better. These are not worth $100 a piece. This was the worst $200 I ever spent . Below is a picture of the way 1 of them looks now because 1 drawer completely collapsed, the 2nd drawer is intact, the third drawer has no base because it keeps falling out, and the last draw is just sitting there and the clothing in it are sitting on the frame of the dresser.
Supermom
It'll take time to put together but over all, Good
I bought 3 dressers. Assembled all of them by myself. 1st dresser took me 3hrs to put together. 2nd dresser, 2 1/2 hrs and the 3rd one is 2hrs. To me, its close to being perfect... not too expensive nor too cheap. I was working on them while my husband was watching me and he tried to show me videos on youtube. Im like, why would I watch youtube when theres a manual. Thats what manual is for - direction in step by step. After putting them together, I ended up having splinters in my hand. So my advise, be sure to wear gloves.
Mist
Don't waste your money!
I purchased this over a year ago but within three months two drawers were broken. I tried to do a little handy work and put them back together and it worked for maybe a month.. the dresser is just cheap quality l. Yes it was only $100 but I would have been better off buying plastic drawers and using those. So we keep it in my sons room broken only holding socks and underwear and a few hygiene products on top. I have finally given up and thrown it outside. I don't normally complain but this was a terrible purchase.