Radio Flyer All-Terrain Stroll 'N Trike Ride-On, Red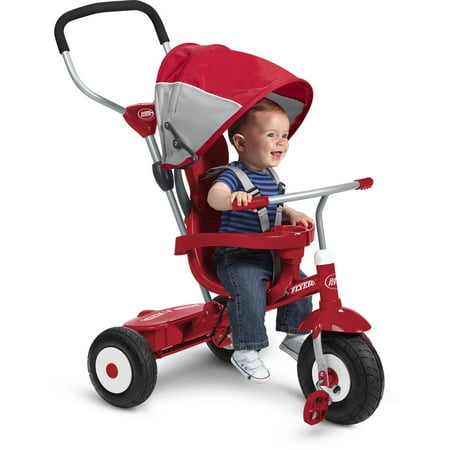 MSRP :

$119.97





Sale :

$99

Sold & shipped by Walmart
Product Description

Additional Information

Reviews
Product Description
The All-Terrain Stroll 'N Trike is the ultimate grow-with-me trike. There are four ways to ride to accommodate ages nine months to five years. It easily converts from an infant trike to a push trike, learn-to-ride trike and a classic trike. This trike features all-terrain rubber air tires for a smooth ride. It also offers safety features for the youngest riders, including removable wrap-around tray with cup holder, pedals that become footrests and a three-point harness with headrest. Adjust the seat and remove the height-adjustable push-handle and canopy and your child is ready to ride on their own.
Additional Information
Radio Flyer All-Terrain Stroll 'N Trike Ride-On, Red:
Age Range: 9 months to 5 years
Rugged air tires
Grows with your child. 4 ways to ride: infant trike, push trike, learn-to-ride trike and classic trike
Secure 3 point harness and high back seat
Removable safety tray with cup holder
Adjustable seat grows with your child
Adjustable parent push handle
Removable canopy for UV protection
Covered storage bin for added fun
Reviews
Katie
Daughter loves it
My 10 month old loves this bike. Straps don't stay on, but so far so good. The all terrain tires is a plus.
MamawPunzal
Great, quality bike
My daughter asked for a jogging stroller and while looking for a 1st birthday gift for my grandson, I came across the Radio Flyer All Terrain Stroll N Trike. Assembly took my "mechanic husband" a little over an hour and in the process we commented numerous times on the quality of the product. There are plastic parts where our old Radio flyers had metal, the front wheel fender and bucket on the back which is actually a storage compartment - nice idea! But, metal and quality are still in all the important places like the frame, steering, handle bars, and tires are air/valve stem, not the thick chunks of rubber. It glides right along and I've been rolling it around the house hiding it until my grandbaby's birthday. I know, he and my daughter will have a lot of fun and will just love it! What a great idea that this trike grows with the child, so I'm actually buying this sooner than I would if it was just a trike. Wish I had found it a few months earlier so they could be enjoying it right now!
bruinbelle1998
Excellent trike for little kids
This item far exceeded my expectations. It took about 30 minutes to assemble, but after that, it was easy to use. My 23-months old jumped on it and would not get off the trike. and the steering is great as I am always controlling where she is going. The best part is that when she does not pedal and I am just pushing her along, the pedals do not move, and they would not hit her feet and her feet would not get caught in them. It was very easy to push also. I would not put any kid younger than a 1 year in it, however. I am not sure they would be tall enough to reach the pedals. Also, there is a very obnoxious rubber smell, from the tires most likely. I assume it will go away in time, but it is very unpleasant. I posted something about this on FB, and many friends already said they either own it, and they plan to get it for their kids.
treatfreak
Tike's Delight
We purchased this for our grandson who just turned one as a replacement for his stroller. He's loving the ride thus far (only had him in it once). Drawback: his legs don't quite reach the pedals but are close. Since there's no place to rest them, one of them tends to hit his foot each turn of the wheel. However, he quickly figured out that he could place them on the front fender which seems to work OK for now. Just hoping he doesn't get his foot caught in it. He loves having the cup holder so he can take a swig as we ride the neightborhood. It's cute and should work well for him with the limited use he'll get out of it. I love that he'll be able to use it in various stages of his growth for at least a couple of years. I think he feels much more engaged than riding in a stroller. Putting it together was a bit challenging, and I think instructions could be better written.
excustomer
It's a radio flyer a name famous for quality
It's pricey but when I picked radio flyer I knew what I was paying for and didn't have to read reviews to know how it would work out, two kids started and outgrew the one I got and it's still all in one peice, when my son thought he was driving a bike by himself it was worth the look on his face and the lack of worry in his mother's face knowing she had control just put it over the top. Buy it enjoy it, pass it down, it'll last.