The Doctor's Brand NightGuard, Advanced Comfort-1ct, 2 pk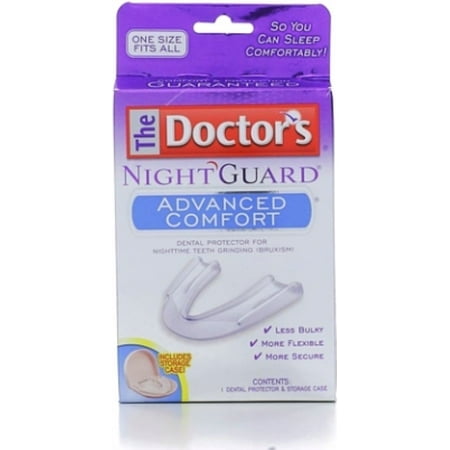 MSRP :

$17.24





Sale :

$13.6

Sold & shipped by Walmart
Product Description

Additional Information

Reviews
Product Description
Stop teeth from grinding and sleep more comfortably with The Doctor's Advanced Comfort Dental Night Guard. This item is less bulky than traditional night guards. It is also more secure and more flexible, creating a better fit so you can sleep comfortably. The Doctor's Night Guard comes in a 1-count package. It prevents the wearing of enamel that occurs from teeth grinding.
Additional Information
Dental Protector, Advanced Comfort, One Size Fits All
Contains: 1 dental protector & storage case. Comfort & protection guaranteed. So you can sleep comfortably! Dental protector for nighttime teeth grinding (bruxism). Less bulky. More flexible. More secure. Includes storage case! Designed by a dentist for protection & comfort. Custom fit by you for your convenience. Patented 2 layer design: soft upper layer to cushion & absorb, firm lower layer prevents grinding & bite through. Fitting channel for a secure fit. Soft layer to cushion and absorb. Flexible arch - less bulky material and greater customization of fit. Firm layer to prevent grinding. Guaranteed fit. Most of our customers are able to obtain an excellent fit the first time they try.
Reviews
imabo
who knows if this works
Very good price - I've read that others love this product. It was hard to shape. The instructions say not to use if youve been diagnosed with TMJ. I think I have it, and in the fitting you are supposed to bite down hard and hold it, so I may not have bitten hard enough. I heated it several times, and did get it more molded. The first time it was too thick in the back and pushed my jaw funny. So I heated again and bit harder in back, then cut off the part under my absent wisdom teeth. The second time it was molded too exactly to my teeth, so put pressure on them. The next time I pushed it back and forth while it was hot, and that loosened it up. Then I slept with it, and it pushed my upper lip open. Must have dried it out as I got a cold sore there the next day and haven't been able to wear it since. It could be a bad fit for someone with a short upper lip. The distance between my nose and my upper lip is short - makes it unsatisfactory to use a snorkle. So that could easily be a factor.
Shazamp
Get your wife back
The Doctor Avance Night Guard have brought my wife and myself closer again. I was a heavy snorer and this was driving my wife away from sleeping at the same time due The fact that I would wake he up with my snoring although I was not aware of it. When I started to look for a solution for my problem I type in stop snoring in Google and Walmart and right away Walmart add suggested the Doctor Advance Night Night Guard and I ordered 4 of them seeing that Ihave friends with the said problem. Their rapid response as usual on taking my order and prompt delivery kept my hopes up that as soon as the boxes arrived I began using the Product that very night and Wonder or Wonders I overslept and my son had to wake me up for work. My Wife said that she was able to also have a good night rest due to the fact that she did not hear any noise that night. I am now sleeping much better and longer with my wife at my side Thanks to the Doctor Advance NIght Guard And Walmart I was able to to get a better rest and my wife back.
Tiggertype
One Tough Night Guard!
I've purchased three different brands of night guards. This is the only one which has been super durable and because it cradles the upper teeth securely, it will not shift during the night. Other designs created along more minimalistic lines --which do not have 100% side walls--may look more comfortable or less invasive, but any chewing action while you are asleep will partially shift them off the very teeth you are trying to protect. I've awakened with aching teeth after using other brands. Sooner or later aching teeth become cracked teeth! I've tried other brands and styles when I couldn't find this one, but none of them did the job. I'd rather wear a partially worn out model of this brand, than a new one of another brand. Once you get it to fit correctly, it is comfortable , it stays in place wonderfully well, and is super protective of your teeth at night.
Betina
Best OTC NIghtguard
My daughter is a heavy grinder and snapped her prescription dental nightguard almost in half within a few weeks. The dentist redid her guard with a more sturdy material but it is so hard and so tight she can't wear it. Hence the use of this nightguard which is so ABSOLUTEY perfect. The fit is just right, it is super sturdy but it is not tight or uncomfortable. I purchased 2 as the price was so great. Each one is supposed to last for 6 months. It is so sturdy I believe that will be the case but now she has a backup just in case. Thank you Doctors nightguard for developing a product that works but is not flimsy like some of the other OTC nightguards. I highly recommend this product! It even has a guarantee that if you make a mistake with the fitting process they will send you a free replacement.
Sami215
Good alternative to going to the dentist for one!
I purchased this because my fiance couldn't fall asleep listening to me grind my teeth at night. I have been grinding my teeth since I was a teenager and it has never bothered me enough to actually get a retainer from a dentist. I currently don't have dental insurance so this was a good alternative for me. The molding was easy although it is a bit tight on some of my back teeth but it is easy for me to fall asleep. Waking up with it in my mouth is a bit uncomfortable but I think this has less to do with the product and more about how I molded it to my teeth and just the fact that there is a foreign object in my mouth. Overall, I think this is a great product and my fiance is very pleased that he can not hear me grinding my teeth and I no longer wake up with jaw pain.