Dixie Everyday Paper Bowls, 10 Oz, 38 Count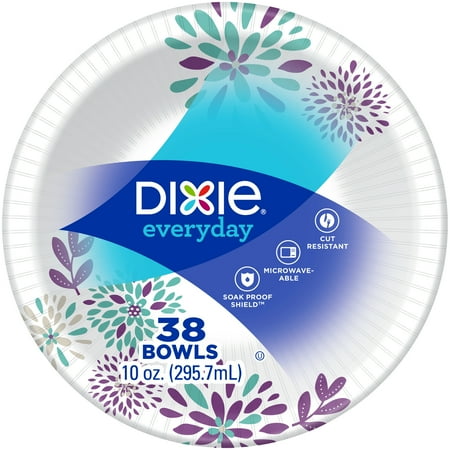 Sale :

$2.78

Sold & shipped by Walmart
Product Description

Additional Information

Reviews
Product Description
Additional Information
38 bowls per pack
10oz size paper bowls
Microwavable, Cut-Resistant
Perfect for snacks, dips, & salads!
Soak Proof Shield
Reviews
Gramaof7
EVEN HOLDS HOT SOUP
I received the Dixie bowls through the Spark Reviewer program. It is sometimes hard to find paper bowls when you need them. These are a nice 10 oz. size with 38 bowls in the package. They have a purple & and lavender floral theme. Not too busy, though. These are microwavable, which I specifically look for. I thought I would put them to the test by using one for my chicken noodle soup. They stood up to that test! The bowl didn't get too hot to hold and it didn't get soggy. It held up very well. These would be a perfect size at a birthday party for cake and ice cream. Fill a couple with mints and nuts. Also, they would work well for party foods like dips and salsa since they do hold up nicely. Party over, toss them out! Beats a bunch of dishes. Nice size for putting all the taco fixings in. Cuts down on clean-up again. So many possibilities! Dixie Everyday Bowls, soak proof, cut resistant and pretty, too. Can't go wrong. Look for them in your favorite store!
Texas001
Send me your rejects???
For the most part I have used and liked the paper plates. But this picture shows just how bad the product can be. I would expect that each plate could not cost more than 1 cent to manufacture and then I buy them at about $5 for 100 plates. Couldn't this plate been trashed and not taped and sent on its way to me?
Ncastaneda
Small and strong
This bowl appeared rather small at first sight. After opening it, I thought it was more like the size of a pot pie and not very deep. Upon further review; It is pretty strong. I heated things in the microwave and it up held with no burning or turning flimsy. I tried hot soup in it to see if it would weaken and it held strong. I also noticed my teenage daughter likes grabbing them for her cereal use. So I think that it's a strong little bowl with a lot of possible uses. Microwave safe a big plus factor in my household as well.
REV147
STURDY & STRONG TO LAST LONG!
I chose these paper bowls, because I love purple, and flowers :-) The best part about these bowls are that they are made so strong and sturdy, you can serve soup, ice cream, cereal, water or milk for the cats, dogs, etc., and so much more (for a few hours or so anyways-then they may get a little soft and flimsy). I like to use these when guests come over, or picnic outings at the lake, to save on washing dishes. They can sometimes even be rinsed out and used again, depending on what was in there before :-) Don't have a microwave, but heard these bowls work great in there for heating leftovers, etc., and are BPA and phthalates free. So that heavy duty plastic coating that keeps the food from leaking, won't cause cancer on your food while being heated (?) There are so many uses for these pretty bowls, like putting homemade cookies and candies in, and wrapping up with a bow, to give friends and family :-) Also love using these for putting sprinkles in to decorate cupcakes, or putting craft supplies in like glitter, glue, decorations, nails, paperclips, and the list goes on and on :-) Consumer Reports said that Dixie was the strongest and stayed the dryest!
keurig
BOWLED OVER
I JUST RECEIVED THE DIXIE EVERY DAY BOWLS. YOU CAN USE THESE EVERYDAY. THEY ARE A NICE SIZE WITH SO MANY USES. MICROWAVABLE, STRONG, SOAK PROOF AND JUST PLAIN NICE TO USE. I HAVE WENT TO USING MORE AND MORE PAPER "DISHES" . I HAVE BEEN A FAITHFUL USER OF DIXIE PRODUCTS FOR YEARS. THESE ARE SO NICE FOR COMPANY, PARTIES, OR JUST PLAIN LITTLE OLD ME. THESE ARE FROM SOUP TO NUTS! THEY ARE SUPER FOR CEREAL, SOUP, TACO FIXINGS, SALADS AND THE LIST GOES ON. I COULD GO ON AND ON ABOUT DIXIE PRODUCTS BUT IF YOU USE THEM ONCE YOU WILL SEE THE DIFFERENCE TOO. '