Dixie Everyday Dual Size Cup Dispenser, 3 oz, 20 count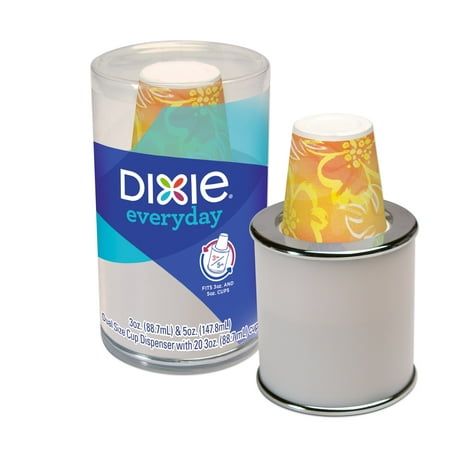 Sale :

$5.76

Sold & shipped by Walmart
Product Description

Additional Information

Reviews
Product Description
Additional Information
20ct 3oz Bath Cups Included!
Dispenser fits 3oz & 5oz Dixie paper cups
Perfect for oral hygiene, and arts & crafts!
Designs may vary
Reviews
Antoinette
68 cups and lids 16 oz Dixie to go
I have purchased your 20 oz cups to go and Never had a problem. I was discussing at work that I wanted to cut back and get the 16 oz. I was told by coworkers that they leak. I didn't believe them because like I said I never had a problem with the 20 oz. We I purchased the 68 cup package at my local BJ's Club and sure as the grass is green they leak, especially the NO, NOT YET, CLOSER, ALMOST THERE, READY. I am honestly afraid to use any others due to the leakage. Please look into this ASAP. Thank you for your prompt attention. Annie Phillips
Texas001
Send me your rejects???
For the most part I have used and liked the paper plates. But this picture shows just how bad the product can be. I would expect that each plate could not cost more than 1 cent to manufacture and then I buy them at about $5 for 100 plates. Couldn't this plate been trashed and not taped and sent on its way to me?
dmmaloney66
Leaking Cups at seams
I have been buying Dixie To Go Cups for years now and the past 8 months I have had problems with the cup leaking from the bottom rim and seams and I HAVE HAD IT!!! It looks like you have cut cost in production but not price and we as consumers are paying the price. I am only on my second cup of coffee in less than 2 hours. If these cups can not withstand the hot liquid for less than 2 hours you have a big problem.
Flight Risk
Hot cup leaks at seam.
Twelve ounce coffee cups leak at center of seam. Poor quality control. Never had this problem with the 16 ounce cups.
KnickKname
Alerting the company to a Quality Control problem
I bought a package of 14 units of 12oz. size of "Dixie to Go" Hot beverage cups. In some cups, the bottoms were not attached to the sides. You can see that the BLUE colored bottom material did not attach. I'm guessing that the BLUE material is the stiffer edge material of the sheets from which the round bottoms are punched. The risk and potential liability here is that a customer might pour boiling hot liquid that would go right through the cup--if they don't notice the defect first. I don't know why I'm wasting my time; guess I just can't stop being a good neighbor. This is NOT a complaint; rather it's a "heads-up". But I sure would like to hear from the company that they received and addressed the problem I am bringing to their attention.