Dixie 3oz/5oz Dispenser with 3oz 20ct Paper Cups included!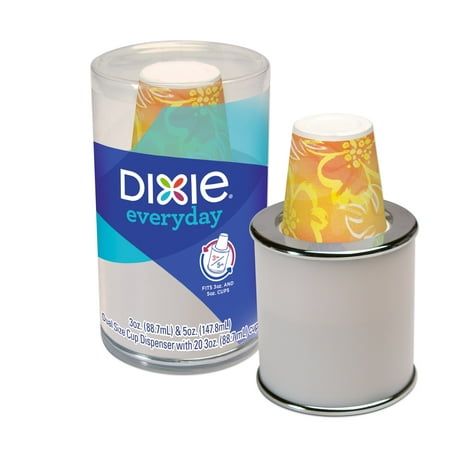 Sale :

$5.76

Sold & shipped by Walmart
Product Description

Additional Information

Reviews
Product Description
Additional Information
20ct 3oz Bath Cups Included!
Dispenser fits 3oz & 5oz Dixie paper cups
Perfect for oral hygiene, and arts & crafts!
Designs may vary
Reviews
Woobie
Poor quality
I purchased a bag of the 20 oz coffee cups with lids ("Currently Caffeinating") so that I could take my coffee to go on my way to work. When I opened the bag I did not pay attention to the lids so when I put the lid on my coffee cup I didn't see that the lid was cracked and therefore didn't have a secure seal on the cup. When I took a sip of my coffee first a few drops leaked out then the lid came off completely spilling more coffee on me. I cleaned up and tried again, this time paying attention to the lids. I looked at nine other lids and they were all cracked and therefore useless. I was under the impression that your products were checked along the assembly line so that your customers would not get burned due to the lack of quality control of your product. Unless the damage happened during shipping to the stores - and if that is the case, I would have expected the packaging to protect the product better. I am very disappointed in this purchase, as I have been a loyal customer for years.
mar4e
Love these!
I use the Dixie 20 oz cups and lids for my coffee each morning. I have a medical condition that makes me shaky, so having my coffee with a lid on it is important! The cups also insulate my coffee and keep it warm. I'm having trouble finding the 20 oz cups, as Costco has quit selling them (I think...I've checked twice.) I definitely recommend this product!.
prettypinkkitty
Keeps my daily maintenance & clean up easy
I use Dixie disposable paper plates all day every day, & bowls or cups when needed but it makes my life so much easier. I save on clean up time making my life so much easier.
rlg0613
Not for hot drinks.
I just opened up a new sleeve of 26 cups and lids. I used my third one today and threw away my third one also. The minute you fill the cup with hot water (for tea) and try and put the lid on, the cylindrical part of the cup pushes down over the circular bottom and it starts to leak. Not a good design.
DixieChick
Love your products but...
I use your plates, and cups all the time and I love them. But your 5 oz. cups that have a riddle on them and want you to go on line for the answer is disappointing. Answer should be on bottom or somewhere on the cup.