Dixie 3oz/5oz Dispenser with 3oz 20ct Paper Cups included!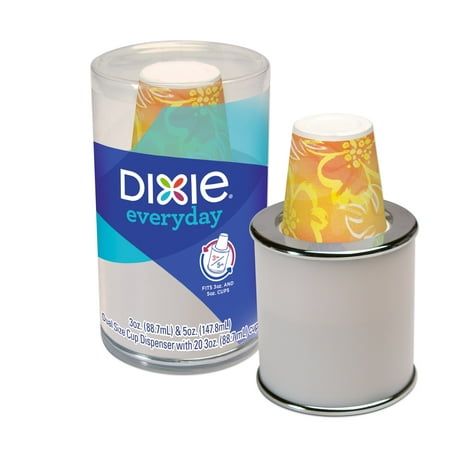 Sale :

$5.76

Sold & shipped by Walmart
Product Description

Additional Information

Reviews
Product Description
Dixie Everyday Dual Size Cup Dispenser. Dixie® Everyday Dual Size Cup Dispenser. Fits 3 oz. (88.7 ml) & 5 oz. (147.8 ml) cups. Dual Size Cup Dispenser with 20 - 3 oz. (88.7 ml) cups.
Additional Information
20ct 3oz Bath Cups Included!Dispenser fits 3oz & 5oz Dixie paper cupsPerfect for oral hygiene, and arts & crafts! Designs may vary
Reviews
Trinette
Lids crack on Dixie Cups
I take my coffee to work every morning and always use to-go coffee cups and lids. However, I recently purchased the Dixie coffee cups and lids and EVERY single lid has cracked. 90% of the time, the lids crack around the opening which makes them completely useless. I am unsure if I just purchased a bad batch of lids but I hesitate to try them again. I have had no problems with the cups, just the lids. See attached photo.
Woobie
Poor quality
I purchased a bag of the 20 oz coffee cups with lids ("Currently Caffeinating") so that I could take my coffee to go on my way to work. When I opened the bag I did not pay attention to the lids so when I put the lid on my coffee cup I didn't see that the lid was cracked and therefore didn't have a secure seal on the cup. When I took a sip of my coffee first a few drops leaked out then the lid came off completely spilling more coffee on me. I cleaned up and tried again, this time paying attention to the lids. I looked at nine other lids and they were all cracked and therefore useless. I was under the impression that your products were checked along the assembly line so that your customers would not get burned due to the lack of quality control of your product. Unless the damage happened during shipping to the stores - and if that is the case, I would have expected the packaging to protect the product better. I am very disappointed in this purchase, as I have been a loyal customer for years.
Cinderlou
Something has changed .. they now leak!
After using the 16 & 20 oz Dixie PerfecTouch cups for several years, they have now started leaking. Something has definitely changed in the construction of the cups. They leak at the seam and around the bottom. So disappointed! We will no longer be purchasing these .
bigdog
Usually I love these cups but...
This last bag of cups I got at Sams Club (so there are a lot), every single cup leaks. By the time I get to work the bottom has bubbled out and the cup is leaking all over the place. Every single one of them! I have had to start doubling up the cups to keep them from leaking everywhere. Also, while I'm at it... not sure if my coffee pot is just making my coffee hotter than most but I take three 20oz cups of coffee to work with me so, I have to hold on to one of them and drink it on the way... that sucker is hot! I have to switch from my left hand to my right hand until it cools down. Like I said I usually love these cups because I like to be able to throw them away when I am done with them. Here is a pic of my current issue...
Nana
Works well
Perfect pop up and grab cup It's cheap but works well