Cat's Pride Fresh And Light Premium Clumping Fragrance Free Scoopable Cat Litter Jug, 15-lb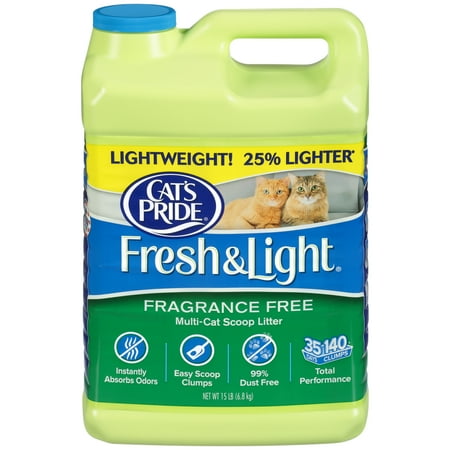 Sale :

$10.49

Sold & shipped by Walmart
Product Description

Additional Information

Reviews
Product Description
The Cat Litter that Cares Cat's Pride products are proud to carry the seal of the American Humane Association. Cat's Pride products deliver safe and effective odor control without harmful chemicals or overpowering fragrances and without the use of captive live animal testing. Celebrating Oil-Dri 75 Years Est. 1941. For 75 years and counting, Oil-Dri Corporation of America-makers of Cat's Pride-has developed superior products from our unique clay minerals. Oil-Dri's absorbents are used throughout the world to grow and process food, raise healthy livestock, enhance the safety of jet fuel, and to keep sports dry and playable. This expertise has been used in developing our breakthrough Cat's Pride products. We're passionate about developing innovative products to keep cats and their owners happy.
Additional Information
Cat's Pride Fresh and Light Premium Clumping Fragrance Free Scoopable Cat Litter Jug, 15-Pound
Reviews
tinkerwd
Works well.
The Cats Pride Fresh & Light premium Clumping Fragrance free Scoopable Cat Litter works great for multi cat households. It's 15 pounds, but only feels about half that weight when picking up the container it comes in. There is no fragrance attached to the litter, but it still helps in keeping the cat odor from lingering. My cats loved using this brand, and they don't usually like new kinds of litter. So, I have found a new brand to use, which is great. It's Scoopable feature is great, since you can scoop everything out of the litter and then it's like new again. I don't find that the litter sticks to my cats feet to much, so it limits the spreading of litter on the floors. Everything about this litter seems appealing to my cats, which makes it easy on everyone. I would definitely recommend this cat litter to anyone with a cat. I will also be buying this brand for my own household. If you have multiple cats this litter should make tending to the litter boxes a little easier.
upstnyshopper
Best Litter Ever!
I received Cat's Pride Fresh & Light MUlti-Cat Scoop LItter in exchange for giving a review and I'm so glad I did. I recently adopted a rescued kitten and so went to Walmart to pickup all the necessities including litter. I bought the kind I had used with my previous cat simply out of habit. It was more expensive than most, but it seemed to work alright as far as clumping and it had always done pretty well at keeping odors at bay. Well, enter little kitten and whoa-Odor City! This little cat is a real stinker! I tried 2 other kinds which didn't clump as well and still didn't do all that well at controlling odors. So, as soon as I received the Cat's Pride Jug, I changed the box. She immediately climbed in to use (see photos) This is day 3 and I have yet to notice any odor-that hasn't happened with any of the other litters. It clumps really well, so its easy to clean her box, which I do 2-3 times a day. It's also 99% dust-free and Lightweight. Best part, it is less expensive than the brand I've been buying. This is my new Cat Litter-End of story!
YachtN
Company started in 1941 and continues to evolve
Cat's Pride Fresh & Light claims to weigh up to 25% lighter (than their other products?). This container weighs 15 pounds and absorbs the same amount as 20 pounds of product. It is also fragrance free and can be used with multiple cats. It instantly absorbs, easy to scoop clumps and is 99% dust free. All Cat's Pride litter is sourced, processed and produced in North America in manufacturing plants in Georgia, Mississippi, and California. They have a research and development Innovation Center outside of Chicago. Cat's Pride is an American company and they research, develop, and manufacture all of their products. Cat's Pride was first marketed in 1960. Before that (1941) it was called Fuller's Earth and used to absorb oil and grease from Factory floors. Cat's Pride transcends three generations of the Jaffee family. Cat's Pride Fresh & Light was introduced in 2011 from their new Blue Mountain plant in Mississippi. Research into lightweight cat litter is being conducted at the Nick Jaffee Center for Innovation. Cat's Pride products are proud to carry the seal of the American Humane Association
MrSmokeyJoe
Great Litter - Fast Clumping!
We are Very Happy that Walmart.com now has Fresh & Light in stock online for home delivery! Cat's Pride brand has been around for many years and sorry to say wasn't our first choice then, but now with Fresh & Light we have a winner! Cat's Pride Fresh & Light is not like a typical cat litter, its a much finer "grind" and something like the consistency of sand. This is truly a Fragrance-Free litter, no scent or odor at all when opening the container. We set up one litter box with Fresh & Light and the other with our cats old brand and found the next morning that our cats seemed to prefer the Fresh & Light litter box over the the traditional litter from the use it received lol. We also noticed that in front of each hooded box, the box that had the Fresh & Light had far less litter on the outside than the traditional brand. Now all litters claim to be "dust free" or "99.9% dust free" but lets face it none of them are truly dust free. When poring the Fresh & Light you will notice some dust, like a low hanging mist for a second then it is gone. It seems that with the texture of Fresh & Light the cats can "dig" more easily and it is SO much EASIER to scoop than regular type litter. Fresh & Light is a keeper for us!
lorna444birds
Very Absorbent Lightweight Cat Litter
I have three cats, so the litter I buy usually has fragrance. Sometimes the fragrance causes my cats to sneeze, so I wanted to try something fragrance-free. This litter doesn't have fragrance, and didn't need it. I found that it clumps very well and absorbs odors. I thought that since it is lightweight, the cats would track it all over the house, but that was not the case. I haven't found the litter that is completely trackless, but Cat's Pride comes close. After 4 days, I did find that I needed to add a sprinkle of baking soda. This is probably because I have 3 cats. If you have only one cat, you might not have to add anything. I would recommend changing out the litter and thoroughly cleaning the pan once a week. No litter is made to last forever. If you have trouble with heavy lifting, you will find this package of litter is easy to lift. It has now become my favorite litter.