Boost High Protein Complete Nutritional Drink, Strawberry Bliss, 8 Fl oz, 12 Ct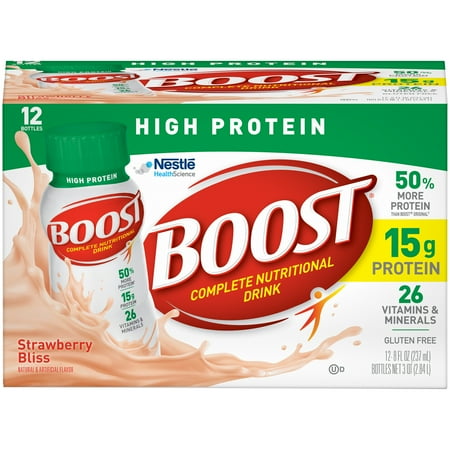 MSRP :

$15.97





Sale :

$15.54

Sold & shipped by Walmart
Product Description

Additional Information

Reviews
Product Description
Protein is a building block of muscle, and it is necessary to build and repair tissue. The Boost high-protein creamy strawberry complete nutritional drink is a great source of protein with a delicious strawberry taste. The 8 oz, 12ct Boost nutritional drink provides 15g of high-quality protein to help you keep pace with your busy life. The Boost complete nutritional drink is gluten free and contains 26 essential vitamins and minerals to help meet your daily nutritional needs. This gluten free milk is an excellent source of calcium and vitamin D to help support bone health. The Boost nutritional drink, 8 oz, 12ct contains antioxidants like vitamins C, E and selenium that may protect your cells against the effects of free radicals. The Boost complete nutritional drink is low in saturated fat and suitable for those who are lactose intolerant.
Additional Information
Protein is a building block of muscle, necessary to build and repair tissue. Delicious BOOST® HIGH PROTEIN Drink is a great source of protein your body needs to maintain muscle.
Each 8 fl oz bottle gives you 15 g of the high-quality protein (30% Daily Value) plus 26 vitamins & minerals that can help you be your best.
BOOST® HIGH PROTEIN Drink comes in 3 delightful flavors —Chocolate Sensation, Vanilla Delight, and Strawberry Bliss.
Suitable for people with gluten sensitivity or celiac disease. Suitable for lactose-free diets* (*Not for individuals with galactosemia)
Questions? We've got Expert Answers, Guidance & Support! Call Nestle Info Link @ 1-800-422-2752 or visit us at www.nestlehealthscience.com
Reviews
missmeech
Good Stuff, and Tastes Great
For various reasons, some too sad to mention here, I have really lost a lot of my appetite. My diet was awful and lacking in vitamins, minerals, and protein. In short, I was not being good to myself. I tried all the other brand vitamin drinks, and personally prefer the taste of Boost the best. I do not have any other brand drinks here to compare the ingredients, but they seemed to be all basically the same. The drink comes in a small bottle, sealed for your protection, and you can mix it with anything to make a shake or smoothie with this as the main ingredient. Most people use yogurt (flavored or not) and mix it with the Boost in a mixer or a small smoothie maker. I make it with ice cream (to die for), or yogurt and a handful of frozen fruits which you can get at any grocery store. I take this as a snack between meals, or if I am really not hungry at all at meal time, I will just have one of these. I have been using Boost for a couple years now and have put on a couple pounds, and I also feel I am eating something good for a change. Highly recommend even if you feel your diet is just not up to par.
Ruth
Good Stuff, and Tastes Great
I love the taste and it helped me medically
redd123
Expensive but great no after taste.
Great nutritional drink when your unable to eat properly. This drink also help tremendously with bone disease and regaining weight during chemotherapy.
Bisonman
Expensive but great no after taste.
The mineral contents cured my plantar fasciitis that i was suffering from for a year.
rocketgirk89
tastes great, good price & delivered 2 my door!!
beats going 2 a store so i do not have 2 lift it up 2 cart, than checkout, trunk and carry in, also i can never get more than 4 6pks at a visit 2 any walmart store