BOOST GLUCOSE CONTROL Chocolate Sensation 12-8 fl. oz. Bottle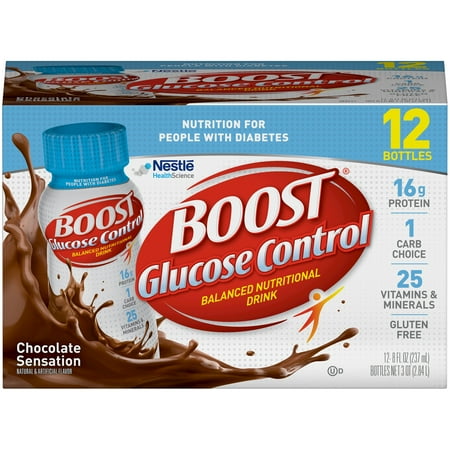 Sale :

$15.98

Sold & shipped by Walmart
Product Description

Additional Information

Reviews
Product Description
Additional Information
BOOST® GLUCOSE CONTROL® Drink is a balanced nutritional drink specially formulated for people with diabetes. It provides a balance of protein, carbohydrates and fat which are designed to help manage blood glucose levels as part of a balanced diet with just 1 Carb Choice per 8 fl oz bottle.
When your busy schedule makes nutritious eating difficult, BOOST® GLUCOSE CONTROL® Drink can be used as convenient mini-meal or snack. It provides balanced nutrition with 190 calories and 16 g of protein to help manage hunger. Its is a great choice if you're managing your carb intake.
BOOST® GLUCOSE CONTROL® Drink comes in 3 tasty flavors— Chocolate Sensation, Vanilla Delight, and Strawberry Bliss.
Suitable for people with gluten sensitivity or celiac disease. Suitable for lactose-free diets* (*Not for individuals with galactosemia)
Questions? We've got Expert Answers, Guidance & Support! Call Nestle Info Link @ 1-800-422-2752 or visit us at www.nestlehealthscience.com
Reviews
Janettia
Boost Glucose Control Healthy Weight Loss
I am homebound and had been using Boost High Protein for an easy breakfast for years. I learned that I was pre diabetes and needed to decrease carbohydrates, etc. and get exercise. I was overjoyed when I found Boost Glucose Control available, along with other sugar free products on Walmart.com. I also began to use INSTRIDE cycle (another \Walmart purchase) 30 min. daily which allows me to sit in a chair so no chance of falling. In the past 6 months I have lost the required 25 lbs. - 15% of my original weight.
bjhoneybear
Great taste!
It has a great flavor and seems to fill the void because I'm not a breakfast eater on a regular basis. I am diabetic so the Glucose Control fits right in the healthy choices for diabetic diet.
MistyBlue1017
Great replacement for skipped meals
There are times when I really don't feel like eating, so since I am a diabetic and it is a no-no to skip meals, I have now using Boost. It has just been a few days of usage, but so far, it seems to be working. I have not experienced any bad lows or highs.
Healthy
Love it
I am a diabetic and use this in my breakfast shake. Been using this for years. Prefer choc but use vanilla. Never tried strawberry. Would recommend.
Lizzie
Frosty
I freeze it and it become a frosty treat when I don't feel like eating