BOOST GLUCOSE CONTROL Chocolate Sensation 12-8 fl. oz. Bottle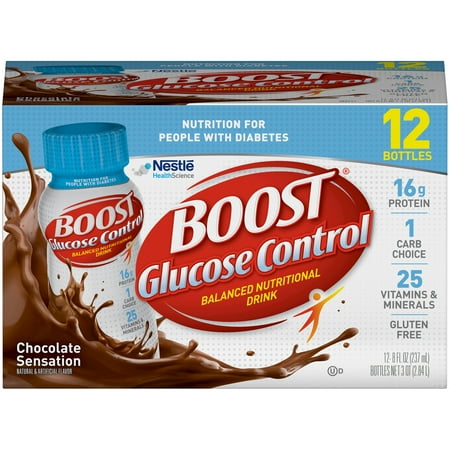 Sale :

$18

Sold & shipped by Walmart
Product Description

Additional Information

Reviews
Product Description
Additional Information
BOOST® GLUCOSE CONTROL® Drink is a balanced nutritional drink specially formulated for people with diabetes. It provides a balance of protein, carbohydrates and fat which are designed to help manage blood glucose levels as part of a balanced diet with just 1 Carb Choice per 8 fl oz bottle.
When your busy schedule makes nutritious eating difficult, BOOST® GLUCOSE CONTROL® Drink can be used as convenient mini-meal or snack. It provides balanced nutrition with 190 calories and 16 g of protein to help manage hunger. Its is a great choice if you're managing your carb intake.
BOOST® GLUCOSE CONTROL® Drink comes in 3 tasty flavors— Chocolate Sensation, Vanilla Delight, and Strawberry Bliss.
Suitable for people with gluten sensitivity or celiac disease. Suitable for lactose-free diets* (*Not for individuals with galactosemia)
Questions? We've got Expert Answers, Guidance & Support! Call Nestle Info Link @ 1-800-422-2752 or visit us at www.nestlehealthscience.com
Reviews
lexie511
Boost Glucose Control
Boost nutritional drinks are a great way for diabetics like me to get our daily vitamins and protein. I have been using them for many years and completely enjoy the bars as well. The vanilla I tried was rich and creamy and not too sweet. Very good flavor and consistency. I love the chocolate so the vanilla that was sent to me was a welcomed surprise. I love my Boost!!! [This review was collected as part of a promotion.]
HoneyB22
Chalky aftertaste!
With the new year upon us, I am determined to eat more veggies, drink more water. and get my diabetes under control. I've been sampling several different options and was excited to get a free sample of Nestlé Boost Glucose Control. Nestle makes some great drinks but sadly, I found the Glucose Control chocolate flavor a little too sweet tasting with a very chalky aftertaste! [This review was collected as part of a promotion.]
gojirafan54
I like it.
I try to drink one every day as I don't like to eat a lot for breakfast. I found a couple of smoothie recipes which will be make a better breakfast or snack. I agree that Boost is a little pricey as I am on a limited budget. If possible I would like to see this product in a dark chocolate or coffee flavor and and in combo packs.
nicolesbb
Boost Chocolate Sensation
Tolerable quick drink for on the go, especially during times when there is a hectic morning and knowing lunch will be a little later than expected. It is really not a good idea to skip a meal but Boost Glucose Control is like grabbing the apple or banana for something to hold you over before the next meal. [This review was collected as part of a promotion.]
Stephsweeting83
Tastes great!
I always purchase Nestle Boost Glucose Control shakes as a snack in between meals. The chocolate boost shake is my favorite flavor but the others taste just as good. I have peace of mind when I drink the Boost Glucose Control shakes because I know i'm consuming a nutritional snack that does not affect my sugar. [This review was collected as part of a promotion.]