Boost Glucose Control Nutritional Drink, Chocolate Sensation, 8 Fl oz, 12 Ct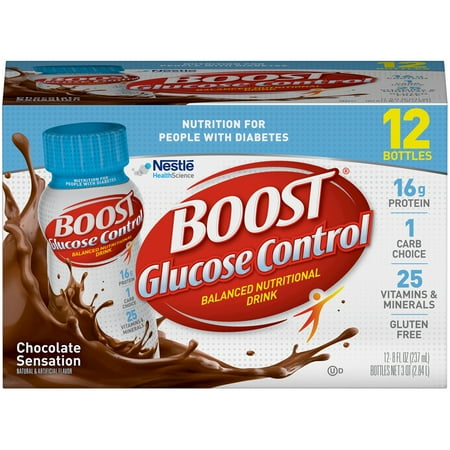 Sale :

$15.98

Sold & shipped by Walmart
Product Description

Additional Information

Reviews
Product Description
Additional Information
Key Benefits of BOOST® GLUCOSE CONTROL® Chocolate Sensation Complete Nutritional 8 fl oz Drink:190 Calories - To help you be up for anything16 g High-Quality Protein - To help maintain muscle16 g Carbohydrates, including 4 g Sugars - Equivalent to only 1 Carb Choice26 Vitamins & Minerals - Nutrition you need each day3 g of Fiber - To support digestive healthCalcium and Vitamin D - To support strong bonesAntioxidants - Selenium, Vitamins C, E, and beta-caroteneLow in Saturated Fat - With 7 g of total fat, just 1 g saturated fat, and 10 mg cholesterol per servingBOOST® GLUCOSE CONTROL® Drink provides nutritional support for people with: diabetes, carbohydrate controlled diets and general oral supplement needs. BOOST® GLUCOSE CONTROL® Drink is intended for use under medical supervision as part of a diabetes management plan.
Reviews
Janettia
Boost Glucose Control Healthy Weight Loss
I am homebound and had been using Boost High Protein for an easy breakfast for years. I learned that I was pre diabetes and needed to decrease carbohydrates, etc. and get exercise. I was overjoyed when I found Boost Glucose Control available, along with other sugar free products on Walmart.com. I also began to use INSTRIDE cycle (another \Walmart purchase) 30 min. daily which allows me to sit in a chair so no chance of falling. In the past 6 months I have lost the required 25 lbs. - 15% of my original weight.
MistyBlue1017
Great replacement for skipped meals
There are times when I really don't feel like eating, so since I am a diabetic and it is a no-no to skip meals, I have now using Boost. It has just been a few days of usage, but so far, it seems to be working. I have not experienced any bad lows or highs.
Lizzie
Frosty
I freeze it and it become a frosty treat when I don't feel like eating
johncisco
Boost
Almost every time, this time included, the boxes are crushed. The outside, shipping box was in good shape. But my Boost bottles are bent, some even OUTDATED. Who ever packed these products should be reprimanded, re-trained, or fired.
sunny218
Satisfying and delicious.
Decided to try Boost after several weeks on Another product designed for the diabetic. Found Boost to be rich in flavor, delicious as a treat and satisfying as an occasional replacement. Would definitely recommend!