BOOST GLUCOSE CONTROL Chocolate Sensation 12-8 fl. oz. Bottle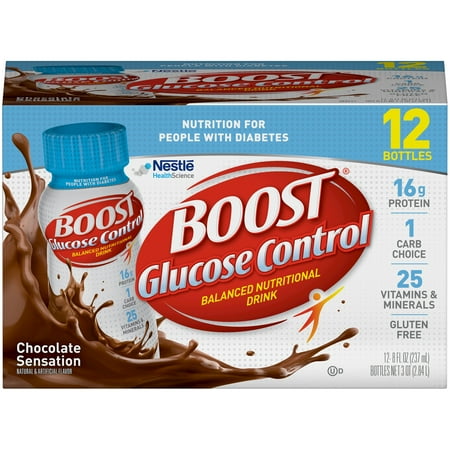 Sale :

$15.98

Sold & shipped by Walmart
Product Description

Additional Information

Reviews
Product Description
Additional Information
BOOST® GLUCOSE CONTROL® Drink is a balanced nutritional drink specially formulated for people with diabetes. It provides a balance of protein, carbohydrates and fat which are designed to help manage blood glucose levels as part of a balanced diet with just 1 Carb Choice per 8 fl oz bottle.
When your busy schedule makes nutritious eating difficult, BOOST® GLUCOSE CONTROL® Drink can be used as convenient mini-meal or snack. It provides balanced nutrition with 190 calories and 16 g of protein to help manage hunger. Its is a great choice if you're managing your carb intake.
BOOST® GLUCOSE CONTROL® Drink comes in 3 tasty flavors— Chocolate Sensation, Vanilla Delight, and Strawberry Bliss.
Suitable for people with gluten sensitivity or celiac disease. Suitable for lactose-free diets* (*Not for individuals with galactosemia)
Questions? We've got Expert Answers, Guidance & Support! Call Nestle Info Link @ 1-800-422-2752 or visit us at www.nestlehealthscience.com
Reviews
Kieran1
Fabulous!
For months and months, I assumed Glucerna was better. Aside from the price going quite high, I decided to try the Boost and I am a BIG fan. I love the taste of it. Far better than my previous choice. Price is better, too. A+++
Brad Slosson
Really Works for me!!! Helps me maintain my sugar
My 88 yr old Mother turned me onto Boost. I drink pepsi like water 12 or more a day. Instead of drinking a pepsi in the morning I tried boost it gives me a little more energy and since I skip Bfast most days it has done good thing for me. I just wish there was a program for us seniors whom live on a budget like me "650.00 " a month or so to get a better price it's hard for me to afford it consistently and know I'm in this for the long run many years as my mother has it would just be wonderful to share this with others and make it more affordable, to low income family's
Timber
Love this drink
I drink boost every day because it help keep me healthy and strong and happy.
Janettia
Boost Glucose Control Healthy Weight Loss
I am homebound and had been using Boost High Protein for an easy breakfast for years. I learned that I was pre diabetes and needed to decrease carbohydrates, etc. and get exercise. I was overjoyed when I found Boost Glucose Control available, along with other sugar free products on Walmart.com. I also began to use INSTRIDE cycle (another \Walmart purchase) 30 min. daily which allows me to sit in a chair so no chance of falling. In the past 6 months I have lost the required 25 lbs. - 15% of my original weight.
MistyBlue1017
Great replacement for skipped meals
There are times when I really don't feel like eating, so since I am a diabetic and it is a no-no to skip meals, I have now using Boost. It has just been a few days of usage, but so far, it seems to be working. I have not experienced any bad lows or highs.