Boost High Protein, Rich Chocolate, 8 Fl oz Bottles, 12 Ct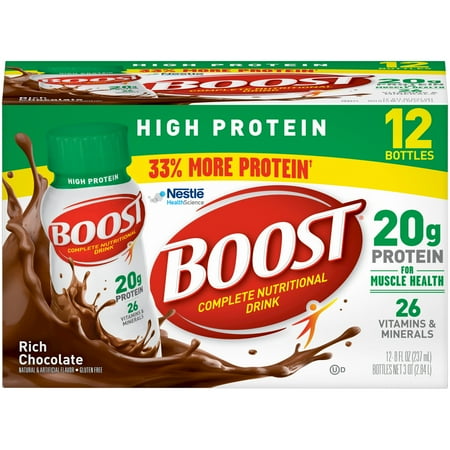 MSRP :

$15.97





Sale :

$18.99

Sold & shipped by Walmart
Product Description

Additional Information

Reviews
Product Description
Key Benefits of BOOST® HIGH PROTEIN Chocolate Sensation Complete Nutritional 8 fl oz Drink: 240 Calories - To help you be up for anything 15 g High-Quality Protein - To help maintain muscle 26 Vitamins & Minerals - Nutrition you need each day 3 g of Fiber - To support digestive health Calcium and Vitamin D - To support strong bones Antioxidants - Selenium, Vitamins C, E, and beta-carotene Low in Saturated Fat - With 6 g of total fat, just 1 g saturated fat, and 10 mg cholesterol per serving
Additional Information
Boost High Protein Rich Chocolate Complete Nutritional Drinks:
Stay strong, stay active with Boost
With protein to support muscle health
15g protein to help maintain muscle
Calcium and vitamin D to support bone health
26 essential vitamins and minerals
Gluten free
Suitable for lactose intolerance
Reviews
HEALTHE
EXCELLENT PRODUCT FOR HEALTH CONSCIOUS INDIVIDUALS
I DRINK " BOOST " HIGH PROTIEN RICH CHOCOLATE COMPLETE NUTRITIONAL DRINK, 8oz. SIZE EVERY MORNINING. THIS DRINK PROVIDES ME WITH THE AMOUNT OF PROTIEN AND OTHER ESSENTIAL VITAMINS I NEED TO START MY DAY. THIS ALONG WITH A PIECE OF FRESH FRUIT KEEPS MY HUNGER SATISFIED UNTILL LUNCH. I'LL THEN HAVE A SALAD OR OTHER HEALTHY MEAL. I FOLLOW THE SAME PATTERN FOR DINNER. I DO HAVE A SWEET TOOTH SO I DO AT TIMES EAT SOMETHING SWEET. STAYING ON THIS REGIMIN I HAVE LOST NEARLY #10lbs. IN THE PAST MONTH. I AM A 53 YEAR OLD MALE THAT STARTED OFF WEIGHING 255lbs. MY GOAL IS TO REACH AND MAINTAIN A WEIGHT OF 195lbs. I FEEL BY CONTINUING USING " BOOST " AS A DAILY SUPPLEMENT, I WILL CERTIANLY BE ABLE TO ACHIEVE THIS GOAL. I HIGHLY RECOMMEND THIS PRODUCT TO ALL THAT ARE TRYING TO LOOSE WEIGHT THE " HEALTHY " WAY. DON'T FORGET TO EXERCISE, WALKING DAILY COUNTS !
BOM1830
BOOST is much better than any other sup. drinks
Chilling these in the freezer for a good half a hour or 45 minutes then shake it you will have one nice thick chocolate shake !! I could not get over how good these supplement drinks taste compared to others I had to endure. I really like that they are also easy on the stomach for those who have sensitive stomach issues like myself. I am eager to continue my regime of drinking these supplements to help augment my weight loss from my CHF. I lost over 30 lbs and I am still unable to gain any of it back. Hopefully along with the steroids my doctor is given me... (shots) I hope that I will be able to gain lean muscle like I need to. BTW - wallyworld is by far the cheapest around to by the 12pks of BOOST - especially if one has a $ 2.00 off coupon ! Thank you BOOST.COM !!
Oogie
BOOST is much better than any other sup. drinks
My doc says I have take high protein Boost every day
SuB
SuB
Order it for my Octogenarian father... to keep him from losing weight. He LOVES to drink Boost (Xtra protein)
GraniO
Best flavour
Walmart gets an A+ on their delivery. Within 3-4 days of my ordering on-line, my package was here. Being handicapped it is never easy getting to the store and waiting in long lines. Thanks Walmart. Boost is a very good nutritional supplement, especially for people who are lactose intolerant. There are many brands on the shelves, but this is the only one without milk. Thanks Walmart for carrying it. P.S. If Walmart can't have someone watching the handicap ride-on carts, they need to lock them to keep teenagers from riding them outside hitting people's cars as I found the last time I was at the Clinton store. It was a school day, o/a 2pm and I reported it to salesclerk and teenagers ran away.