Summer's Eve Cleansing Wash for Sensitive Skin Simply Sensitive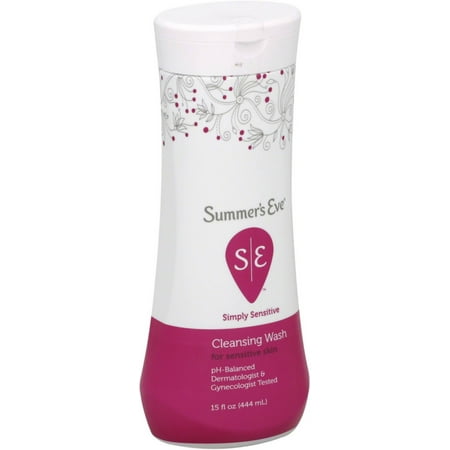 MSRP :

$7.38





Sale :

$7.27

Sold & shipped by Pharmapacks
Product Description

Additional Information

Reviews
Product Description
Feel fresh and clean all day long using Summer's Eve Feminine Wash For Sensitive Skin. It gently washes away odor-causing bacteria from the external vaginal area. This easy to use fragrance-free feminine wash is hypoallergenic and has been gynecologist tested.
.
Additional Information

Summer's Eve 5 in 1 Simply Sensitive Cleansing Wash for Sensitive Skin, 15.0 FL OZ:
Same fantastic fragrance
Now dye free
5-in-1 formulation
Clinically tested safe scents
Won't dry skin like soap can
Removes odor-causing bacteria without compromising healthy bacteria
pH-balanced
Free from dyes and parabens
Gently cleanses and freshens
15 fl oz (444 ml)
Summer's Eve sensitive wash is gynecologist tested
Not tested on animals
Reviews
Hannah98
amazing
This stuff is great, completely eliminates any kind of smell. Especially helpful during period times! I love it will continue to use for probably the rest of my life.
Kittykat
LADIES, DO NOT BUY
I purchased this product because I wanted my vagina to smell flowery or you know just have a smell other than what a regular vagina smells like. My vagina never smelled bad. I purchased this and loved it for the first two days. Afterwards, I started to notice a bad smell of "fish" in my area after every use of the Cleanser Wash. I thought to myself, maybe I'm not using enough? Or too much? Or maybe I'm not using it as often, or too often. As the time went by the smell got WORSE. I felt so embarrassed every time I was out and I felt the need to have my legs closed 24/7 because the smell was overwhelming. After 2 months of thinking the smell was my body's fault I finally decided to stop using The Summers Eve Cleansing Wash and wipes and poof. The smell of fish in my vaginal area was GONE. After asking other ladies who had used this product they informed they had the same experience! I recommend all my ladies to just use water and every now and then with unscented soap!
enit
Regulary buy this.
I am prone to yeast infections and sentive skin this does help.
Chloecost
Affordable AND effective!
I enjoy using Summer's Eve body wash because it is formulated specifically to cater to a very sensitive part of my body. I use it during my monthly cycle, post-coitus, and every other day as a part of regular use for that extra clean feeling. Whatever blend they're using helps me stay fresh and comfortable. I was always so self-conscious before about the possibility of odor, but I don't worry anymore because Summer's Eve has my back! I recommended it to my stepdaughter, who has issues with freshness as a result of a long term medical problem, and we found that it works for her, too! Additionally, Summer's Eve is affordably-priced and unlike other body wash brands, has not once given me an allergic reaction. Although it is engineered for a specific body part, it can be used as a daily all-over body wash, and based on the choices given in terms of scent varieties, I'm sure there is a Summer's Eve out there for every lady and young lady to use. Guaranteed!
thom
it is so convince it is good to go.
It is very good for a little pick-up that you can take with you no mess .it's a perfect way to freshen up after a work out a plane ride and it keeps your pH balance to work with and its natural chemistry and it is gynecologists tested.