Stanley Adventure Camp Cook Set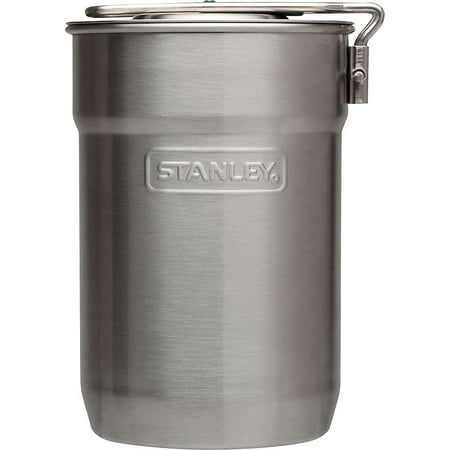 MSRP :

$25





Sale :

$14.97

Sold & shipped by Walmart
Product Description

Additional Information

Reviews
Product Description
FEATURES of the Stanley Adventure Camp Cook SetCookset includes stainless-steel, single-wall pot and two 10 fl. oz. insulated plastic cups, cups stow inside potPot is made from 18/8 single-wall stainless steel, rustproof and naturally BPA free2-Position handle on pot extends for cooking and locks in place, handle folds to save space when not in useVented lid lets steam escape while cookingDishwasher safe
Additional Information
Reviews
Kimberleee
UPC : 041604234217 - Stanley Adventure Camp Cook Set - PickPanda.com
Good quality and good idea storing the cups,but its too small for a single burner cooker i returned it
Randall
Under $15 Great Quality
For the price and quality, you can't beat it. Theses are good for Just in Case use to keep in your car or weekend camping .Walmart has the best every day price.
mlipenk
Excellent value. Durable. Packable.
I bought this Stanley Backpacking Camp Cook Set for a backpacking trip in the wilderness. It was perfect for two people for boiling water and making basic dehydrated meals. The cover has strainer holes which would allow you to easily strain off water if you made something like raman noodles. For the dehydrated meals sold at camping stores, I just dump the boiling water into the package, then divvy up into the cups. The set contains two forest-green, insulated plastic cups which nest nicely inside the stainless pot. The cups, although somewhat heavy, are insulated so you can pour boiling water, or extremely hot food into them and not worry about burning your hands... not the case with some of the thin metal cups I've used when camping. The stainless cup has oz./ml. stamped on the side for easy guestimation of the amount of water you are working with. The 24 oz. capacity stainless steel cup is durable, heats quickly and worked great over a simple "supercat" alcohol stove. I was able to nest my alcohol stove inside the plastic cups, which in turn are nested inside the stainless cup, which has a convenient folding handle which locks it all together. With an exterior width of 4 In., and an exterior height of 5-13/16 in., I had no problem finding a spot for the whole kit in my backpack. This basic set is great for boiling water for dehydrated meals, hot cocoa, coffee, etc. At this excellent price, there is no better value in a packable stainless steel cook set.
Ka1W
Stanley Adventure Series Camp Cook Set
This is a high quality cooking pot for backpacking or just to heat some soup or coffee on a day hike. A GSI stainless coffee cup(or the walmart stainless cup) nests perfectly on the bottom of the pot( I wrap a thin dish rag around the bottom of Stanley pot then slip the cup over that so it doesn't rattle and I have a rag to clean them with). The lid also fits the GSI or Walmart cup perfectly so you can heat up some coffee while eating your dinner out of the Stanley pot. As for the plastic cups some say they're heavy but both of them weigh about the same as one GSI or Walmart stainless coffee cup but you can't use the plastic cups as an extra pot so I use a GSI cup. They are nice insulated cups so I've added them to my base camp cook set. I can't find a thing wrong with this set and at Walmarts price you won't find a better cookset for the money 14.88 for the Stanley set and another 5 bucks for the walmart stainless coffee cup/mini pot. A 20 dollar cookset that blows anything under 40 bucks away. Don't compare these to Aluminum cookware, Aluminum might be light but it's a pain to clean, Stainless is much easier to clean and a lot harder to dent or crush. I plan on having this kit for life. I have a stainless MSR cookset and it isn't any better(it isn't any worse either it's also a very nice high quality cookset)
DudeWhoRatesStuff
Good stuff for camping and such...
I checked this out on Youtube and decided to order one. This is a great camping pot as it's big enough for Ramen, rice, etc., comes with a lid, and with that step in the side it'll be easy to make a combination cylindrical wind shield/pot stand or possibly a sheathing to make for a volcano stove for use with either heat tabs or the usual alcohol stove. I like the cups, they'd both be a bit heavy for carry, so I'll use one for work, keep the other one, put in my soups, tube coffee mixes, etc., in side, and my wind sheild and burner will go under it. Too bad they don't make a MOLLE carrier.