Stanley Adventure Series Camp Cook Set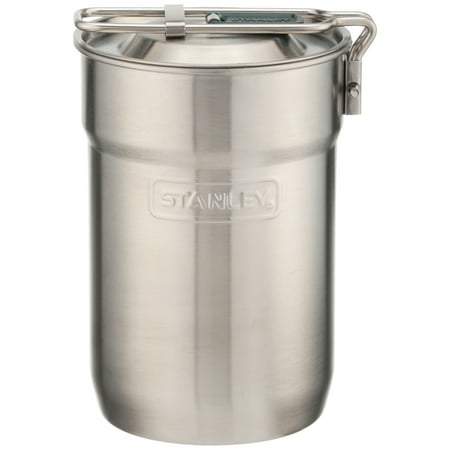 MSRP :

$25





Sale :

$9.19

Sold & shipped by Walmart
Product Description

Additional Information

Reviews
Product Description
Anyone can look like a seasoned outdoorsman with this simple, smart camping cookware set. Cook all types of foods in the 24-oz stainless steel single-wall cooking pot that comes with the Stanley Adventure Camp Cook Set Series. This stainless cook pot is lightweight and easily cooks over a stovetop. There is also a vented lid for the pot that will let steam escape while cooking and a two-position handle that extends for cooking purposes. You can eat out of the two 10-oz cups included inside this camping cooking equipment set. This Stanley Adventure Camp Cook Set is ideal for tailgates, camping, fishing and hunting trips.
Additional Information
24-oz stainless steel single-wall cooking pot
Stanley cook set includes two 10-oz double-wall plastic cups
Stainless cook pot is lightweight and cooks over the stovetop
Vented lid lets steam escape while cooking
Two-position handle extends for cooking, locks in place for all in one
For use on an open fire or over a propane camp stove
Ideal for camping trips and tailgate parties
Reviews
Cloyd
Handy little pot set....
This is my second one of these Stanley steel pot and cup set. The metal of the pot is a medium light stainless steel that will dent if mistreated. The two "plastic" cups inside have no handles but are thick enough that I can hold a hot cup of tea comfortably. I add an Olicamp cup to the bottom because it slips over this pot easily, has gradient measurement markings and makes a handy second pot to cook with. The Ozark cup also works but it doesn't have marks. When cooking anything other than water with this pot you will have to watch it so that you do not burn your food but that is true with any pot. ….. OVERALL..... This pot set is what it is, A light, economically priced convenient single person cook set that fits well in a day pack or bag.
Hillbilly40865
Get one before they're gone.
Good and sturdy. Great deal for the price. If you're considering it, get it before the price goes up. It was $5 cheaper online compared to our store.
travlynjack
Get one before they're gone.
This is perfect for light cycle camping used it right away
mlipenk
Excellent value. Durable. Packable.
I bought this Stanley Backpacking Camp Cook Set for a backpacking trip in the wilderness. It was perfect for two people for boiling water and making basic dehydrated meals. The cover has strainer holes which would allow you to easily strain off water if you made something like raman noodles. For the dehydrated meals sold at camping stores, I just dump the boiling water into the package, then divvy up into the cups. The set contains two forest-green, insulated plastic cups which nest nicely inside the stainless pot. The cups, although somewhat heavy, are insulated so you can pour boiling water, or extremely hot food into them and not worry about burning your hands... not the case with some of the thin metal cups I've used when camping. The stainless cup has oz./ml. stamped on the side for easy guestimation of the amount of water you are working with. The 24 oz. capacity stainless steel cup is durable, heats quickly and worked great over a simple "supercat" alcohol stove. I was able to nest my alcohol stove inside the plastic cups, which in turn are nested inside the stainless cup, which has a convenient folding handle which locks it all together. With an exterior width of 4 In., and an exterior height of 5-13/16 in., I had no problem finding a spot for the whole kit in my backpack. This basic set is great for boiling water for dehydrated meals, hot cocoa, coffee, etc. At this excellent price, there is no better value in a packable stainless steel cook set.
BREWNO
GREAT FOR PREPPERS!
I AM A PREPPER AND THIS SET IS A GREAT EDITION TO MY BUG-OUT GEAR.