Maybelline New York Ultra Brow Brush-On Color, Light Brown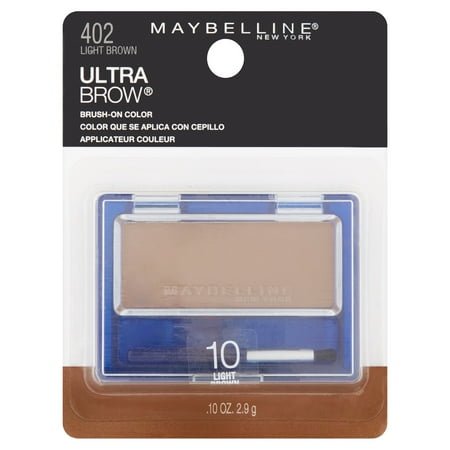 Sale :

$6.02

Sold & shipped by Walmart
Product Description

Additional Information

Reviews
Product Description
Ultra blendable brush on color powder defines brows softly for a natural look. With brush applicator, fill in and extend brows by following the natural arch with small, feather-like strokes. Remove with oil-free eye makeup remover or with soap and water.
Additional Information
Maybelline New York Ultra Brow 402 Light Brown Brush-On Color, .10 oz
Reviews
Chibecky
Absolutely Love this Product!!
This is the best product I have found for natural looking eyebrows. Have used just pencil in the past but have been using this product for years and I always get compliments on my eyebrows. I am so sad Maybelline has discontinued this product so I am stocking up while I still can!
ETenor
Create great natural looking eyebrows, easily.
I have used Maybelline eyebrow powder (with brush) for several years now. Last year, I went to my local pharmacy to purchase more, since I had run out of it, and couldn't find it anywhere in the cosmetics section. When I asked a clerk where the product was kept, she told me that Maybelline had discontinued making this product. I went on an extensive search for more at many of my local stores that carried cosmetic products and couldn't find this product on their shelves. I bought an eyebrow pencil and tried to get used to that, but it never created the natural look that the brush on powder did. I tried a gel and still didn't like that. I finally resorted to try an internet search for Maybelline eyebrow powder and found that E-Bay had it for $10+. I continued my search and found that Walmart had it for $4.97. I immediately ordered 10 in my usual color--light brown. I am overjoyed that Walmart had this product on-line, as they didn't have it in their stores. I now can apply my eybrow makeup in an artistic fashion and create a natural looking eyebrow that is the same color as my hair. I absolutely love this product and can't understand why Maybelline decided to stop making this product. It is far superior to any other eyebrow makeup I've ever tried using.
SuzieQ
Best eyebrow make-up ever!
This item was taken off the market and I was buying saved stock on eBay when I heard Walmart had Maybelline Ultra Brow Powder. I practically danced for joy!! From that point on, Walmart has been my first choice for standard drug store-like cosmetics. For many years people have admired my brows and asked what I used. I always told them the truth ... Maybelline Ultra Bow! I think I'm responsible for hundreds of Ultra Brow users. The powder is soft and using it and the brush provided a perfect brow can be formed. It never looks fake, never cakes and never disappoints. When the brush gets caked with too many uses I wash it with mild soap, always making sure to hold the brush end down so the glue holding the tip does not release any hairs. Dry it brush end down and you are ready to keep using the best brow powder ever!!
susan1687
Great Product, but apparantly discontinued
I find this eye powder easier to apply than a pencil, to provide a light even finish. NO broken pencils, or harsh lines. I ordered it online, because I could no longer find product in retail stores. Apparately this product is discontinued & I would hope Maybelline would reconsider its' demise. Perhaps Cover Girl or L'Oreal could come out with something similar.
AFreeLady
Buy it now
I have been using this eyebrow powder for over 30 years. When I went to buy one this month I could find none in any local stores, so I looked on-line. I found out Maybelline, for whatever reason, has discontinued it. After much searching I found that Walmart still said they had it available, and for a reasonable price. So I ordered 11, which should last me the rest of my life (I'm 70). It took Walmart some searching to find that number in inventory, but they delivered. If you want some, order it now, you may not be able to get it again.