Maybelline Baby Skin Instant Pore Eraser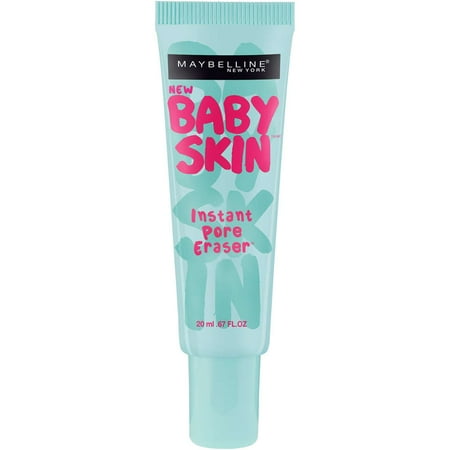 Sale :

$5.94

Sold & shipped by Walmart
Product Description

Additional Information

Reviews
Product Description
Bye bye pores! You're one second away from smooth, poreless skin. Insta-blur technology visibly smooths pores away for flawless looking skin, under makeup or when worn alone. Fragrance free and non-comedogenic.
Additional Information
Pore-blurring makeup primer
Moisturizes all day
Smoothes skin surface
Reviews
Elaranyx
Experienced Makeup artist
amazing primer i dont have many pored but fine lines and bumpy skin IT IS A SILICA BASED PRIMER which dosent go well with some skins especially oily! Id say this ties up to the smashbox photo ready silica primer honestly. Go to primer i need a new bottle so happy they still sell it!
Photomom53
It's a miracle!
I am 53 with large pores that have been making me crazy for years. I stopped wearing foundation this year because I was unable to find a cleansing/toning/moisturizing/priming/foundation system that didn't make my skin look..."holey." I have sat down in a popular cosmetic store at least 10 different times over the past many years, trying product after product, spending TONS of money, trying to shrink, eliminate, hide, and cover my pores. I happened to talk to a store clerk in a well-known discount shopping store last week, and she recommended this product to me. I have to admit that I was DOUBTFUL that a store clerk in this store and a $5 product could help this problem that years of "experts" in the cosmetic store have been unable to resolve. I got home, tried it, and IMMEDIATELY it decreased the look of my pores by about 75%. I couldn't believe it. The next day I purchased 5 more, just in case everyone hears about this wonderful product and it's gone the next time I look for it. I rarely write reviews, and when I do it's usually about how bad a product is and that I can't believe it's even on the market, but this pore eraser ROCKS!
Unionjack
Fantastic product
I love this product. I suffer from rosacea on my nose. My skin is red, large pores and can be flaky. I put this on before any concealing makeup. It makes my skin feel like satin and my concealer can then go on smooth. I have tried many products, but this is the only one that works for me. I have read that some people say it makes their skin oily. I have not found this and I live in Florida which can get very hot. This stays on all day - it's great.
Mommyof2
Acne prone skin, beware
After hearing all this rave about how good this primer was at minimizing pores, i decided to try it. I have combination acne prone skin. After using this product, it made my skin a whole lot more oily than it already was. Not just that, but it caused me to break out. I didn't even see a change in the size of my pores, so it was virtually useless. I've recently been trying out ELFs pore primer, I'd recommend that.
Belle1978
DUPE
This is said to be a dupe for POREfessionials by Benefit. I own both this item and POREfessionals. This is my take on it. First off, I have oily skin. This item is clear and goes on smooth with a sleek feeling when it drys it has a silky feeling to it and leaves your face feeling dewy. This can be uncomfortable for some. Why I like it is because although it felt dewy it didn't look super shiny. I use it under a BB cream for a quick look for everyday but not under my full face makeup look. Comparison is almost the same only difference is this one is clear and dewy and POREfessional has a slight tint and is a little less dewy. Biggest difference is price Baby Skin is super affordable and POREfessional is around $31.00 for a full size tube(which is small).