Blistex Medicated Lip Balm, Heals Dry and Chapped Lips, SPF 15, 3-pack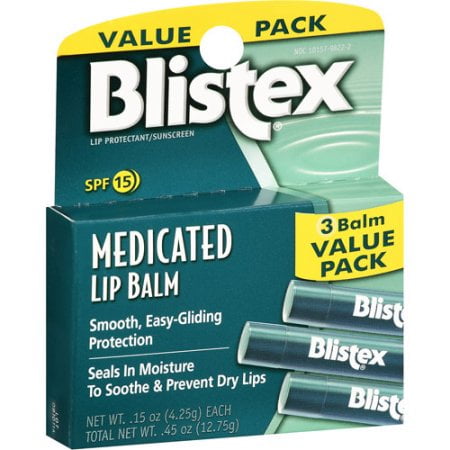 MSRP :

$3





Sale :

$2.84

Sold & shipped by Walmart
Product Description

Additional Information

Reviews
Product Description
Blistex Medicated Lip Balm helps prevent dryness and chapping. It has three long-lasting protectants, and it seals in lip moisture to prevent drying of lip tissue. Blistex Medicated Lip Balm glides on comfortably to provide complete coverage and avoid further irritation of chapped lips.
Additional Information
Blistex Medicated Lip Balm, Heals Dry and Chapped Lips, SPF 15, 3-pack
Lip balm with SPF 15
Contains Beeswax, cooling Menthol, and calming Cocoa Butter
Beeswax lip balm provides natural sealant and lip moisturizer
Seal in lip moisture to sooth chapped lips and prevent reoccurence
Apply before sun exposure and as needed
Glides on smooth to provide complete coverage
Medicated lip balm heals and soothes lips
Soothes and repairs lip damage from windburn and sunburn
Helps protect lips from the effects of winter and cold weather
For ultimate dry lips treatment, pair with Blistex Medicated Lip Ointment
Safe for most children older than six months
For external use only
Flavorless
See information on SPF ratings and risks of not using lip balm sunscreen at http://www.skincancer.org/
For tips on healthy lips go to http://www.blistex.com/lip-tips/
Blistex Green Initiatives
Greenspeed Team has been executing new initiatives since 2008
Responsible amount, source, and material content of packaging while meeting high quality and innovative needs of consumers
Facilities, equipment and on-site practices promote eco friendliness
For more information on the product go to http://www.blistex.com/products/medicated-lip-balm/
Connect with Blistex
Facebook - @Blistex
http://www.blistex.com/give-us-lip/
Warnings: Skin Cancer/Skin Aging Alert: Spending time in the sun increases your risk of skin cancer and early skin aging. This product has been shown only to help prevent sunburn, NOT skin cancer or early skin aging.

Reviews
rottiff
My favorite tube brand
The 1 thing that is not mentioned is if this is a flavored balm, you can't always trust a picture and it's not mentioned in the ad. The mint and regular are very similar in color on a computer screen. This is the REGULAR Blistex flavor. To me personally, Blistex is smoother going on my lips and doesn't pull like the other major brand. I've used this for years when I get bad hangnails, to coat my cuticles, which softened them and they are less likely to tear. Great for end of tube use.
thehottaunt
not recommended for dry lips
I bought this back in summer cause my lips were chapped and seemed like the crap stick I was using wasn't working. Now it seems my lips stay chapped all the time and I'm constantly applying the medicated chapstick and I feel like it ain't doing nothing for me. I did some research and found out I needed a chapstick with petrolatum which locks in moisture, and dimethicone which seals off cracks and splits. This chapstick just has dimethicone in it. If you have dry lips I don't recommend this product. One good thing about this product you won't have cracked lips.
Rainboots8
My favorite lip balm
This lip balm is my favorite because it goes on easy and doesn't have any weird fruity flavors. It soothes my dry, chapped lips and makes them feel soft and moisturized for several hours before I need to put on more. Plus this combo pack is a great deal... each tube is less than a $1 each.
Mel2001
Only chapstick I buy
3 pack of the best chapstick! Even though this says medicated, it doesn't make your lips feel on fire like other medicated chapsticks do. Works great.
lady1184
keeps lips moist
Keeps lips moist, especially in cold weather.