Jonny Cat, Cat Litter Box Liners With Drawstring, Jumbo, 5 count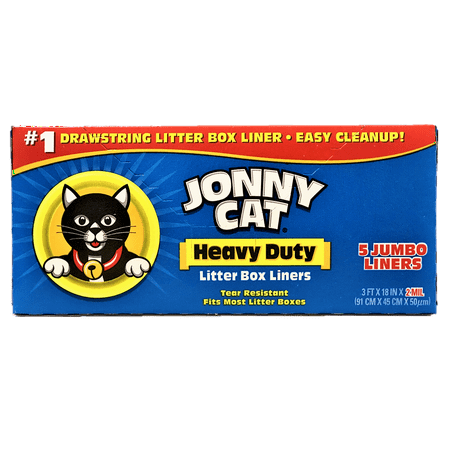 MSRP :

$41.99





Sale :

$3.69

Sold & shipped by Walmart
Product Description

Additional Information

Reviews
Product Description
Jonny Cat Litter Box Liners make it easy for you to clean up after your feline friends. With a tough, resilient construction, these liners never quit. Jumbo cat litter box liners are ideal for boxes used by more than one cat.
Additional Information
Jonny Cat Litter Box Liners:Drawstrings attachedJonny Cat litter liners are reliableMake cleaning easyTear resistant; made with thick plasticKeep your pet's litter box clean and your home protectedPack of 5
Reviews
TheThinMan
Amongst a very few good liner brands remaining
As time has passed, litter liners have become increasing weaker and thinner. To cut costs, manufactures are making products that don't meet consumer requirements. That defies logic; if it doesn't work, I don't want it at any price, not even for free. Jonny Cat liners are thick and durable. My cats, who "dig to China" and actually have claws -- surprise, surprise -- don't tear through Jonny Cat liners as my cats so easily tear through other brands. The drawstring closure is a real convenience, especially as so many non-drawstring brands have stopped supplying twist-ties with their liners. If Jonny Cat continues to maintain its high standards and quality, my cats and I will remain satisfied. I also might -- and will -- add that Walmart's price for these are more than 1/3 less than what pet supply stores charge.
MrsMcW
Best cat pan liners we've used
We've had cats for over 20 years hence we've got a lot of litter box experience. My husband converted me to this product. I used to use large 39 gallon trash bags to line the box. These are better and easier. We do double them up because our cats have their claws. These make full changes of the box easier. We do full changes every other week and the pan liners keep the plastic box pristine and prevent accumulation of ammonia odor. We have been using the same litter pan for about 3 years.
gpg1287
Way better than Van Ness brand!!
These are awesome kitty box liners! I have two quite large, covered litter boxes and these fit fine, with room to spare! Before I found this brand, I was using the Van ness liners, not only are they ridiculously expensive, they are about half the quality of Jonny Cat, at best! My cats clawed through the Van Ness liners so bad that when it was time to change the litter, it was near impossible to pick up the liner and have it hold the litter (which is the entire purpose of the product!!!!) The Jonny Cat liners are much more durable and do a good job of withstanding cat claws. I haven't had any litter leaking when picking up the liner with Jonny Cat. For ~$6, I get enough liners to last a month = much cheaper than other brands. Would recommend, will order again (and again, and again)! Super satisfied and happy customer!
Janet10
Jonny Cat Heavy Duty Litter Box Liners
My 11 cats LOVE these liners, as does the person or persons who change the litter in 3 boxes twice a day. No rips, no tears, easy to use. We are all on vacation and can't find them here in Maine, but we really miss them a lot!
momro
Jonny Cat Heavy Duty Litter Box Liners
We have 2 cats and these bags are great...possibly the heaviest and largest you can buy for the money...you won't be disappointed.