Rubbermaid Commercial PVA Sponge Mop w/Wringer Lever, 10 1/2"w, Blue Head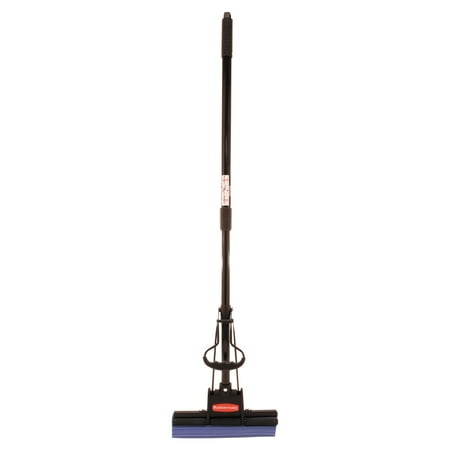 MSRP :

$60.64





Sale :

$27.25

Sold & shipped by Walmart
Product Description

Additional Information

Reviews
Product Description
The Rubbermaid Commercial PVA Sponge Mop with Wringer Lever makes it easy to clean floors. It features an easy pull-up handle at the base that allows you to squeeze it out with little effort. This commercial sponge mop comes with a spongy blue head that's absorbent and durable with a rippled design for scrubbing action. It can cover large areas with each pass. The sponge is replaceable once it's worn out. This mop is ideal for use in busy areas.
Additional Information

Rubbermaid Commercial PVA Sponge Mop with Wringer Lever, 12"W, Blue Head:
Easy pull-up handle for wringing
Adjustable handle
Includes a replaceable blue sponge that's absorbent and durable with rippled design for scrubbing action
Easy to store with hanging hole at top of handle
Model number: FGG78004
Mop head material: polyvinyl alcohol
Handle material: plastic
Rubbermaid commercial mop with 12"W mop head
Soak mop head before initial use
Reviews
LondonLee
Won't leave your floor sopping wet!
I love this mop - even though I hate mopping - but when I do, this is the mop for me. The PVA head needs soaking for about a minute as it will harden out when dry - just wait for it to soften up before using so that you can properly wring it. This mop will absorb almost all of the water it puts down and therefore the floor dries very quickly. It doesn't leave pieces of sponge on the floor as it will not fall apart while you mop. If you use bleach products, the mop head will turn white - however this does not affect the mopping. I found a new use for my mop (since I will not be using this one with chemical cleaners - thus no streaky chemicals) - a window cleaner!!!! I have some large sliding glass doors that are work to clean - today I tried this mop - using only plain water and then toweled them shiny - worked like a charm.
mzmazak
THE BEST MOP EVER!!
I HAD SPONGE MOPS. MY MOM WAS A TWIST AND WRING STRING MOP LADY. THEN FOR THE LAST 7 YEARS I HAVE BEEN USING A WETJET. BUT THE BOTTOM OF MY SOCKS SEEMED DIRTIER. WIPING UP A SPILL AND DIRT AT THE SAME TIME? NO MORE. THIS IS A SPONGE MOP LIKE YOU HAVE NEVER SEEN. IT IS ROUNDED. YOU CAN MOP AT ANY ANGEL. VERY DURABLE SPONGE HOLDS WATER WITH NO DRIPPING. AND WHEN YOU ARE DONE YOUR FLOOR IS A WHOLE NEW COLOR OF CLEAN! I AM PARTIALLY DISABLED AND I HAVE 5 PETS. IF IT WORKS THIS GOOD FOR ME...IT WILL FOR YOU! I LOVE IT!
Bjland 418
I love this mop!
Keeping my hardwood floors clean is a daily chore. This mop picks up dust, hair and other small filbers off the floor and with a simple rinse under the faucet everything is washed away.
dizzyg523
I love this mop!
Best mop I've ever had. Super absorbent, makes mopping almost enjoyable. Had similar one years ago & have been unable till now to find the same one. Spent a fortune on other mops that just push the water from one spot to the other & take forever for the floors to dry. This rubbermaid mop is the best.
lainey9801
very absorbent, love it
I just bought this mop and I love it. I previously used the EZ-Pro mop and it compares to it very well at 1/2 the price. I have used it once so far. I have hardwood floors and water is not my friend. It leaves very little water residue on the floor after mopping.