DMI Bed Wedge Pillow for Sleeping, Supportive Foam Triangle Pillow for Head, Foot, or Leg Elevation, Sleeping Wedge Pillow for Acid Reflux, 24 in L x 12 in H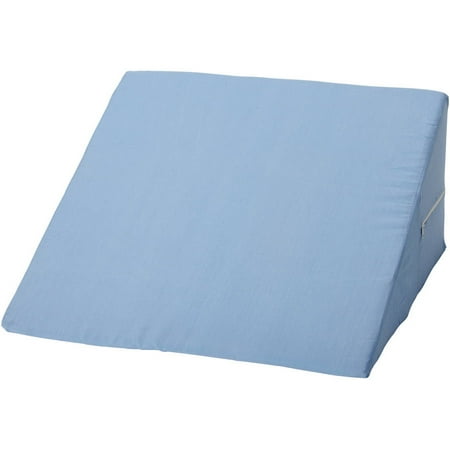 MSRP :

$36.84





Sale :

$30.99

Sold & shipped by Walmart
Product Description

Additional Information

Reviews
Product Description
The DMI Foam Bed Wedge is designed to help ease respiratory problems and reduce neck and shoulder pain for a good night's sleep. It is ideal for head, foot and leg elevation. The foam wedge measures 12" x 24" x 24" and includes a removable, zippered blue cover. With this inclined pad, you can get the relief you need after a hard day of work.
Additional Information
Item Type: Bed Wedge
Brand: DMI
Manufacturer Part Number: 802-8028-0100
Reviews
CelticGeisha
Woke up feeling better!
I am not very old but I have some health problems: asthma, sleep apnea and digestive issues. I always felt weird laying flat, like my head was too congested and I would wake up in the night like I was suffocating (apnea). I finally decided to look into something to raise me up for better breathing and less reflux, etc. I ordered these (2, just in case my SO wanted to use one as well or for raising feet) and at first it was a little weird. The foam is very firm and you are raised up to like a sitting up in a hospital bed position. However by adjusting where I laid on it I got comfortable enough to fall asleep and my SO told me that I DID NOT SNORE! :) I didn't wake up gasping for air. I am very happy with this and urge anyone who struggles with breathing or acid reflux at night, or spend a lot of time in bed to go ahead and get this...there's no shame in getting things that help you live better, you don't have to be a senior citizen.
Sandra
Sleeping much better
I purchased three of these one for my mother whom has dementia and hasn't been resting good, since she has been sleeping with this it has made a great improvement on her sleeping, which we got this for my dad too whom has Parkinson's and he stated he loves it and it aids him in getting up out of bed much easier plus getting a betters night sleep. I got me one for using in bed to read and it is the best. So proud we purchased these
PCF
Comfortably assists with breathing issues, good $
At first I thought this was too large and hard to be comfortable, but when I placed it on the bed and laid back I immediately felt relief in my breathing, and could imagine the stiffness could be dealt with during sleep because my shoulders were comfortable. I don't think I would have used a pillow with it as I'd originally planned. I also saw/tested how this could be used to prop up my legs when they swell. I never got to test out sleeping with it. I failed to check the materials before purchasing and just when I was about to remove the plastic cover I saw "foam". I have dust mite allergy and since this is a foam pillow I wouldn't have been able to wash it occasionally or put it in the dryer. It is too large for any of the allergy pillow case covers I have and too large to put into the freezer to kill the mites off. Sadly, I had to return it and am still with sore back and neck using multiple pillows to prop myself up at night. I'm now looking for a wedge either made of different materials or small enough to fit into the freezer occasionally to control any dust mite accumulation. I se that there is a smaller one from the same brand but no reviews so I wonder. Anyway, if you don't have allergies, I say go for this pillow! :)
Rheamel
Perfect product
I bought this wedge pillow for my 68 year old husband who has asthma and mild heart failure. It's just the right size and elevation, for his 6'2" frame, and pillows don't slide down.
disneygirl
Good firm pillow with great height
I purchased this foam wedge due to health problems that do not allow me to lie flat while sleeping. I have to elevate me upper body, which I have been doing with a stack of regular pillows. Now that I have this, I no longer have to wake up to keep re-adjusting the pillows. This pillow is firm, keeps it shape, and elevates my head and upper body great. If you flip it around, it is comfortable to sit upright in bed to read a book or watch TV. I have also used it for a leg rest, and is very comfortable.