UltraSwim Chlorine Removal Shampoo, 7 Oz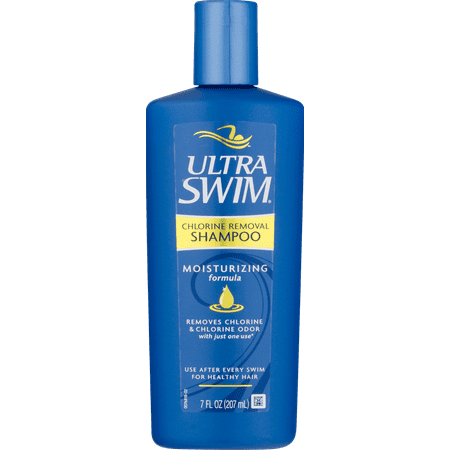 MSRP :

$7.4





Sale :

$3.96

Sold & shipped by Walmart
Product Description

Additional Information

Reviews
Product Description
Effectively remove chlorine from your hair with Ultraswim Moisturizing Chlorine Removal Shampoo. Chlorine buildup can cause hair to be dry, brittle, discolored and unmanageable. This shampoo contains a unique formula that attacks the accumulation of chlorine, releasing the bond from hair in just one use. This 7-oz Ultraswim Chlorine Removal Shampoo can be used on children or adults.
Additional Information

UltraSwim Chlorine Removal Shampoo, 7 oz:
UltraSwim shampoo removes chlorine buildup with just one use
Releases chlorine's bond with hair
Washes away chlorine and chlorine odor
Moisturizing formula
Kid-friendly
Use after every swim for healthy hair
Contains vitamin E and aloe to nourish and condition hair
Helps remove copper deposits and other oxidized metals
Reviews
revangelist
Expectations were surpassed
1) Surprisingly, it smells good to me 2) Works as expected to remove chlorine & any other build-up in your hair. 3) Arrived in good timing and in good shape; however, they do tape down the cap to make sure it doesn't leak in transport (if you order it online), which does sticky-up that area of the bottle. Alcohol did not remove the residue, but do try vegetable oil (I used grapeseed oil) as I did, and it worked. My experience: I recently moved and was concerned that our water is highly chlorinated here, as I could hardly comb through my thinning, medium-long, permed hair, even after using 2 kinds of hair conditioner after shampooing it. Also, it was looking all split. It felt like I had "gunk" in it and I actually couldn't comb it out completely. I couldn't figure out what was going on unless it was from chlorine in the water. So... I purchased this shampoo, and it works! I even got a compliment on my "beautiful hair" since using it. I'd recommend it to others.
PickyMommyAZ
Make a swimmer's hair easy to manage
This product does make my daughter's hair easy to manage. My daughter has black and fine hair. She swims 4+ days a week. The chlorine makes my daughter's hair all tangled. No matter how much conditioner I put it on her when I wash her hair after swimming, it still hurts my daughter a lot when I comb her wet hair. It also takes me a long time to untangled her hair. Also because of the chlorine, her hair changed to brown and gold color. I went online to search for shampoo to help my daughter and I found Ultraswim Moisturizing Chlorine Removal Shampoo which has high rating and low price. I ordered it on Walmart.com to gave it a try. I love it after the first use. My daughter's hair is so smooth. It is so easy for me to comb her hair. I notice her hair color doesn't go any lighter (still brown and gold). A small minus for this product is my daughter's hair get tangled a little bit and dry the next day of use this product. I apply the stay on conditioner on my daughter's hair. The problem is fixed. Over all, I love this product.
namzor
Good product
Yay! It got out the chlorine without turning my hair to straw. I followed it with their conditioner.
Ellen
No chlorine smell after use.
4 stars because not Vegan. Hair is squeaky clean after shampooing. I apply a good hair condition. My curly hair remains very curly. No chlorine smell and hair is soft. I swim 6 days a week for 1 to 1.5 hours at LA Fitness Gym.
IlovefallinVA
Shampoo removes chlorine gently
Really works to clean your hair after swimming in the pool.