ACT Restoring Anticavity Mouthwash, Cool Splash Mint, 33.8 Fl Oz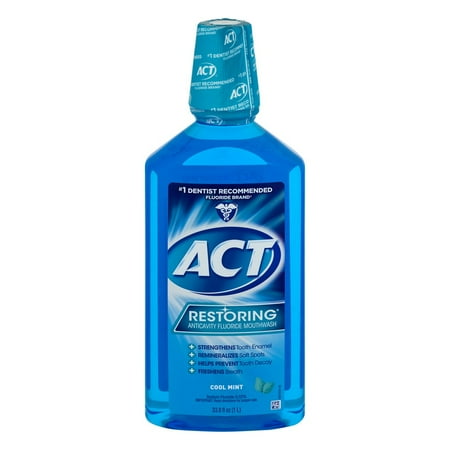 MSRP :

$12.76





Sale :

$5.88

Sold & shipped by Walmart
Product Description

Additional Information

Reviews
Product Description
ACT Restoring Anticavity Fluoride Mouthwash is formulated for adults looking to protect and restore damaged teeth. It works to remineralize soft spots, strengthen enamel to prevent tooth decay and freshen breath.
Additional Information
ACT Restoring Anticavity Fluoride Mouthwash Cool Mint, 33.8 oz.:Strengthens tooth enamelRemineralizes soft spotsHelps prevent tooth decayFreshens breathCool mint mouthwash33.8 oz family size
Reviews
truthtrans
Best mouthwash I've ever tried.
I tried this product out after the dentist told my sister about it and she told me about it. Reading the ingredients I didn't really think it would be that different from anything else I had been using but boy was I wrong. This product it just better at what mouthwashes claim to do. My teeth feel clean and smooth after using this product and I have noticed one of my small cavities has re-mineralized (Please note this happened because of a lot of research and other products that support my new oral care regimen.) I also like that the product cap has a line that tells me exactly how much to use. I will never go back to a different mouthwash.
Boo007
Dentist recommend
My girls started using this when they both got their braces. The dentist recommend it to help prevent white spots that can come from wearing them. Well my first girl just got hers off and her teeth are perfectly healthy. No white spots and evenly colored teeth. Can't ask for anything more!
Linda50
Fantastic mouthwash
The absolute best mouthwash for keeping your teeth cavity fee
RSAdotdotdot
Making this my mouthwash
I like this mouthwash very much. It has alcohol for its antibacterial effect but only about half as much as Listerine. Good flavor and excellent "foaming" to loosen food particles stuck between teeth. I was surprised to read that the large size has less fluoride. I have both sizes and reading the labels I found that it is true that the larger size has about half the fluoride concentration. However, the label for the smaller size says to use once a day. The directions for the larger size says to use twice a day so the daily fluoride exposure is about the same if the directions are followed. It's a bit odd and requires a careful reading of the label, but since I use it twice a day and the large size is a better value, it's works for me.
abcand123
Excellent Product!
Our dentist recently informed us that our 6 year old son has 'pits' in his teeth (which is hereditary) and that he needed to use some type of mouth rinse with restoring enamel products in it. This mouth rinse has a good taste, and has kept my son cavity free for months now! At first the mouth rinse was a shock to him, but he does well now and reminds ME when he needs / wants to rinse!