Gold Bond Ultimate Comfort Body Powder, 10oz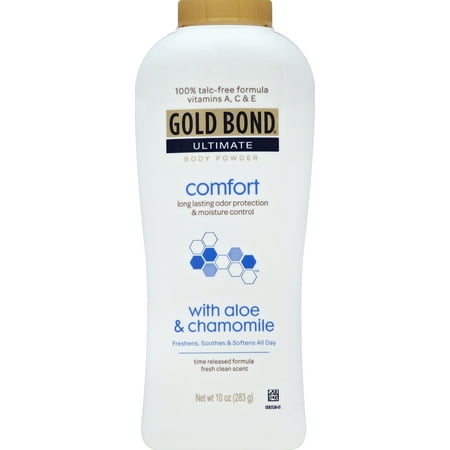 MSRP :

$4.88





Sale :

$4.74

Sold & shipped by Walmart
Product Description

Additional Information

Reviews
Product Description
This Gold Bond Ultimate Body Powder, 10 oz, is specially formulated to provide the ultimate in freshness, odor protection and moisture control so you can stay soft and fresh. It is a light, talc-free powder that works to help keep you dry, leaving your skin feeling gentle and silky-soft all day long. This Gold Bond ultimate comfort body powder goes beyond ordinary body powders because it is enriched with aloe and skin-nurturing vitamins A, C, and E, providing you with a healthy boost you can rely on. It also contains natural botanicals like chamomile and lavender to help soothe and comfort. The 100 percent talc-free formula is safe and effective for the entire family to enjoy using.
Additional Information
This Gold Bond comfort powder is simple to dispense with a flip top lid. It features a time-release formula that will perform for you with ease. The lotion can even make sleeping at night more comfortable. This Gold Bond Ultimate Body Powder, 10 oz, will make a useful addition to your skincare routine.Gold Bond Ultimate Body Powder, 10 oz:100% talc-free formulaVitamins A, C and E with aloe and chamomileGold Bond ultimate comfort body powder with time released formulaProvides total body freshness and comfortAll day odor and moisture protectionSafe and effective for entire familyEnhances sleeping comfort
Reviews
Crissy
Stay dry all day with this!!
I found this powder taking care of a gentleman that happened to be a quadriplegic, and wheelchair bound. This powder always kept his backside (because he obviously was sitting all day) so dry! No moisture build up, no sores, or breakdown of skin. Just kept his skin in terrific shape! I tried it, being a voluptuous woman, and having some.folds and creases that nothing seemed to keep dry and fresh and it is magical! Smells great, last all day, I'd recommend to anyone looking to keep dry and fresh all day, you will not be disappointed!
Yooper87
Not Marketed Properly
I am allergic to every type of deodorant including hypallergenic products. Gold Bond Ultimate Comfort is the only product I can use that does not make my arm pits swell up. Walmart used to carry a generic brand that worked just as well, and I would still buy it if they kept stocking the shelves with it. Chattem is making a huge error by not creating a catchy marketing campaign to boast this product as a deororant. My wife uses it along her bra strap line and loves it. Please continue to stock it!
Jannietoo
Powder for People who are Extreme Sweater's
I am a larger person(woman) who sweats too much. Sitting still, on my couch in the middle of winter, in an unheated apartment, I am sweating. Add an activity to that, and you can only imagine. I started using Gold Bond Spray Powder, but I wasn't getting enough powder on my back. So, I ordered this Gold Bond Powder with Aloe, wonderful. It makes my body feel soft, smell good, and it eliminates having to make a change of clothing several times a day. I highly and happily make an exuberant positive review. Try it, you'll like it.
CamrensGrandpaw
It should say for Women
It is a very good powder, better than any by the other company. It advertises for a woman, but let me tell all the men, it is ok to use. I'm a man and I really like it. In my opinion there is nothing about it that it should be for only women. It has a slight scent, but it is a good scent. I looked at the men's power and they were all scented, and for several dollars more. I just wish that Wal*Mart would stock it on the shelves in my area store.
Debekka
Best Body Powder. Wonderful subtle scent.
I needed a powder to use after swimming daily. It makes your clothes glide on while getting dressed. I love the fact that their is no talc in it. The scent is delightful. Not too strong. Very pleasant. Great product.