GOLD BOND® Ultimate Healing Lotion with Aloe 14oz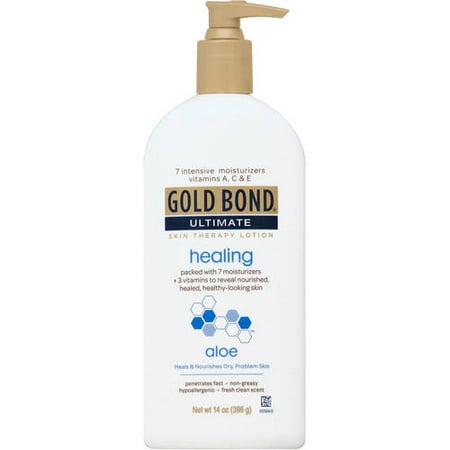 MSRP :

$11.33





Sale :

$7.74

Sold & shipped by Walmart
Product Description

Additional Information

Reviews
Product Description
Give your skin the nourishment it needs to look and feel its best with this Gold Bond Ultimate Healing Skin Therapy Lotion with Aloe. It has an ultra, skin-softening formula that contains seven intensive moisturizers and three essential vitamins. This healing skin lotion features positive ions to keep moisture attached to the skin so you can feel it working even after you wash your hands. The unique blend of HYDRALAST emollients and humectants draws moisture throughout the day, providing you with continuous 24-hour moisturization. It's ideal for use on dry and problem skin. This Gold Bond Ultimate Healing Skin Therapy Lotion with Aloe is non-greasy, hypoallergenic and dermatologist tested. It offers long-lasting moisture protection and leaves your skin with a clean, fresh scent.
Additional Information
Gold Bond Ultimate Healing Skin Therapy Lotion with Aloe, 14 oz:Packed with 7 moisturizers + 3 vitamins to reveal nourished, healed, healthy-looking skinHeals and nourishes dry, problem skinNon-greasyHypoallergenicFresh clean scentDermatologist testedUltimate formulaFor skin that looks and feels noticeably healthierGold Bond lotion offers 24-hour protectionWith aloeApply to skin as often as neededSize: 14 oz
Reviews
SusieQ
UPC : 041167066515 - GOLD BOND® Ultimate Healing Lotion with Aloe 14oz - PickPanda.com
I like the feel of the lotion on my hands. It really helps with dryness. I just don't care for the smell. It "smells" like medicine.
SoftHandsGrandma
Better than anything I've ever tried
I have very dry skin. My hands get so dry that my finger tips feel like sand paper. I've tried many other lotions but never found anything that works better than Gold Bond Healing lotion. I wish I had tried this lotion years ago. My hands are healing and staying soft through out the whole day. The effects of this lotion don't wear off in a couple hours, it seems like it is truely penatrating and healing my dry skin. I absolutely love it. Thank you Gold Bond
amie_6732182
This is my all time favorite lotion
I have actually been using Gold Bond Ultimate Healing lotion on and off for years. It is the most effective moisturizer I have found even for the dry rough skin on my feet. I enjoy trying different products and since I have been in my 40s, I have been on the search for the best products to keep my skin looking young and feeling soft. I do not mind paying more for products if they deliver superior results but even though I have tried more expensive lotions I have not found any that moisturize better or longer than Gold Bond Ultimate Healing. I don't know why I keep searching for something better because I always end of back to this lotion. This lotion absorbs quickly, has a pleasant scent and keeps my skin feeling soft and moist for several hours, even during the dry winter months. Although it claims to moisturize for up to 24 hours, I need to apply it every 3 to 4 hours throughout the day for the best results, but this is much better than any other lotion I have tried. I love it. [This review was collected as part of a promotion.]
alicia_5672341
Nice lotion overall
I'm not someone who regularly uses lotion as I don't tend to have very dry skin. However, I still enjoy occasionally using lotion just to have softer skin and because I like the softer scents (as opposed to perfume). This lotion was really nice overall-it absorbed into my hands/arms quickly and made them feel super soft, and it has a nice, light scent that doesn't overwhelm me (I get migraines from too strong of scents). My only problem with this is that it says it's not greasy, but my hands do feel a bit greasy after using this. It's been about an hour since I last applied it, and my hands still have that damp, greasy feeling. On the plus side, this definitely lasts a long time! I'm just not a fan of the feel on my hands afterwards. However, I will say that my son, who is 6, used this lotion (he loves to test my lotions) and he says he loves it! He's been using it every day, and says that he likes that it doesn't make him smell like a woman. So, we do have a fan here :). [This review was collected as part of a promotion.]
lonyjeff
Does more than what it says.
Never had soft moisturized skin like this before. I tried all of the other Gold Bond lotions, they are not as good as the Aloe. I recommended to friends and family suffering with eczema. When lotion is low you can add water and it will continue to moisturize skin. Ecellent product for feet as well. I have been using this product over two years, smells really good for man or woman.