GOLD BOND® Ultimate Restoring with Green Tea & Vitamin C Lotion 13oz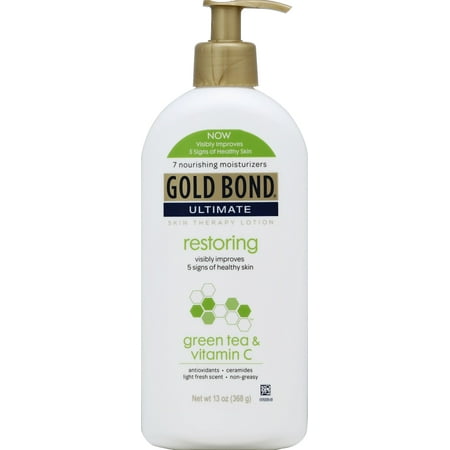 MSRP :

$10.38





Sale :

$7.74

Sold & shipped by Walmart
Product Description

Additional Information

Reviews
Product Description
GOLD BOND® Ultimate Restoring with Green Tea & Vitamin C visibly improves 5 signs of healthy skin. Skin can take a log of abuse from day-to-day activities and the environment making it look depleted, tired and dry. GOLD BOND® Ultimate Restoring visibly improves 5 signs of healthy skin, including hydration, radiance, smoothness, suppleness and clarity. With ceramides, CoQ10 and a unique blend of Green Tea and Vitamin C, tired and depleted skin is replenished and revitalized. GOLD BOND® Ultimate Restoring is dermatologist tested, hypoallergenic and provides 24 hour moisturization. With skin strengthening ceramides, CoQ10, green tea and vitamin C. Plus it's non-greasy and has a light fresh scent.
Additional Information
GOLD BOND® Ultimate Restoring with Green Tea & Vitamin C Lotion/Cream 13ozContains skin strengthening ceramides, CoQ10 plus Green Tea and Vitamin CDermatologist testedHypoallergenicLight, fresh scent
Reviews
WorkingAttorneyMom
Great product
A+ product. I have allergies, so my skin is usually dry or itchy. However, with my pregnancy, it's about 10 times worse, to the point where I cause abrasions. It was maddening and even woke me up at night. Other lotions barely put a dent in the problem. However, since I started using this product, the problem is very manageable. I still get a little itchy, but another layer of lotion and I'm fine. It's a lifesaver. My only issue is the pump straw isn't long enough to capture the last 20-25% of the lotion. The lotion is a little on the thick side (although it doesn't feel greasy when applied), so it doesn't slide out of the container easily. The lotion is not cheap, although worth it. However, I don't want to lose any of my lotion. I just wish the pump straw was a little longer or the opening a little wider so I could get the lotion out a little easier when I open it up.
Gabby
New lotion
Lovely! It's not thick and it's easy to apply and feels nice on my skin.
KYShopperSusie
The Results are miraculous!
Being a diabetic I have literally bought dozens of different lotions looking for one that would help with removing the dry skin on my feet and lower legs. A friend had told me about Gold Bond Ultimate Skin Therapy Restoring Lotion with CoQ10 but I had passed it by a couple of times because there was always another lotion just a little bit cheaper. After she urged me a second time to try it I did, and WOW IT WORKED! After only 2 days use I noticed the dry skin became more hydrated and would literally wipe away when washed. No more worries about people seeing my ankles and legs looking ashy and discolored, those days are gone! I would recommend this lotion to anyone who is seeking to restore their skin to a healthy new glow. Trust me, it is WELL worth the few extra cents. Another added bonus is its light fresh clean scent. Buy some and enjoy!
LoveGoodLotion
100% Wonderful!
I've tried every lotion known to mankind...all the name brands (literally taken 2 boxes to the homeless shelter of lotions that I didn't like or didn't work) Plus natural cocoa butter, skin oil, Shea butter, everything! This one is absolutely great. Used it once this morning and 12 hours later I have no need to reapply. But will still apply before bedtime!! I'm over 50 and fighting aging skin but this was fabulous. First time in YEARS I can actually say that the lotion actually worked and the dry skin and itchy skin is gone. Still keep looking at my forearms and am amazed. It's just great. Finally some relief from dry skin. And has a nice light scent too, not a strong perfume scent which I don't like. Excellent.
Nano
It works.
A rich lotion with a mild pleasant scent. I have been using for about 1 year and must confess a weakness for all Gold Bond products. This one is light enough to use in the hot South Florida climate and rich enough to use if it get cool. Use a bottle and then form your own opinions.